Feng Shui – Earth Study Discern Truth (2nd Edition) by Terrance Chan Joey Yap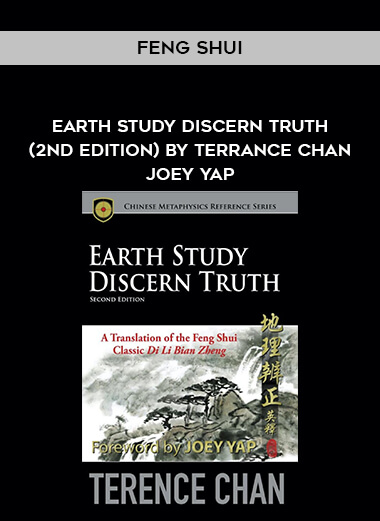 Salepage : Feng Shui – Earth Study Discern Truth (2nd Edition) by Terrance Chan Joey Yap

A Modern Reawakening to Ancient Classic
The concepts and theories to many modern Feng Shui applications are rooted way back in the ancient texts of the yore. And Di Li Bian Zheng is one of the many that survived through the raging stream of times. This verbatim translation bridges the language gap which deters some of the serious practitioners and students from deepening their knowledge in this highly-precise field.
 What You`ll Learn
The Romanised transliteration of the original Chinese classic script

An introductory step towards deriving a more authentic Feng Shui knowledge from the classics.

The right way to access the ancient text without the tedious efforts of poring through page after page of cryptic and ambiguous language



Chapter Highlights
Book I: Green Satchel Classic
The original Qing Nang Jing was divided into three parts, known as upper, middle and lower scrolls. Learn the translated text in this section.
Book II: Green Satchel Preface
The original Qing Nang Xu was segregated into several parts. Enhance your comprehension with the translation to the original text.
Book III: Green Satchel Profound Sayings
Translated Qing Nang Ao Yu is presented in table format for convenient reference.
Book IV: Heavenly Jade Classic
Discover the true meaning behind the text of Tian Yu Jing.