Feng Shui – Ode to Flying Stars – Unlock The Hidden Codes of Flying Stars By Hung Hin Cheong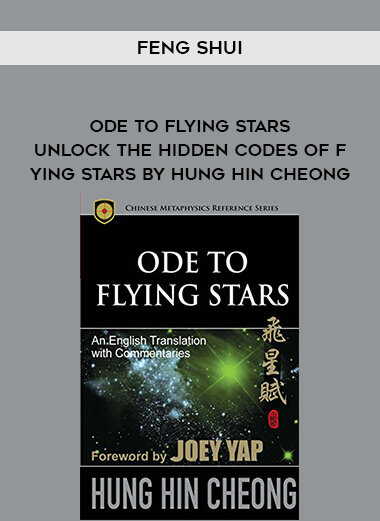 Salepage : Feng Shui – Ode to Flying Stars – Unlock The Hidden Codes of Flying Stars By Hung Hin Cheong

Uncover Flying Stars' Hidden Codes
The Ode To Flying Stars, a translation of the much-discussed but still opaque classical poem of Flying Stars, concludes the transliteration sequence of the Four Celebrated Poems of Xuan Kong. This book, a vital addition to the libraries of dedicated Feng Shui practitioners and students around, delivers information in Xuan Kong Feng Shui at levels you never imagined possible.
What You'll Discover
A more in-depth explanation of Trigram imagery, which is the emphasis of Flying Stars.
A new perspective on Xuan Kong study and practice, revealing its extensive use of Trigram imagery.
Understand the intriguing tales to convey morsels of information on the cultural context against which the poem was written. An essential reference book for anybody looking to advance their Xuan Kong Feng Shui studies.
Highlights from the Chapter
Preamble to Chapter One
An explanation of the core principle of Xuan Kong Flying Stars.
Star Conjunctions (Chapter 2)
The term of a Hexagram is used in this chapter to denote a Star conjunction.
Third Chapter: Health Concerns
The manifestation of a Star or Trigram over the dysfunction of the related body components.
Fourth Chapter: Landforms
Understanding the fundamental ideas of landform might help you in your research and application.
Fiveth Chapter: Miscellaneous
Investigate the confusing portion of the original text in this section.
Sixth Chapter: Timing
A examination of the value and actual meaning of timeliness.