G5 Leadership (Leadership Training Membership Site)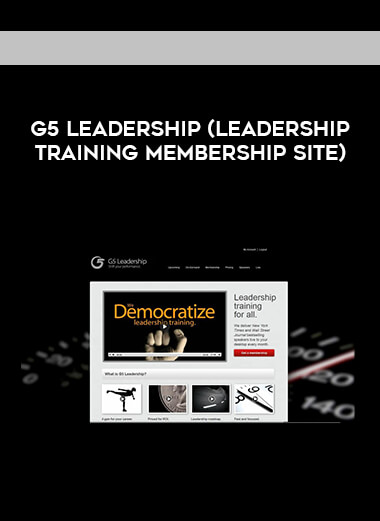 Salepage : G5 Leadership (Leadership Training Membership Site)

G5 Leadership Killer performance is about more than one thing.
G5 Leadership was named one of the best leadership development firms to watch in 2011.
G5 Leadership is a new leadership training firm that delivers 90-minute WebEx seminars and keynotes. G5 Leadership workshops were interactive, with opportunities to ask experts questions, converse live, take polls, send chats, make comments, and download workbooks. Steve Farber, Marshall Goldsmith, Bill Taylor, Bob Sutton, Tim Sanders, Scott Page, Steven Smith, and others spoke to the audience.
This was their official website.
The content comes from the site's archived pages from 2011 as well as other sources.
Killer performance is about more than one thing. G5's Leadology map includes every leadership topic you need to know in order to be smart, cool, and inventive.
G5 Leadership – Leadership Development for Everyone
Live streaming of New York Times and Wall Street Journal bestselling authors and leadership professionals to your PC, iPad, or iPhone.
Leadership of the G5
Quick Pitch: An online boot camp focusing on high-performance job training.
G5 Leadership reinvents the traditional methodology to make work training more accessible and inexpensive. The unique web platform hosts 12 live seminars each year from the world's top thinking leaders.
Traditional job training takes place in front of a Powerpoint display in a conference room or classroom. These off-site training sessions are sometimes expensive and time demanding. Furthermore, there is no assurance that the content will be of excellent quality.
Steven Smith and David Marcum, authors of Egonomics: What Makes Ego Our Greatest Asset and G5 Leadership creators, intended to modify the existing organizational model. Since the website's inception in 2010, about 35,000 people have joined up for unlimited $9.99 monthly or $99 yearly memberships.
The startup provides live workshops led by thought leaders and pioneers in the sector. It's an opportunity for everyone to hone skills like time management, engagement, and communication. Professionals have the ability to master new skills at their own speed. Following that, all live broadcasts are archived in a database.
The internet business bills itself as "a career gym." The trainers are outstanding leaders who put users through rigorous testing. Workbooks, quizzes, and simple goal-setting plans are examples of shape-up tools.
David Allen, a New York Times bestselling author and time management specialist who specializes in "getting things done," is among the G5 professors. Bill Taylor, co-founder of Fast Company magazine, is another regular who helps workers feel motivated. The award-winning magazine's founding editor draws lessons from his own firm and exercises from his best-selling book, Mavericks at Work: Why the Most Original Minds in Business Win.
"Traditional job training may cost up to $30,000 per day," says Stephanie Carter, G5's public relations director. "Many people will never have such a chance. We intend to democratize training by distributing memberships to thousands of people."
What greater investment could there be than you?
Invest in your career and your business. Sign up right now.
+++
Why is Leadology® used?
People that make the most of their potential and leadership abilities have a tightly knit set of key competencies.
G5's Leadology® connects the dots and covers the basics, such as change, collaboration, communication, and innovation.
Workshops and Keynotes are included here.
G5 events are categorized under Leadology® categories below. You may register for individual events from any page, or you can download our calendar and register from there.
Communication. G5 Leadership Calendar.
David Marcum is the author.
How to Stay Cool Under Pressure | How to Handle Tough Conversations When disagreement stands in the way of change, resolve it.
G5 Leadership Workshop | Remain Calm Under Pressure
Cool Under Pressure communication skill training teaches you how to be clever, open, and cool during heated situations. When the temperature rises and bad communication habits creep slowly into everyday business situations, you'll learn how to ask questions and make points: customer service conversations, project reviews, client meetings, interdepartmental discussions, mergers and acquisitions, reorganization, discussions with vendors, job interviews, and negotiations. By the completion of the Cool Under Pressure communication skill program, you will be able to:
When customers or coworkers are certain they are correct and you are incorrect, ask the necessary questions and know what to answer.
Keep disagreements from becoming personal and derailing the debate or gathering.
Create a culture that values a "we" work style above a "me-first" mindset.
Get a lively argument going without losing control of the topic or shutting off when dissent arises.
Keep title, tenure, and position from impeding open and honest conversation.
Steven Smith is the author.
Speak Up, Listen Up | How to Approach Difficult Topics Why are 67% of difficult things buried beneath the table rather than on it?
Connie Dieken is the author.
The Pitch | How to present with authority and persuasion to persuade others to support your views.
David Marcum is the author.
Agreed | Negotiate like a rock star to reach the greatest deal for all parties.
Emotional Intelligence (EQ).
Steven Smith is the author.
Ego with humility is "Level 5" leadership. Making the most of your ability and intelligence necessitates a unique and unusual recipe.
Jeremy Daniel presents
The Color Code | Decode your personality. How to comprehend why individuals behave the way they do at home and at work.
Tim Sanders is the author.
Emotional Intelligence | Successful individuals are cool and clever. How to improve your emotional intelligence and attractiveness.
Bob Sutton is the author.
Bad Boss, Good Boss | Are you a good or lousy manager? How to be the best boss possible… and how to learn from the worst.
Execution & Innovation
Scott Page is the author.
Diversibility | Everyone has a different point of view. Do you know how to make the most of your team's differences?
Bill Taylor is the author.
Radical in Practice | A strategy for game changers. Not-so-crazy ways to transform your business, team, and work.
Performance.
Steve Farber is the author.
Greater Than Yourself | How do you become great while also bringing others along with you? Take the next step in your leadership development by mentoring others.
Marshall Goldsmith is a writer.
MOJO | How do you achieve peak performance every day? Take the next step toward realizing your full potential.
Dave Logan is the author.
Tribal Leadership | How thriving organizations organize productive teams and why culture eats strategy for breakfast.
Richard and Linda Eyre are the authors.
The Entitlement Trap | A plan for creating a family economy in which children earn, budget, take accountability, and become truly responsible.
Pure Confidence goals for events
Examine your abilities' strengths and weaknesses.
Strike the right balance of ego and humility in your leadership.
Discover the beliefs that are limiting your performance.
Identify four early warning signs that your leadership is losing power and talent.
Become the "Level 5" leader discovered by Jim Collins in Good to Great.
11 a.m. EST on August 17, 2011.
+++
Objectives were agreed upon.
Find the single most important negotiation principle.
Discover three negotiation techniques that will make you a better negotiator right away.
Learn where true negotiating power comes from and how concessions can harm you.
You win when dealing with deadlocks.
September 15, 2011 at 11 a.m. EST
+++
The goals of MOJO
Discover the five factors that contribute to peak personal performance.
Understand the three main factors that influence self-confidence.
Recognize the hidden habits that are sabotaging your success.
Understand the questions that will tell you if you're on the right track.
11 a.m. EST on October 12, 2011.
+++
The goals of the 5 Faces.
Discover the five most common expressions managers see in performance reviews.
Identify the five personalities in your company.
Understand the unspoken realities you must address in order to ensure that everyone is engaged for performance.
Learn how to engage each of the five faces and extract what you need from a performance conversation.
November 15, 2011 at 11 a.m. EST
+++
Goals of Tribal Leadership
Culture is the next untapped source of organizational performance.
Change dysfunctional behavior, mismanagement, and ineffective leadership
Transition from individual to group performance
Determine your organization's cultural stage.
To accomplish more, use the entire tribe's power.
11 a.m. EST on December 8, 2011.
+++
Getting Things Done goals
Effective time and life management
Reduce the amount of tension in your work management.
Get organized and create a strategy to help you stay organized.
Implement your priorities and match your work with your goals.
11 a.m. EST on January 12, 2012.
2011 G5 Speakers & Faculty
Best-selling writers and world-renowned leaders. On your PC, live.
Allen, David
David Allen is a best-selling author, consultant, international speaker, and the founder and CEO of the David Allen Company. He is widely acknowledged as the world's foremost expert on personal and corporate efficiency. His thirty years of pioneering research, coaching, and teaching of some of the world's highest-performing people, businesses, and institutions have won him distinction as one of the top five executive coaches in the United States by Forbes. Leadership Magazine also called him one of the "Top 100 thinking leaders."
Fast Company named David Allen "One of the world's most influential thinkers" in the field of personal productivity, praising him for his groundbreaking programs and writing on time and stress management, the power of aligned focus and vision, and his ground-breaking methodologies in management and executive peak performance.
His debut book, Getting Things Done, was dubbed "the quintessential self-help business book of its day" by Time Magazine. David Allen is the author of three books, including the international best-seller Getting Things Done: The Art of Stress-Free Productivity, Ready For Anything, and Making It All Work: Winning at Work and Life. Since its first release in 2001, Getting Things Done has been a perennial business bestseller, and it is currently available in 28 languages.
Dieken, Connie
Connie, endowed with insight and a remarkably unique style, is boosting the communication intelligence of corporate executives all around the world. Apple, Olympus, McDonald's, Moen, The Cleveland Clinic, Deloitte, Diebold, Pacific Life, American Greetings, and many other companies are among her clients. She recently published Talk Less, Say More: 3 Habits to Influence Others and Make Things Happen (Wiley & Sons, 2009) as well as a trio of new training programs, The Influential Communicator, The Influential Presenter, and The Influential Media Spokesperson, all aimed at assisting top-level professionals in communicating at the peak of their ability as different situations demand. Her writing has appeared in the Wall Street Journal, USA Today, CNBC, The Los Angeles Times, Crain's Business, The Chicago Tribune, Women's Day, and dozens of other national magazines.
She was voted a top 5 speaker for 2010 by speaking.com and is a former Emmy award-winning TV news anchor, talk show host, and Radio/ Television Broadcasters Hall of Fame inductee. She is a multiple Emmy and Telly award-winning journalist who has served as a spokeswoman for more than 50 organizations, including Intel, Sealy, GE, American Greetings, Ernst & Young, and Goodyear. Connie conducts The Pitch, a G5 Leadership program on compelling presenting and persuasive abilities.
Farber, Steve
Steve Farber is the president of Extreme Leadership, Incorporated, an organization dedicated to the growth and development of business Extreme Leaders. Greater Than Yourself: The Ultimate Leadership Lesson was a Wall Street Journal® and USA Today® best-seller. His second book, The Radical Edge: Fire Up Your Business, Amp Up Your Life, and Change the World, was praised as "a blueprint for harnessing the force of the human spirit." His debut book, The Radical Leap: A Personal Lesson in Extreme Leadership, won the Readers' Choice Award from Fast Company magazine and was just named one of the 100 Best Business Books of All Time.
Farber, a subject-matter expert in business leadership and a frequent guest on news-talk shows across the country, is a senior-level leadership coach and consultant who has worked with and spoken to a wide range of public and private organizations in virtually every industry, from technology to manufacturing, health care, hospitality, entertainment, retail, and even the US government.
Farber committed his professional life to the topic of leadership development in 1989, after having operated his own financial services firm. He was the director of service programs at TMI, an international training company, before becoming Vice President and Official Mouthpiece (as it read on his business card) of The Tom Peters Company for six years. Farber founded his own firm, Extreme Leadership, Inc, in 2000, and serves as president and CEO. Greater Than Yourself is the title of Steve's leadership and mentoring workshop for G5 Leadership.
Goldsmith, Marshall
Dr. Marshall Goldsmith is a world authority on assisting great leaders in becoming even better – by accomplishing positive, long-term behavioral change for themselves, their people, and their teams. Marshall is the New York Times and Wall Street Journal best-selling author of several books, including What Got You Here Won't Get You There. MOJO, his most recent book, was a New York Times and Wall Street Journal best-seller and has been translated into 14 languages.
Dr. Goldsmith was named one of the world's fifteen most prominent business thinkers in a bi-annual research sponsored by The London Times and Forbes in November 2009. Marshall was chosen by the American Management Association as one of 50 outstanding thinkers and leaders who have affected the discipline of management over the last 80 years. Among the major business press acknowledgements are BusinessWeek, Wall Street Journal, Forbes, Economist (UK), and Fast Company.
Dr. Goldsmith received his Ph.D. from UCLA, where he was recognized one of the 75 greatest graduates of the previous 75 years. He teaches executive education at Dartmouth's Tuck School of Business and is a regular speaker at top business institutions. For eleven years, he was a member of the Peter Drucker Foundation's Board of Directors. He has worked as a volunteer teacher for US Army Generals, Navy Admirals, Girl Scout executives, International and American Red Cross officials, and was named National Volunteer of the Year by the American Red Cross.
Logan, Dave
David Logan researches how individuals interact inside businesses and how to use our inherent talents to effect change. He investigates developing corporate leadership patterns, organizational change, generational disparities in the workplace, and team building for high-potential managers and executives.
Much of Logan's work is based on a ten-year study of over 24,000 employees published in Tribal Leadership (2008), which demonstrates how corporate culture changes over time and how leaders may influence it. Dave teaches management and leadership at the USC Executive MBA program, as well as at the International Centre for Leadership in Finance (ICLIF), which was endowed by Malaysia's previous prime minister, and the Foundation for Medical Excellence in Portland.
He was the Associate Dean of Executive Education at USC from 2001 until 2004. During that time, he began the Master of Medical Management (MMM), a business degree for mid-career physicians. He also launched new executive education programs with companies as varied as the Sierra Health Foundation, Northrop Grumman, and the City of Los Angeles (often in collaboration with the USC School of Policy, Planning, and Development). Logan has four publications to his credit, including Tribal Leadership and The Three Laws of Performance.
Marcum, David
David Marcum is a sales and negotiating guru who has published two books on communication and leadership. His first two books, egonomics and businessThink, were published in 24 languages and over 50 countries by Simon & Schuster and Wiley, respectively.
Stephen Covey, Ram Charan, Marshall Goldsmith, Harvard Business School, Thunderbird, and GE, Accenture, Baptist Health Care, Microsoft, Cox Communications, American Express, and State Farm have all praised Marcum's writing, speaking, and business concepts.
Dave has extensive global experience in difficult sales and business leadership. CBS MarketWatch, The Dallas Morning News, The Arizona Republic, The Irish Times, BusinessWeek, U.S. News & World Report, and Portfolio have all highlighted his work.
Dave presents three distinct programs for G5 Leadership: the challenging dialogue training Cool Under Pressure, a team collaboration workshop titled Best Idea Wins, and the upcoming negotiation workshop, Negotiation 101. Agreed.
Page, Scott
Scott Page is a common name (albeit not as common as Steven Smith), so you may be thinking if I am the Scott Page you know, used to know, or would like to know. Other Scott Pages have interesting and happy lives as well. Scott Page grew up on Gun Lake near Yankee Springs, Michigan, where he pumped gas and dipped ice cream cones at Page's Resort. Scott Page used to have incredibly thick hair, so enormous that the photographer discovered a six-inch stick trapped in his 'fro from recess during his fourth grade picture session.
This Scott Page went to Middleville-Thornapple Kellogg High School, where he played basketball, sang poorly in musicals, wrote for the school paper (only to be punished for an unfortunate cartoon about the school administration), and abolished the politically offensive "slave day," only to have it reinstated a year later.
This Scott Page was a Michigan undergrad who studied in math and offered walking tours before being chosen MSA president. This Scott Page taught math at the University of Wisconsin-Madison, dressed up as a box of Junior Mints for Madison's annual Halloween party, assisted in the unionization of teaching assistants, and failed to win an intramural basketball championship. This Scott Page taught statistics and decision theory at Kellogg Graduate School of Management, won an intramural basketball championship (albeit not in the open division), and appeared in late-night "you too can be a volunteer for Chicago public schools" advertisements. The Difference was written by Scott (Princeton University Press). Scott leads the Diversability G5 Leadership training on team cooperation and intellectual diversity.
Sanders, Tim
Tim worked as YahooChief !'s Solutions Officer and then as their Leadership Coach. Tim developed and directed the Yahoo! ValueLab, an in-house "think tank" that provided futuristic perspective on technology and human behavior, prior to these prominent positions. He was also a founding member of Mark Cuban and Todd Wagner's broadcast.com, which had the most successful first-day IPO in history.
Love is the Killer App: How to Win Business and Influence was his debut book. Friends has been translated into a dozen languages and is a New York Times and worldwide business best book. The Likeability Factor, his follow-up book, explains the concept of emotional talent and the importance of creating an engaging experience. It served as the inspiration for a PBS special produced by prominent affiliate WQED.
His most recent book, Saving the World at Work, investigates the external interaction between a company, its employees, and society. It makes a compelling case for corporate social responsibility (CSR) and sustainability initiatives to be prioritized at the top of a company's strategic agenda. Executive Soundview rated the book one of the top 30 business books of 2008. His work has lately appeared in The New York Times, Financial Times, The Wall Street Journal, and Fast Company. Tim attended Loyola Marymount University and the University of Arizona's graduate school of communications. Tim leads an Emotional Intelligence session for G5 Leadership called Emotional Talent.
Smith, Steven
Smith is currently working on a third book on communication and leadership. His first two books, egonomics and businessThink, were published in 24 languages and over 50 countries by Simon & Schuster and Wiley, respectively.
Smith's writing, speaking, and business ideas have been praised by Tom Peters, Ram Charan, Marshall Goldsmith, Harvard Business School, Thunderbird, and clients such as Hilton, Disney, Baptist Health Care, Microsoft, Cox Communications, American Express, and State Farm. With degrees in management, psychology and expertise in team collaboration and leadership, Microsoft Live Meeting featured Smith for two years as top leadership faculty. His work has been featured by CBS MarketWatch, The Dallas Morning News, The Arizona Republic, The Irish Times, BusinessWeek, U.S. News and World Report, and Portfolio.
Voted as one of the top 100 business thought-leaders in the country, his work has been adopted by several universities across the country as an example of what the real business world is about. Steve teaches 3 unique sessions for G5 Leadership: the emotional intelligence and talent workshop, Pure Confidence, an interpersonal communication workshop on candor, Listen Up, Speak Up, and the forthcoming change workshop, Shift. Steve is also working on his third book:Us: Why we matters more than me and how to bridge the gaps between us.
Bob Sutton
Robert Sutton is Professor of Management Science and Engineering in the Stanford Engineering School, where he is Co-director of the Center for Work, Technology, and Organization, an active researcher and cofounder in the Stanford Technology Ventures Program, and a cofounder and active member of the new "d.school," a multi-disciplinary program that teaches and spreads design thinking. He is also an IDEO Fellow and a Professor of Organizational Behavior at Stanford Graduate School of Business.
He has published 8 books and edited volumes. He co-wrote The Knowing-Doing Gap: How Smart Firms Turn Knowledge Into Action, which was selected as Best Management Book of 2000 by Management General. His book Weird Ideas That Work: 11 ½ Practices for Promoting, Managing, and Sustaining Innovation, was selected by the Harvard Business Review as one of the 10 best business books of the year. Sutton is also the New York Times bestselling author of The No Asshole Rule: Building a Civilized Workplace and Surviving One That Isn't, and Good Boss, Bad Boss.
Sutton's research and opinions are often described in the press, including the New York Times, The Times (of London) , BusinessWeek, Financial Times, Fortune, Newsweek, Wall Street Journal, Christian Science Monitor, Boston Globe,Business 2.0, Wired, Strategy & Leadership, San Francisco Chronicle, and San Jose Mercury. He has also been columnist for CIO Insight and a guest on numerous radio and television shows, including Bloomberg, BBC, PBS, NPR, Tech Nation, and CNN. Bob is delivering the management session, Good Boss, Bad Boss, for G5 Leadership this year.
William C. Taylor
Bill Taylor is a writer, a speaker, and entrepreneur who has shaped the global conversation about the best ways to compete, innovate, and succeed. As a cofounder and founding editor of Fast Company, Bill launched a magazine that won countless awards, and earned a passionate following among executives and entrepreneurs around the world. His book, Mavericks at Work: Why the Most Original Minds in Business Win, was a New York Times and Wall Street Journalbestseller, and was named a "Business Book of the Year" by The Economist and the Financial Times. His latest book, Practically Radical, is published by William Morrow, an imprint of HarperCollins Publishers.
Bill wrote a regular business column ("Under New Management") for the New York Times as well as a monthly column for London's Guardian newspaper. He now writes a popular management blog for Harvard Business Review. He is an adjunct lecturer at Babson College and the co-author of three other books on strategy, leadership, and innovation. A graduate of Princeton University and the MIT Sloan School of Management, Bill lives in Wellesley, Massachusetts with his wife and two daughters. Bill is delivering a G5 Leadership session on innovation titled, Practically Radical.
Frequently Asked Questions
What's the difference between Single Event and Membership?
Single event is pay per event. Choose the event(s) you want to attend and sign up. Membership is unlimited access to everything.
Can I share membership?
No. G5 pricing is per person, not per seat, per team or per company.
What types of payment do you accept?
We accept Visa, MasterCard, and American Express. Payments are made annually. No automatic renewals.
Are there group or company discounts?
Yes. For membership purchases over 250, contact us at 646.822.9575 or g5team at g5leadership dot com.
What's risk-free?
Opt out any time and we'll pro-rate your membership fee and refund the difference.
What if I miss an event or don't register in time?
Don't worry. We record every session for on-demand access. Live seats are limited to the first 1,000 people who register.
What are the tech requirements to attend G5 leadership training and events?
The tech requirements are standard IT stuff for most companies. For details see our FAQ page.
Are there any other fees?
No. The only additional fee is long-distance phone charges for events if your long-distance isn't one, flat fee and you want to speak with the authors live during a session.
Clients
Thousands of people dig G5 workshops.
"Potent, engaging de-toxifier."
"I have more awareness of how the ego plays its various roles and how to better drive it.
G5 leadership trainingseems like an extremely potent, engaging and relevant de-toxifier the US workplace needs very badly! I believe that the ego, as habitually directed by self-centered fear and illusion/delusion, is the crux of the problem, and that ego, harnessed by methods like G5 and relying on good principles, is the key to optimal productivity and well being.
The session reminded me of a Bob Marley song where he sings (and not verbatim) "Mental slavery…. none but us can free ourselves from our own minds…" The toxicity I see and read about all seems to stem from believing so hard in old ideas and the feelings habitually generated coming from an original place of fear… ya know, old instincts that continue dis-serve so many of us… especially type A leaders/managers, and the people working for them and investing in them…
Really enjoyed you guys and your material. I sent an email with your links to 8 buddies Thanks again."
John
"Very cool."
"I loved learning how word choice impacts the success of collaboration and recognizing my default reaction. The practice was very helpful in learning the communication skills I think I've been missing as a leader of my team.
The videos were powerful and insightful. I especially loved the PBS Hearings video and what that taught me about staying composed. I also liked learning the concepts of how to get my team to debate and have difference of opinion, not just "nice" conversations.
Talking about our team as "equals" vs. "superior/subordinate" will give us a better chance to get people to participate more. Overall, excellent! (Although I wish we would have had a little more practice time)."
Lisa
What experts think about our work.
"Sure to change your behavior."
"Unless you're an egomaniac, this book is sure to change your behavior and make you a better person."
Guy Kawasaki
Bestselling Author, Innovator, Entrepreneur
"Engaging and useful."
"…easy to follow and…helpful for leaders at all levels of a company."
Dr. David Ulrich
Professor, Ross School of Business, University of Michigan
"Great medicine for knowledge-workers."
"…filled with great learning, and at the same time great fun. Addresses the greatest challenges faced by successful people"
Dr. Marshall Goldsmith, New York Times and Wall Street Journal bestselling author