Gary Henson – Business Coaching Mastery Homestudy Course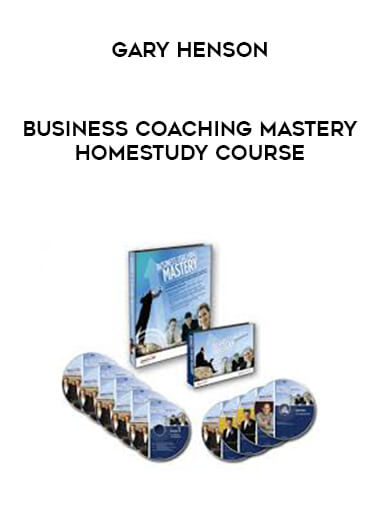 Salepage : Gary Henson – Business Coaching Mastery Homestudy Course

You'll be a business coach, ready to launch a new venture with many income sources and unlimited earning possibilities.
You'll be studying under the greatest. When it comes to training business coaches, BusinessCoach.com is the gold standard.
You will have unrivaled and limitless earning possibilities. Stop thinking in little steps! With this model, $100,000 is chump change.
You'll be able to apply what you've learned to expand your own business as well as your clients' businesses.
You'll begin to live a lifestyle that was previously only a fantasy IF you do what we say and follow through with intensity and desire.
After passing a 15-question test at the end of the course, you will get a Certificate of Completion.
You'll receive a welcome DVD that explains what you'll be studying, how to go through the course, and provides some winning tips to get you started on this comprehensive curriculum.
Then be ready, for the good times are just getting started:
We'll go through the following topics on the first CD:
* What it takes to be a business coach (hint: you have it if you're reading this right now!)
* The world-renowned BusinessCoach.com business coaching model
* What it will take for you to be a great business coach (you already have it; you just need to bring it out, which may take some effort but will be worth it!)
* How a business coach and client relationship looks (it may be a match made in heaven—we'll show you!)
* The many degrees of coachability and how they apply to you as a new business coach
The following CD is Business Coaching Distinctions:
* Learn what these distinctions are and why they are critical to delivering outcomes for your clients.
* You'll understand why the distinction "Likely Story" is the most important to understand.
* You will be shown the results-oriented communication model: What Works, What Doesn't Work, What's Missing, and What's Next? (These four questions serve as magical arrows in your quiver)
* You'll learn our definition of accountability and why the "being accountable" distinction is critical to establishing the coaching relationship.
* We will demonstrate the "Great Human Compromise."
* You'll learn about "Engagement Conversations."
* You'll learn what a business coach means by commitment.
* You'll learn how to set powerful intentions and outcomes.
* We'll discuss why it's critical to shift a leader's mindset from "Predictable Future" to "Invented Future" – they'll love it!
* Next, we'll reveal the "calling out" exercise and demonstrate how it improves organizational communication and trust.
The Business Coaching Client Phases CD #3 demonstrates how to understand the business coaching phases:
* Step One: Discovering What Is So. The Phase of Planning and Evaluation. What is the difference between a probable future and an invented future in business coaching?
* Step Two: Conducting Employee Interviews We need well-rounded feedback from key employees if we want answers about a company's culture. So, in this step, you'll learn how to coach your client on the importance of using a "Company Survey" and why it's necessary.
* The third step is the implementation phase. This is the process of reinventing the organization in order to make it different and more productive than it was previously.
* The fourth step is the maintenance and measurement phase. How do we approach our client in order to develop new goals and projects with measurable outcomes?
* Step 5: Establishing Accountability and Alignment: Communication is the key to building an exceptional organization. What is the difference between ordinary and extraordinary? What role does this play in changing the business culture?
In CD #4, we look at Strategic Planning and Results Execution:
* We'll assist you in developing your own strategic plan and explain why having a genuine written vision, mission, and company commitments (core values) is critical for creating a cohesive, aligned culture for both you and your clients.
* We'll also look at how the strategic plan can help foster an accountability culture.
* Finally, we'll show you how to explain the strategic plan's use so that your clients understand its hidden value to the company's direction and culture.
Now, listen to CD #5: THE $300,000 A YEAR BUSINESS COACHING MODEL to see how easy it can be to earn $300,000 or more per year!
Listen, if you're SERIOUS about becoming a professional business coach and you're tired of maintaining an "is-that-all-there-is-to-life" status quo, auto-pilot attitude, CD#5 will put you on a path to $300,000 that no other program can even come close to. This CD alone is worth more than ten times the cost of the entire program!
* We'll take a close look at the $300,000 model, both inside and out.
* We'll assist you in crunching the numbers and demonstrating how it can become a reality for you, not some far-fetched pipe dream.
* You'll learn how this model contributes to an organization's success and can completely alter the "experience" of the company from the standpoint of the owner, employee, and customer.
* You'll discover one of the most important axioms in the world of business coaching.
* You'll be given questions to ask yourself to determine whether the $300,000-per-year model is right for you.
* You'll learn why a 360 Leadership Evaluation is critical in the early months of a business coaching relationship—and how much to charge!
* You'll learn about "Leadership Re-invented" Training and why training managers to become coaches will blow the lid off a company's results.
* You'll learn firsthand why a company should use profile assessments and how to use profiles to coach the company.
* Finally, we'll teach you how to package these services as a whole business coaching package rather than as separate add-on services, which is essential for having it all as a business coach!