Getting Whatever You Want From Whatever You've Got 2020 – Iverson Lee (9-10 Dec 2020)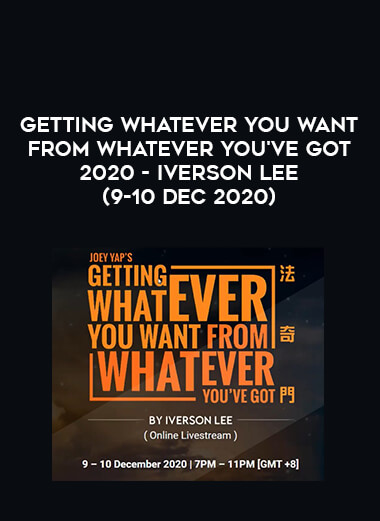 Salepage : Getting Whatever You Want From Whatever You've Got 2020 – Iverson Lee (9-10 Dec 2020)

Getting Whatever You Want From Whatever You've Got 2020 – Iverson Lee (9-10 Dec 2020)
🌟 Notes:
✅ This is only a digital product & no physical item will be shipped out.
✅ Links to download from our Google Drive will be sent to your Gmail or Shopee Chat. Description
NOTICE: ONLY SOFT COPY WILL BE SENT TO YOUR EMAIL.
Kindly provide your Email address in Shopee Chat .

You will receive the digital contents via Email after payment has been confirmed.

Goods sold are not refundable.
Free Big Bonus 50+…Title Ebook & Course ..
1'XKDG Date Selection – Day 1 video 
2."10X Strengths Profiling – Day 1 video
3.Qi Men Dun Jia 540 Yin Structure
4.Analysing-10-Gods-4-Joey-Yap
5.The Destiny Code Revealed 1
6.The Destiny Code Revealed 2
7.BaZi-Book
8.Analysing-10-Gods-4-Joey-Yap
9.Chinese Sexual Astrology: Eastern Secrets to Mind-Blowing Sex
10.Chinese Astrology for 2015
11.Feng Shui and Money: 
12.The-BaZi-60-Pillars-Life-Analysis-Method-Yi-Wood
13.Joey-Yap-Mian-Xiang-Discover-Face-Reading-pdf
14.Feng Shui For Homebuyers
15.Imperial Harvest 2021 Feng Shui Guide
16.Qi Men Dun Jia Compendium (second edition)
17.Qi Men Dun Jia Sun Tzu Warcraft: For Business, Politics & Absolute Power
18.紫微斗数 (31TitleBook)