Gianni Grippo – Daily Drills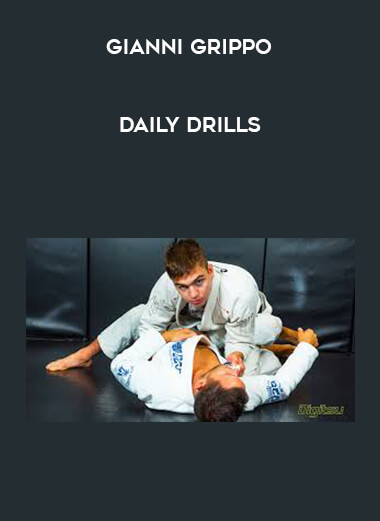 Salepage : Gianni Grippo – Daily Drills

Before I go into why I love drilling so much, I'd want to apologize to Kit Dale for going against him on this issue. Kit, trust me, I am one of your biggest admirers, but I can't see not drilling or feeling that drilling is bad for someone's game. Perhaps we can have a good face-to-face conversation about this sometime, with Bernardo Faria on my side.
Anyway, back to the topic at hand: drilling. I must admit that until my final days as a purple belt, I had no idea what drilling was; from what I understood, I assumed it was just the techniques you go over in class before training. But, boy, was I mistaken. The first time I attended a Mendes Brothers session at Joseph Capizzi's school in Staten Island, NY, I realized what drilling was and what it meant for one's game. At the time, I was the naive 18-year-old purple belt world champion, certain that I was doing everything correctly in my training and that nothing needed to change. But after the first time rolling with Rafael and Guilherme, my eyes opened like the cartoon characters in TV programs, astounded by the perfection of their methods. Everything they did, I could tell, had been done at least 10,000 times before.
So I soaked in whatever I could over the rest of that weekend-long session. I paid great attention to how they arranged their training and how they adhered to a strict schedule without ever deviating from it. I studied each move as if my life depended on it, especially the berimbolo and leg drag, seeing if I could incorporate them into the game I already played. I was also interested in their conviction in the necessity of drilling and why they thought it worked. They discussed how you should practice a specific method so many times that the movement becomes natural, and you no longer have to think before you perform. This concept immediately appealed to me.
. From there, I started drilling, mostly with a couple versions of the leg drag. Then, coincidentally, I suffered an injury at the same time, one that kept me out of normal training for about two weeks but not terrible enough to keep me from drilling. So I would do two 90-minute drill sessions a day, all centered on leg drags. I nearly killed myself by performing leg drags over and over again. When it was time for me to return to training, I recall seeing possibilities for leg drags everywhere! It was like putting on glasses for the first time and being able to see well! I saw opportunities for leg drags from seemingly every angle, and instead of thinking about it, when the chance presented itself, my body sprang into action and I got to work. That day, I imagined I was the Terminator…
After that, I drilled at least once a day for the next year, focusing on a different position each month but always making sure to do the berimbolo and leg drag. Over the course of a year, I practiced the tactics so much that my game entirely transformed. Leg drags were non-existent in 2011 as a purple belt, and I didn't even know how to spell berimbolo, but by the 2012 worlds, they were my two key techniques I would be aiming for—and successfully landing in most of my bouts. What am I blaming it on? Drilling.
Now, I feel that my drilling revolves around my training because it keeps me goal-oriented. Drilling 2-3 times every day now, with a fresh strategy for each session. I'll drill from the guard in the mornings, guard passing in the evenings, and anything I feel needs additional practice at the time in the afternoon sessions. Each session will focus around one position with two or three modifications, and I will always go into the training with a goal in mind of what I want to aim to land. Then I feel like it transfers over nicely into competition—knowing that I have gone over each facet of a match over and over again gives me confidence that I can achieve my goals in the match at hand. Everyone is different, as I said in my previous piece regarding mental preparation. Everyone may have a different method that works best for them, and drilling may not assist everyone as much as it has for me. But I am confident that hours of planned and regular drills using specific approaches can improve your game. If you don't believe me, give it a go (I'm looking at you, Kit.)