Give Your WordPress Website a Makeover: Divi Theme Spotlight (2015)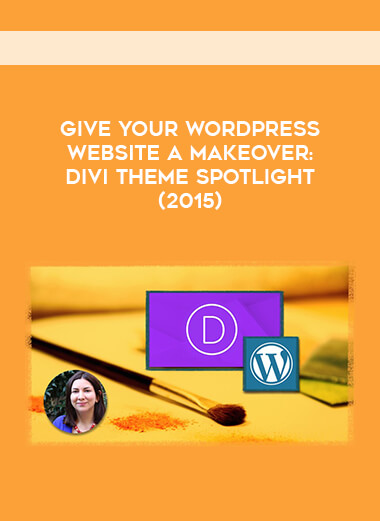 Salepage : Give Your WordPress Website a Makeover: Divi Theme Spotlight (2015)

*Special Introductory Launch Price ($10) until October 15, 2015.
"I am so thankful this course was available as it saved me hours and hours of working out the Divi way of doing things. Clear explanations and examples meant I started and got it all to work in less than a day, quite an achievement for a technophobe like me. I have copied the fonts, colours etc as this is this bit I really struggle with. MANY THANKS!"
-Julie Quinn, LTI.
Are you ready to breathe some new life into your old website?
This step-by-step, clear, and easy to follow course will show you how to take your current or old website and give it a complete makeover, regardless of which tools, platform, or theme you plan to use to build it.
We'll talk about how to best plan your beautiful new website so it works hard for you while you are off doing other things, so it can best promote you, your work, and your brand. I'll also walk you through the process of changing to a new theme in WordPress, and in particular the powerful and stunning e-commerce WordPress theme Divi from Elegant Themes.
I created this course while I myself was redesigning my own online artist's portfolio. You'll see my old website go through a complete transformation as I show you the exact process I used to plan, create, and launch my new and improved website as an actual case study.
Let me help you set up a new website that can do the online heavy lifting for you by showing you how to include features that:
Effectively showcase your latest projects, designs, or products
Better feature your services
Sell more of your products
Collect new subscribers for your mailing list
Generate more social media shares (and more traffic) for your blog posts and other content.
Get more followers for your linked social media pages.
These powerful, bite-sized lessons come directly from my comprehensive (8+ hours long) Web Snax: Super Simple Recipes for Easy Website Design course which is a full web design foundations class that not only gets into the very basics of using WordPress, but also how to plan and organize websites, create online graphics and animations, HTML and CSS, adding Javascript, and making beautiful websites from scratch in a variety of ways using an intuitive right-brained method that requires little to no coding ability.