Goldstein and Sabberg – Insight Meditation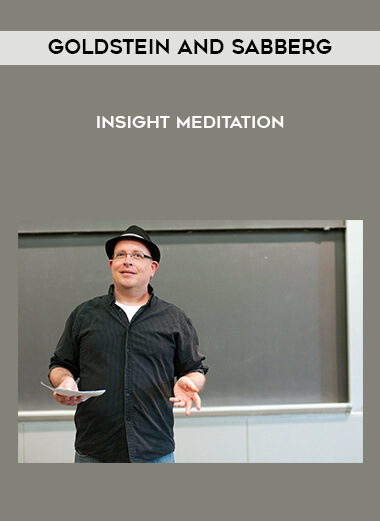 Salepage : Goldstein and Sabberg – Insight Meditation

The Insight Meditation Kit is an extraordinary immersion course in meditation and philosophy provided by Sharon Salzberg and Joseph Goldstein, cofounders of the Insight Meditation Society. With the assistance of a personal instructor, create the spiritual setting of a retreat in your own house. There are twelve sequential courses, an 88-page workbook with interactive exercises, and other goodies included.
The Insight Meditation Kit is nicely packed in a box set and is an excellent gift for novice or seasoned meditators.
Contents of the Workbook
The First Lesson: The Power of Mindfulness
Lesson Two: Focus Lesson Three: Desire and Aversion
Lesson 4: Drowsiness, Restlessness, and Doubt
Lesson Five: Ideas and Reality
Sixth lesson: Suffering
Seventh lesson: Karma
Lesson Eight: Calmness Lesson Nine: Lovingkindness
Final Thoughts
Appendix A: Meditation Materials Appendix B: The Five Obstacles
The Three Great Myths, Appendix C
Appendix D: The Three Types of Suffering Appendix E: The Four Brahma-Viharas Appendix F: The Six Existence Realms
The Eight Vicissitudes, Appendix G
Contents of the CD
Each CD has three guided meditations to assist you in exploring the direct experience of meditation. The meditations are designed to mimic as nearly as possible the atmosphere of a practice session at a retreat facility such as the Insight Meditation Society.
Meditations include the following:
Meditation on Breath
Walking Meditation Body Sensations Meditation
Meditation for Obstacles Meditation for Emotions
Meditation on Metta
Excerpt
Hello and welcome to Insight Meditation. The compact discs and workbook will guide you through a full beginner meditation training course. The cards in the box list several valuable concepts that are covered in this workbook.
This course is based on the Buddhist practice of vipassana, or insight meditation, but the basic techniques for increasing your awareness and releasing uncomfortable mental patterns are applicable regardless of your religious or spiritual beliefs.
In order to benefit from Insight Meditation, you do not need to be affiliated with any belief system. These mindfulness techniques can supplement your existing spiritual path, whether it's a formal practice like Christianity or Judaism or simply a personal feeling of your relationship with the big issues of life.
What You Can Expect:
Insight Meditation comes with two CDs, a notebook, and a deck of instructional cards.
The workbook includes:
Resources for meditation information
Suggestions for creating a meditation room and establishing a daily practice
Buddhist meditation and life lessons
Q&A sessions that address practical new concerns that novice meditators commonly face
Exercises to help you have a better knowledge of and experience with meditation (and space to respond to them)
Tips for bringing your meditation awareness out into the world and fixing issues in your practice
Pali, Sanskrit, and other word dictionaries
A selection of books and cassettes to help you continue your meditation studies.