Hair Growth Hypnosis
Course Download Size : 96.2 MB
Delivery : Digital Download Immediately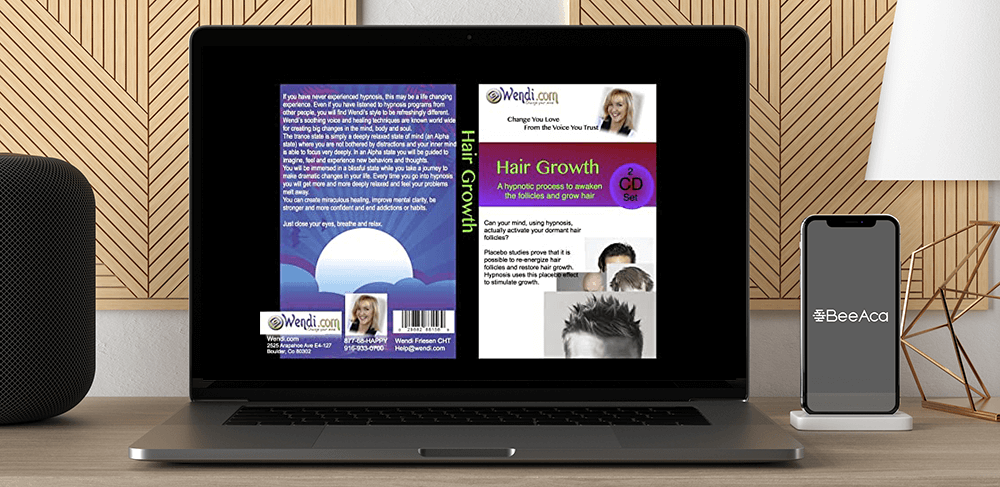 Wendi Friesen – Hair Growth Hypnosis
Salepage : Wendi Friesen – Hair Growth Hypnosis
Archive : Wendi Friesen – Hair Growth Hypnosis
Course Download Size : 96.2 MB
Hair Growth with Hypnosis
Is your hair thinning or receding?
Is your bald spot growing?
Do you want to have thicker hair?
Can your mind, using hypnosis, actually activate your dormant hair follicles?
This may sound like an extraordinary claim, but stick with me as I explain why I have made this program.
The placebo study for a hair growth drug was interesting to me, because it shows that the brain is capable of regrowing hair on nothing more than belief. The results were pretty stunning.
The people who took the real drug had a success rate of 65% having increased hair growth of at least 100 hairs per square inch. Those who took the PLACEBO also had excellent results. 37% of the participants who took only a sugar pill grew new hair- of at least 100 hairs per square inch, and after 2 years the placebo group had 47% of the men with increased hair growth. Now, consider this. If placebo has such a dramatic effect based on only the belief, imagine what focused hypnosis sessions might do, when they are specific to the process of activating dormant follicles.
~~~~ Hi Wendi, First off I'd like to say I bought your hair regrowth cd's a few months ago and they are awesome. I can't tell how you excited I was when I actually saw some little hairs growing in, it was really cool. I was just wondering if the cd's effect all the hair on your head because I noticed hair growing in in places that I wasn't even visualizing. (Sideburns) Thank you! Andrei
Curriculum
Author
I am thrilled to share my life with you. I have become a worldwide leader in creating rapid change for life's difficult problems.
Since 1994 Wendi.com has influenced the lives of millions worldwide and brought insight, wisdom and spiritual growth to people in need.
I am known as a powerful healer, teacher and a creative marketing expert. Some people say I am one of the most influential transformational trainers in the world.
I have created over 300 programs on CD and Video that teach people how to really use their brains! The programs lead them through a process of changing their brain's neural networks, the chemicals of depression, and the habitual and compulsive thoughts that prevent them from being happy. I've been called a miracle worker and have done what some doctors consider impossible.
Readmore: Wendi Friesen