Hakomi Method Essentials Program
Delivery : Digital Download Immediately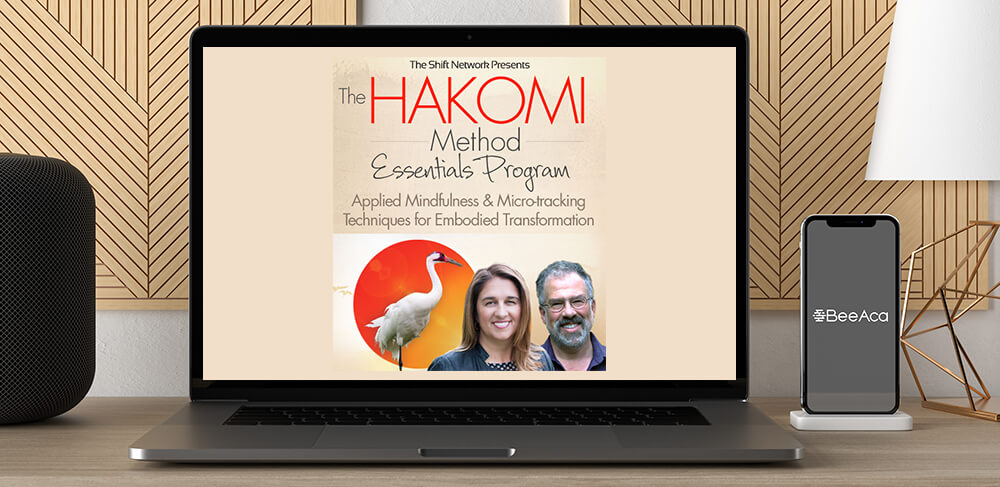 Manuela Mischke-Reeds and Rob Fisher – The Hakomi Method Essentials Program
Salepage : Manuela Mischke-Reeds and Rob Fisher – The Hakomi Method Essentials Program
Archive : Manuela Mischke-Reeds and Rob Fisher – The Hakomi Method Essentials Program
Course Download Size :
What You'll Discover in These 10 Modules
In this 10-module transformational intensive, Manuela and Rob will guide you through fundamental tools and competencies for using the Hakomi Method in a professional setting.
Each contemplation and training session will build harmoniously upon the next so that you'll develop a complete, holistic understanding of the practices and principles you'll need to develop skills that can deepen your relationship with yourself and with your clients.
Module 1: Overview of the Hakomi Method
(Manuela Mischke-Reeds)
In this first session, Manuela will give you a general overview of the Hakomi Method. You'll receive insights on techniques for developing a healing relationship with your clients, with a special focus on the importance of the attachment relationship and "somatic resourcing."
In this session, you'll:
Receive a general overview of the Hakomi Method and its many powerful applications
Discover how to build a healing relationship using Hakomi tools to increase connection, deepen interpersonal skills and encourage a sense of aliveness in the body
Explore physiological qualities that can support your client's physical experience of self and wellbeing
Module 2: Listening to the Many Languages of the Unconscious & Flow of the Process (Rob Fisher)
The languages of the unconscious are deeper than words. One of the most important principles of Hakomi is understanding how to listen to what your client's unconscious is communicating. Rob will share with you the many ways that the gentle yet powerful practice of mindfulness is a key ingredient of true healing and how a typical Hakomi session unfolds.
In this session, you'll:
Investigate underlying principles that guide a healing relationship which benefits both client and practitioner
Develop the skill of listening to the many languages of the unconscious, which can include tracking "micro-expressions" and so much more
Discover how to effectively leverage externally focused mindfulness
Increase your capacity to be truly present to what's happening in the "now," and organically revise your treatment approach
Recognize how a typical Hakomi session moves from getting connected to transformation of core material
Module 3: Applied Mindfulness Contacting the Present Moment
(Manuela Mischke-Reeds)
One of the essential principles of Hakomi is Applied Mindfulness — focusing on how to bring mindfulness into a relational context. In this module, Manuela will show you how to apply mindfulness techniques to deepen the connection between you and your clients and create a sense of emotional safety.
In this session, you'll:
Discover how to build emotional safety and connection through the "contact" technique
Explore powerful ways to meet clients in their present experience
Find out how to respond to the storyteller beneath the story, so that your client feels truly seen and understood
Module 4: The 4 Steps of Deepening Internal Exploration & Underlying Principles (Rob Fisher)
The process of internal exploration is ever-unfolding, and Hakomi offers four essential steps for helping you and your clients deepen into the present moment experience, which is so key to continued exploration and psycho-spiritual healing. All the techniques in this method are based on five essential principles which will guide the interventions as well as define the internal state of the practitioner.
In this session, you'll:
Discover the four essential steps of internal exploration
Explore creative healing techniques that allow the psyche to "unfold" seminal experiences
Use mindfulness to trace present-time indicators of core beliefs to their origins
Be introduced to the five essential principles that guide and shape the Hakomi method
Module 5: Core Beliefs & Experiments in Mindfulness to Explore & Change Them (Rob Fisher)
Our lives are largely influenced by core models of the world, the self and others that define how we perceive, feel and act. Often they become limiting, and we find ourselves repeating the same unsatisfying patterns over and over again.
In this session, you'll:
Discover how to identify core beliefs by noticing indicators in present moment experience
Explore how to use mindfulness to elucidate and transform these gridlocked attitudes and beliefs
Develop the skills of constructing little experiments performed in mindfulness to help free your clients from these self-imposed constraints
Module 6: Probes Verbal Experiments in Mindfulness
(Rob Fisher)
Mindfulness has the power to remove blocks to nourishing experiences; in Hakomi, verbal experiments help facilitate this process. Rob will teach you the technique of "Words of Grace" — unique words and phrases that reveal the structure of the psyche and help the practitioner facilitate healing.
In this session, you'll:
Design verbal experiments that utilize mindfulness to study the structure of the psyche
Discover how to find specific "Words of Grace" for each client
Design mindfulness experiments that uncover emotional blocks
Module 7: Working With Resistance & "Taking Over" Technique
(Rob Fisher)
Resistance and other psychological defenses serve a purpose in the healing process. Paradoxically, supporting clients in their resistance can help them let go so that they can have a shift in perception and experience. Manuela will guide you in appreciating and harnessing the wisdom of defenses in yourself and your clients.
In this session, you'll:
Discover the wisdom of resistance and defenses, and come to view them as intelligent expressions of your client's' emotions
Appreciate and leverage the paradox of letting go when resistance is supported
Design "Taking Over" experiments that respect your client's journey
Module 8: State-specific Processing & Child States
(Manuela Mischke-Reeds)
The Hakomi Method is a powerful way to recognize different states of experiences — regressed child states and other strong emotional states embedded in the internal landscape, often early in life. These states embody core beliefs about ourselves and the world.
In this session, you'll:
Recognize the signs of regressed states in your clients
Build your capacity to embody the "wise stranger"
Know how to validate and meet younger states
Design experiences that call into question ancient beliefs held in the body-mind
Module 9: Micro-tracking, Somatic Resourcing & Trauma States
(Manuela Mischke-Reeds)
This session will help you develop your micro-tracking abilities and better understand psycho-biological triggers and traumatic activations in your clients. You'll discover how to differentiate what it takes to facilitate strong emotional states.
In this session, you'll:
Discover a process known as "riding the rapids" for containing trauma activation
Explore how state-specific memories are held in the body
Understand micro-tracking as an essential tool for trauma healing
Start to develop somatic resources to help ground your clients
Understand the importance of developing a somatic-resourcing repertoire
Module 10: The Missing Experience & Transformation
(Manuela Mischke-Reeds)
Deep transformation in your clients hinges on their capacity to shift internal belief systems so they can make new and better choices. In this final class, you'll discover how to supply "missing corrections" that enable healing.
In this session, you'll:
Understand what the corrective (missing) experience means in the Hakomi framework
Recognize what creates internal transformation for your clients
Identify how to provide your clients with safe "missing corrections" of their internalized belief systems that offer new choices
The Hakomi Method Essentials Program Bonus Collection
In addition to Manuela and Rob's transformative, 10-module virtual course, you'll receive these powerful training sessions. These bonus materials are being offered to further complement what you'll learn in the course — and take your understanding and practice to an even deeper level.
The Hakomi Summit Wisdom Collection
Full Package of 15 Downloadable MP3s ($123 Value)
The Hakomi Wisdom Collection gives you lifetime access to every one of the illuminating and informative mentoring sessions of the 2015 Hakomi Global Summit. You'll learn how Hakomi can be applied easily for your own personal growth and utilized effectively by practitioners working with individuals, couples, families and groups.
Sessions Include:
Jon Eisman: Hakomi & The Essential Self
Jaci Hull: The Mindful Tracker
Lorena Monda: The Art of Connecting
And many more!
World View Self-rating Character Inventory
Ebook From Greg Johanson, PhD
Learn more about how you approach the world using particular character strategies. A self test reveals your basic predispositions, attitudes, beliefs and injuries that underlie basic strategic — and self-reinforcing ways you create large portions of your life.
Greg Johanson, MDiv, PhD, LPC, NCC, a founding trainer of the Hakomi Institute, has a background in therapy as well as theology. He's a member of the American Psychological Association as well as the American Association of Pastoral Counselors. He's published over 175 items in the fields of psychotherapy and pastoral theology, including (with Ron Kurtz) Grace Unfolding: Psychotherapy in the Spirit of the Tao-te Ching.
Greg has served on the editorial board of six professional journals and as editor of Hakomi Forum, and has taught as an adjunct in a number of graduate schools. He has a special interest in integral psychology, which relates spirituality to individual consciousness and behavior in the context of social and cultural issues.
Hakomi Audio Meditation Package
3 Meditation Audios With Manuela Mischke-Reeds
Body Scan Meditation
In this 17-minute meditation designed to enhance your relationship with your body, Manuela guides you to notice your body and slow down. This practice is an excerpt from Manuela's book, 8 keys to Practicing Mindfulness.
How to Meditate Lying Down
This 7-minute instructional audio offers a new possibility for meditators who can't or don't want to follow the traditional sitting-up posture. It offers precise pointers for what to focus on while lying down.
Threefold Breathing Meditation
This powerful embodied meditation, an excerpt from Manuela's book, 8 Keys to Practicing Mindfulness, can be done sitting or lying down. It follows three main areas of breath focus and allows the meditator to slow down and gently follow the rhythm of the body. This is an excellent practice if you need grounding and calming.
Author
Manuela Mischke-Reeds, MA, MFT, is an international teacher and writer of mindfulness-based somatic psychology. She co-directs the Hakomi Institute of California and teaches in the US, Europe and Australia. A meditation practitioner for over 25 years, Manuela lectures, consults and trains professionals in mindfulness, attachment, trauma and movement therapy. She maintains a private psychotherapy practice in Menlo Park, CA.
Manuela frequently lectures at conferences and Universities and has been faculty for the past 15 years at JFK University, Sofia University and The California Institute of Integral Studies in California.
Readmore: Manuela Mischke-Reeds and Rob Fisher