Hakomi Method Essentials
Delivery : Digital Download Immediately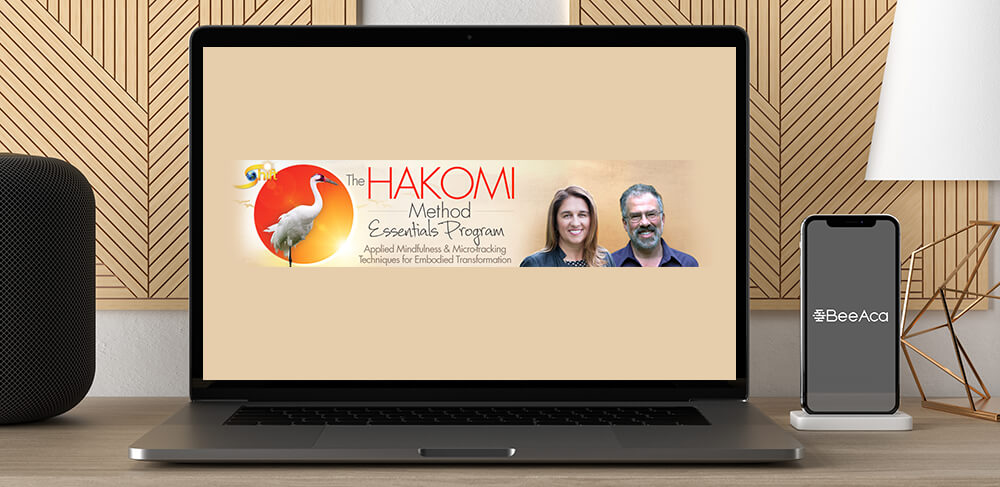 Manuela Mischke-Reeds & Rob Fisher – Hakomi Method Essentials Program
Salepage : Manuela Mischke-Reeds & Rob Fisher – Hakomi Method Essentials Program
Archive : Manuela Mischke-Reeds & Rob Fisher – Hakomi Method Essentials Program
Course Download Size :
New Live Training Starts
Thursday, October 22, 2015
What You'll Discover in These 12 Weeks
Course sessions are on Thursdays at 1:00pm Pacific.
In this 12-week transformational intensive, Manuela and Rob will guide you through the fundamental tools and competencies for using the Hakomi Method in a professional setting.
Each weekly, LIVE contemplation and training session will build harmoniously upon the next, so that you'll develop a complete, holistic understanding of the practices and principles you'll need to develop skills that can deepen your relationship with yourself and with your clients.
Module 1: Overview
(Manuela Mischke-Reeds) (October 22)
In this first live session, Manuela will give you a general overview of the Hakomi Method. You'll receive insights on techniques for developing a healing relationship with your clients, with a special focus on the importance of the attachment relationship and "somatic resourcing."
In this session, you will:
Receive a general overview of the Hakomi Method and its many powerful applications.
Learn how to build the healing relationship utilizing Hakomi tools to increase connection, deepen interpersonal skills and encourage a sense of aliveness in the body.
Explore physiological qualities that can support your client's physical experience of self and well-being.
Module 2: Listening to the Many Languages of the Unconscious
(Rob Fisher) (October 29)
The languages of the unconscious are deeper than words. One of the most important principles of Hakomi is listening to listen to what your clients' unconscious is communicating. Rob will share with you the many ways that the gentle yet powerful practice of mindfulness is a key ingredient of true healing.
In this session, you will:
Learn underlying principles that guide a healing relationship that benefits both client and practitioner.
Develop the skill of listening to the many languages of the unconscious, which can include tracking "micro-expressions" and so much more.
Learn how externally focused mindfulness can be effectively utilized.
Increase your capacity to be truly present to what's happening in the "now," and organically revise your treatment approach.
Module 3: Relational Mindfulness:
Contacting the Present Moment
(Rob Fisher) (November 5)
One of the essential principles of Hakomi is Relational Mindfulness, and in this module Rob will show you how to apply mindfulness techniques to deepen the connection between you and your clients and create a sense of emotional safety.
In this session, you will:
Learn to build emotional safety and connection through the "contact" technique.
Discover powerful ways to meet people in their present experience.
Find out how to respond to the storyteller beneath the story, so that your client feels truly seen and understood.
Module 4: The 4 Steps of Deepening
Internal Exploration
(Rob Fisher) (November 12)
The process of internal exploration is ever-unfolding, and Hakomi offers 4 essential steps for helping you and your clients deepen into the present moment experience, which is so key to continued exploration and psycho-spiritual healing.
In this session, you will:
Learn the 4 essential steps of internal exploration.
Discover creative healing techniques that allow the psyche to "unfold" seminal experiences.
Use mindfulness to trace present-time indicators of core beliefs to their origins.
Module 5: Accessing Categories
of Experience
(Manuela Mischke-Reeds) (November 19)
As humans we process experiences in different mental categories. Manuela will teach you the skill of "Accessing," to understand how experiences are processed and categorized in your clients' psyches.
In this session, you will:
Discover the nuances of Accessing so that you can effectively apply them to your practice.
Learn how humans process through different categories of their experiences.
Recognize your "preference" biases while working through the categories of experience with your clients.
Develop the skills of helping a client move and explore between categories of internal experience.
Module 6: Identifying & Exploring
Core Beliefs
(Rob Fisher) (December 3)
The "models" for our worldviews are stored deep in the limbic brain. In this class, Rob will show you how to use mindfulness to discover, explore and transform these core beliefs.
In this session, you will:
Understand how beliefs predict, create and color our reality.
Learn to work with core models of the world stored deep in our limbic brains.
Use mindfulness to expose and explore these psychological blueprints.
Module 7: Working with the Wisdom
of Resistance
(Manuela Mischke-Reeds) (December 10)
Resistance and other psychological defenses serve a purpose in the healing process. Paradoxically, supporting clients in their resistance can help them let go so that they can have a shift in perception and experience. Manuela will guide you in appreciating and harnessing the wisdom of defenses in yourself and your clients.
In this session, you will:
Discover the wisdom of resistance and defenses, and come to view them as an intelligent expression of your clients' emotions.
Appreciate and leverage the paradox of letting go when resistance is supported.
Design "Taking Over" experiments that respect your client's journey.
Module 8: Verbal Experiments
in Mindfulness
(Rob Fisher) (December 17)
Mindfulness has the power to remove blocks to nourishing experiences, and in Hakomi, verbal experiments help facilitate this process. Rob will teach you the technique of "Words of Grace," unique words or phrases that reveal the structure of the psyche and help the practitioner find facilitate healing.
In this session, you will:
Design verbal experiments that utilize mindfulness to study the structure of the psyche.
Discover how to find specific "Words of Grace" for each person.
Design mindfulness experiments that uncover emotional blocks.
Module 9: Working with Regressed States
(Rob Fisher) (January 7)
The Hakomi Method is a powerful way to recognize different states of experiences — regressed child states and other strong emotional states embedded in the internal landscape, often early in life. These states embody core beliefs about ourselves and the world.
In this session, you will learn to:
Recognize the signs of regressed states in your clients.
Build your capacity to embody the "wise stranger."
Know how to validate and meet younger states.
Design experiences that call into question ancient beliefs held in the body-mind.
Module 10: Micro-Tracking &
Trauma States
(Manuela Mischke-Reeds) (January 14)
Facilitating new learning experiences in your clients requires understanding the ways trauma and memories are encoded in the body-mind. Manuela will guide you to develop an entire repertoire of somatic-based resources that help ground your clients as you work with them, in and out of trauma states.
In this session, you will:
Discover how state-specific memories are held in the body.
Learn how memory is linked to its original encoding.
Discover techniques to help prevent your client from dissociating.
Start to develop somatic resources to help ground your clients.
Understand micro-tracking as an essential tool for trauma healing.
Module 11: Addressing Strong Emotional Experiences & Trauma States Using Somatic Resourcing
(Manuela Mischke-Reeds) (January 21)
This session will help you develop your fine micro-tracking abilities and better understand psycho-biological triggers and traumatic activations in your clients.
In this session, you will learn to:
Differentiate trauma states from strong emotional expressions.
Develop fine micro-tracking abilities to discern psycho-biological triggers and traumatic activations.
Continue designing a somatic resourcing repertoire.
Facilitate and contain strong emotional states, a process known as "riding the rapids."
Module 12: The Missing Experience
& Transformation
(Manuela Mischke-Reeds) (February 11)
Deep transformation in your clients hinges on their capacity to shift internal belief systems so that they can make new choices. And in this final class, you'll learn how to supply "missing corrections" that enable healing.
In this session, you will:
Understand what the corrective (missing) experience means from the Hakomi framework.
Understand what creates internal transformation for your clients.
Learn to provide your clients with safe "missing corrections" of their internalized belief systems that offers new choices…
Author
Manuela Mischke-Reeds, MA, MFT, is an international teacher and writer of mindfulness-based somatic psychology. She co-directs the Hakomi Institute of California and teaches in the US, Europe and Australia. A meditation practitioner for over 25 years, Manuela lectures, consults and trains professionals in mindfulness, attachment, trauma and movement therapy. She maintains a private psychotherapy practice in Menlo Park, CA.
Manuela frequently lectures at conferences and Universities and has been faculty for the past 15 years at JFK University, Sofia University and The California Institute of Integral Studies in California.
Readmore: Manuela Mischke-Reeds & Rob Fisher