Harlan Kilstein – Inner Game Copywriting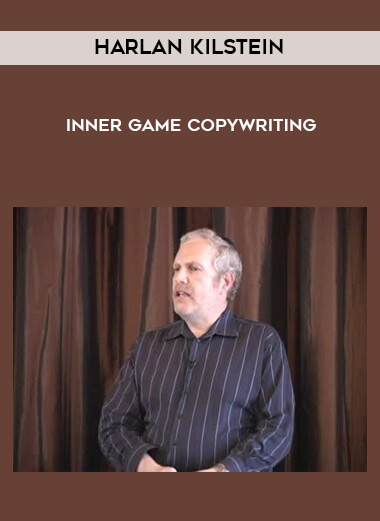 Salepage : Harlan Kilstein – Inner Game Copywriting

9,124 copywriters show that copywriting courses are virtually useless
for building a 6-figure copywriting career.
This 7-Figure copywriter gives you the final piece of the puzzle…
and reveals what you should be doing instead.
His 7-Figure copywriting cronies are raging mad that he's spilling the beans
— because they know their precious secrets work!
(They work so well you have an entire year to try them out.
If you still aren't making real money
– he'll pay you out of his own pocket!).
There is serious money to be made in copywriting.
And your talent is only a fraction of the equation.  99% of the time, it's not your copywriting skills that impact your success.  So what's stopping you?
Every time you sit down to write and stare at a blank screen…
Every time you fail to turn a lead into a client…
Every time you accept a job for much less than you want…
Every time you think your work isn't worth a lot of money…
Your Mind Is Holding Your Success Hostage!
None of these roadblocks are remotely related to your copywriting. The root of all of these problems lies within your own mind.
We call all the technical aspects of copywriting your "outer game".
But the inner mental strategies that are going to set you on the track of success are your "inner game."
And up until now, not a single teacher of copywriting has focused on the Inner Game of Copywriting.
That's why you need to pay close attention to the following words because they hold the key to obliterating these roadblocks once and for all.  What I'm about to share with you will transform your bottom line. Just keep reading and you'll scroll your way into unlimited copy success.
As you know, writing copy can be a lucrative career choice. Not only that, but successful copywriters have tremendous freedom.  The decide when they'll work, how much work they'll do, and where they'll be when they do work.  That's why so many are jumping on the bandwagon.
Everyone who has ever written something believes they can translate their previous writing experience into a lucrative business.  And they can.  They just need to know how.  Sadly, how to do it right eludes over 90% of copy writers.
If you're one of these copywriters, then you know it's not the writing talent that you lack. You've already got the talent.  You've already studied copywriting and know how to write copy that sells.  What you're missing is the final piece of the puzzle.  It's the missing piece that transforms your talent, skills, and knowledge into cold hard cash.
Here's the good news:  I'm about to hand you the missing puzzle piece.  Your copywriting career woes are about to be solved and permanently banished from your life.
That's right – banished… once and for all.  This isn't just a band-aid that covers up the problem so no one else can see it.  It's a permanent solution that fixes the source of the problem – not the symptoms.  Because it fixes the problem at the source, you'll never have to worry about these obstacles again.  So I can honestly say…
Quite Simply without an ounce of hype or hyperbole, that this is nothing short of…
Programming You for Permanent Success
My name is Dr. Harlan Kilstein, and I'm one of the top copywriters in the industry.  I rocketed to success, making $322,000 in my first year.  Now, copywriters at all stages of their careers try and use my copy business as a model for their own.  They watch what I do like a hawk.  The call me up for advice. They swipe my sales letters and hope that they'll have the same success.
My sales letters have made millions and millions of dollars for my clients. People call from all over the world just to get me to write ads for them. They eagerly pay me tens of thousands of dollars to write for them, because they know they'll make it back many times over.
One of the reasons my copy works so well is because of my secret weapon.
You see, I'm also an elite NLP hypno-coach.  In just a moment, I'll tell you all about NLP.  But for now, you just need to know that before I used NLP to write copy, I used it to help people change their lives.
Until a few years ago, I owned the largest hypnosis clinic in the United States.  We helped thousands of people achieve their goals simply by overcoming mental barriers.  These were the roadblocks stopping them from success. And NLP was the key.
In fact, NLP was the key to everything I've mentioned so far – my rapid success in copywriting, the success of the copy itself, and especially in helping thousands of my clients finally achieve their personal goals.
So, you're probably wondering…
"Just What Is NLP And How Can It Help ME?"
NLP stands for "Neuro-Linguistic Programming". It is a method for shaping successful behavior.  All physical behaviors (and there consequences) originate in the mind.  It's your mind that determines if these behaviors will build your success or hold you back.
NLP uses the power of your mind and your desires to help you.  With NLP you'll effortlessly make a habit of forming inner thoughts that generate successful behavior rather than self-defeating behavior.
NLP is so powerful, therapists use it to help people overcome serious problems and lead more successful and fulfilling lives.  They use it (as I did) to help with weight loss, smoking cessation, phobias, and personal therapy.  But its applications are limitless and can be used to achieve success in any area.
Put Your Unconscious Mind In Charge of Your Success!
Milton Erickson, a hypnosis  pioneer, created his own model of change. He would build rapport with his patients, and then distract the conscious mind so that he could communicate with the unconscious mind more effectively.
The unconscious communication was very persuasive and would allow the patients to come to successful conclusions to help themselves on their own. When people feel like they are coming up with the answers themselves they are much more likely to respond positively.
Long-established forms of psychotherapy and psychiatry can be a long, painful and expensive process. The techniques used in NLP and Ericksonian Hypnotherapy have been proven to be faster and more effective approaches to achieving behavioral changes that are lasting, self-fulfilling and powerful.
Creating A Success Mind Set!
We're going to focus on NLP's uses for creating a mindset that cultivates success in business communication and sales. NLP helps its users communicate more clearly and succinctly and help them express what they really want to. Certain NLP methods are widely recognized as useful techniques within business management communication.
We're going to use NLP to quickly bring change in ourselves.  Change that will translate into confidence, mastery and, loads and loads of cash.  Most importantly, we're going to use NLP to quickly bring about the changes that will let us join the ranks of other copywriters who enjoy the wealth and freedom that success brings.
Here's Your Personal Success Guide…
I want to introduce you to a personal friend of mine. His name is Doug O'Brien.
Doug O'Brien was my secret weapon my first year as a copywriter.  Because of Doug working on me on my Inner Game, I was able to bring in over $322,000 that year, simply by using some of the very same techniques he has prepared for you.
Doug is what's known as a Master Practitioner of NLP. He's so experienced and knowledgeable that also trains people in NLP.  Plus he's a Certified Hypnotherapist to boot (We have a lot in common).
This is a guy who's worked in seminars with personal transformation guru Tony Robbins. He now conducts numerous seminars of his own around the globe specializing in the advanced "Sleight of Mouth" patterns of Robert Dilts, official NLP Certification Courses, and Ericksonian Hypnotherapy.  Doug even helped found Columbia-Presbyterian's Department of Complementary Medicine.
Now, after years of me nudging and wheedling him, Doug's produced some new recordings on the Inner Game of Copywriting. And they are worth making a fuss over. These are brand new, hot off the presses – and not many people know about them.
That's why I want to share them with you.
These programs are literally gold.
Here's what you'll be receiving by immediate secure download:
Financial House Cleaning – eliminating all financial worries and reprogramming you to immediate success.
Productivity & Time Management – stop wasting time and getting more done.
Procrastination Blaster AKA: The Secret to Success in Life – you'll crank out sales letters in half the time.
Fearless Writing – eliminate all hesitation. Your words will flow effortlessly through you.
Deep Trance Identification – get a picture in your mind of your favorite copywriter.  In a few minutes, you'll be writing like them.
Hardball Negotiation – peanuts are for elephants and donkeys. Start getting paid like a pro.
What's Your Why – get your focus on what you are doing and why. This will skyrocket your results.
Make A Plan & Do It – what do you need to do to get to the next level. Listen to this and get there.
Combating Entrepreneurial ADD – it's a known secret that most people who work online have a bad case of ADD.  This shifting focus can be deadly unless you integrate this lesson.
Your Money Mindset – the world is full of whiners about the recession, the economy and on and on.  Here's how to lock in the winning edge.
Ass Control – acknowledging my friend Frank Kern's brilliant program, this is all about getting your ass in gear.
Overcoming Setbacks – what happens when things don't go your way.  Doug will show you how to reverse things – instantly.
By listening to Doug's recordings, you'll discover:
How to overcome negative thoughts and self-doubt and rid yourself of the feeling that "I'm not gonna make it in this game!" (No more depression about your work because you'll be on your way to the big leagues!)
How to gain confidence in yourself to be able to charge what you want. Take your own personal copy business to its maximum heights! After you get the hang of it, you'll just sit back as your business goes on automatic pilot!)
Proper inner game copy that you can launch AT WILL. Your sit-down time will be shorter and your writing will be much more powerful, effective, and persuasive.
How to properly learn from others' copy! (No more worries about your rivals approaches …to quote Dr. Seuss, you'll start happening too!)
When it's "just not coming to you" it can be excruciatingly frustrating. Avoid that frustration with NLP techniques that will have you churning out great copy like a newspaper press.
Inside tips about anchoring that the pros use that has nothing to do with cruise ships. (You may have seen this done but haven't quite known how to do it right!)
Build your mental game to be unstoppable. It will make all the difference in the world when you have the same mental state as the top copy experts – guys like David Garfinkel, Gary Halbert, and John Carlton. Do these names ring a bell? They should.
Overcome the anxiety of your writer's block to plow through the work that you need to do in record time. (You won't find these methods anywhere else.)
How to know the difference between a good copywriter and a great copywriter.
Doug is going to show you that.
And how to become the latter.
How to program yourself for success. It's not as hard as you think. In fact, Doug makes it readily within reach.
Here's The Inner Game Steal!
When I was in the hypnosis business, I charged $250 for a customized hypnosis recording. People flew from all around the world to work with me.  At those rates, this program would cost $3000 (and believe me, it would be worth it at that price.)
But most hypnosis programs sell for $29.95 (cheap bastards) and even at THAT rate, this program should cost $359.40.
But I'm going to slash the price even further.
I'm going to give you the best chance to overcome all the obstacles.
My introductory price for Inner Game Copywriting is just $297.00 It's a dirt cheap way to get started and one listen to these recordings is all it takes to start the change with in.
Listen up, you could be a huge success in the copywriting world IF you just do what it takes to get your Inner Game in gear.
This is the best way to do it.
I encourage you to purchase Doug's programs. Get your inner game kick-started tonight and see results you never thought possible tomorrow.
Take up to a year to make up your mind.  I recommend you listen to one program at a time for the most effective way to change.
And this IS a hypnosis program, do not listen to this program while driving a car, operating a boat or doing anything that requires close attention.