Health and Yoga – The Jala Neti Video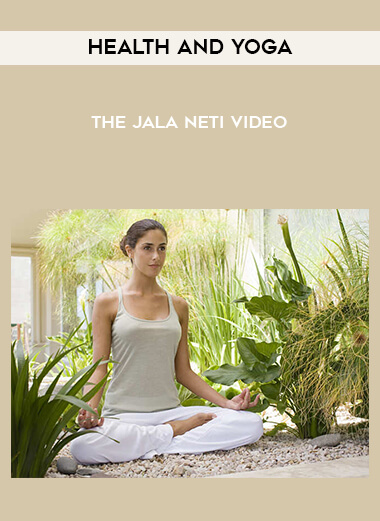 Salepage : Health and Yoga – The Jala Neti Video

Learn the Jala Neti way and overcome your sinus related troubles… naturally
With thousands of sinus and allergy sufferers, literally, breathing freely for the First Time in their lives, and benefiting so greatly from the 'humble' neti pot, we were faced with a unique situation:
Questions such as the following were commonplace:
Neti is wonderful; please tell me how to do Stage 2 (Advanced Neti) for better cleansing?
I've benefited SO much, how do I teach my child this great natural technique?
I'm a yoga trainer, how can teach neti to students?
The instruction book is great, but I just wish I could actually learn by seeing how it's done.
What the video includes:
A Complete Introduction to the practice of Jala Neti – also called saline Nasal Irrigation. This introduction will lay bare researched facts on why Jala Neti is something which should be done by everybody and not only the sinus and allergy sufferers. Even includes details on recommended salts.
Detailed instructional demo on the Actual Practice of Jala Neti (Stage 1) for beginners. Any apprehensions whatsoever will fast vanish when you see how simple yet scientific this process is. This is also a great PLUS for anyone who has had troubles following neti from written instructions. It also includes practical lessons on drying the nose, a very important aspect of saline nasal irrigation.
A detailed instructional demo on the advanced stage of Jala Neti (also called Stage 2). Almost 73% of the people who tried jala neti were so ecstatic with the results AND the simplicity of the technique, that we were flooded with requests on learning stage 2 for a fuller flushing of the sinus passages. This DVD will show exactly how to achieve it.
Teaching Jala Neti to others. This was another long-standing demand of neti followers who wanted to know how they could get their spouses, children, parents and friends to overcome their fear and try out this wonderful practice. This video attends to such requests by showing how exactly one can teach this remarkable practice to novices.
Teaching Jala Neti to Children. For any parent, to see the silent suffering of their young ones from sinus allergies, colds and even asthma year after year can be quite traumatic. Moreover, nobody wants to feed their children cocktails of drugs because of the uncertain long-term consequences. But the real challenge is how to help them overcome the fear and resistance of pouring water into their nostrils. A special feature of this video is the actual training and demonstration of a young child of 5 years doing neti. Not only will your child naturally overcome the fear when he / she sees another small girl doing this but it will be taken up with greater enthusiasm as a "child's play".
Trouble Shooting: A quick guide that highlights the common problems faced by neti beginners and the recommended solutions.
As you can imagine, a lot of thought, research and hard work has gone into this video – the first ever of its kind – because of the little known aspects of this wonderful technique.
Through this video, not only will you overcome your apprehensions but you will also be guided in performing the technique in the best and fullest manner possible.
PLUS you will be able to motivate and possibly teach your dear ones including your children to keep away ear, nose and throat disorders naturally and safely.
As a promotional tool, we are supplying this all over the world to all interested doers, students, and teachers.
You can buy it alone OR as part of the Jala neti kit which includes the Stainless Steel Neti Pot + Instruction Mannual + this Video DVD
" The neti pot is great, I'm still trying to integrate it in my daily routine. I was able to view the instructional video on my mac given a little working around, that was helpful, great video. I really appreciate the energy and effort put into your work, from the e-mails received down to the wording. It shows a commitment to the customer that is scarce these days. Thank you, please know you're on the top of my list for future online purchases.."
" I received the Jala Neti Kit in good time. The CD was invaluable – I would recommend it to all new users. I felt very comfortable using the Jala Neti after viewing the (CD) and have had no problem with the technique. While my allergies are not gone the symptoms are improved. Thanks. "
" Thank you for making the video available. I had never used a neti pot- just had used a salt water atomizer (spray bottle). Seeing someone use the neti pot helped me overcome some fear i had of choking or whatever. After watching the video I immediately tried it. I now use it once or twice daily. "
" Your training video CD was most helpful. It was really well done, clear, not over repetitive, hit the mark just right. I'd recommend it to all of your purchasers. A picture is worth a thousand words, and the video is much more direct and accessible than the booklet. "
" Thank you very much for including the info/instruction Neti Pot video. It helped a lot with getting the head tilt and positions right. "
" The CD is a wonderful addition. Thank you for providing that. I now know how to do the secondary irrigation of the posterior pharynx. Without the CD I would not have figured it out."
" Yes, I received the Neti pots which I ordered and have been using them regulary. Appreicate the professional manner in which my order was handled. The Audio Visual instruction was very good and it helped me get familar with the Jala Neti procedure."
" I am very much enjoying my Neti pot. My sinus troubles are much improved, and I was able to have my son use it once as well. The video was very helpful in figuring it out, although I have not been able to do Step 2 yet. Thank you for your questions. I will continue to recommend your website for neti pots."
" I am very pleased with the Neti pot. The CD is does a great job of explaining the techniques. My first time was a breeze, and my sinuses never felt better. I will continue to use this product as well as recommend you all to my family, friends, and co-workers. Thanks again! "