High Impact Marketing Club
Course Download Size : 1.5 GB
Delivery : Digital Download Immediately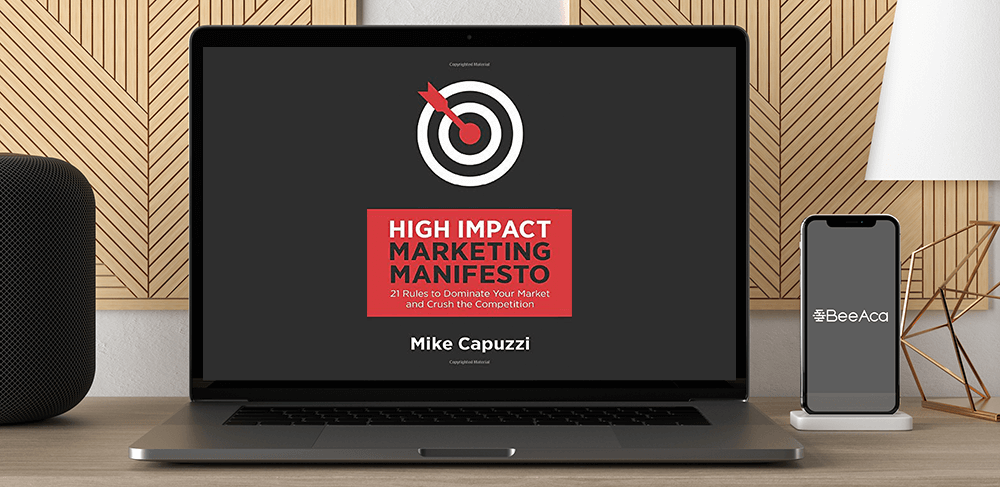 Mike Capuzzi – High Impact Marketing Club
Salepage : Mike Capuzzi – High Impact Marketing Club
Archive : Mike Capuzzi – High Impact Marketing Club
Course Download Size : 1.5 GB
Mike Capuzzi – High Impact Marketing Club
Description
The High Impact Marketing Club is the culmination of the last 21 years I've spent in the marketing game and it's a treasure chest of "classic Capuzzi-inspired strategies" that solve the frustration of marketing that doesn't work.
Each month, High Impact Marketing Club members receive my guidance, opinions, ideas and motivation for creating remarkable marketing to attract new prospects and customers…… leverage existing customers better…… and create more profitable relationships!
The High Impact Marketing Club has three convenient membership levels (Elite, Elite Plus and Prime) to give you exactly what you need and the two Elite membership levels offer a convenient two-payment option, which allows you to "test drive" the High Impact Marketing Club for 28 days for a low price.  Elite and Elite Plus are 12 month term memberships and Prime is a month-to-month membership.
Benefit #1 – High Impact Marketing Academy enrollment (NEW!)
Marketing school for business owners

Every other month you may attend a specialized, High Impact Marketing training, via webinar, at no additional cost via the live training sessions or the recording (or both)

2015 trainings to include:

High Impact Marketing with CopyDoodles

High Impact Direct Mail

High Impact Marketing Funnels
Benefit #2 – "Open Mike" webinars
Every other month I will host a LIVE, member-only forum, via webinar, for you to ask questions and get valuable feedback for your business
If you want to learn how to write better copy – this is the newsletter you want!

I have been getting it since 2009 (

read this article for more details

)

Elite members receive a vintage issue, from 2004, each month in print-ready PDF format

Prime members receive the vintage 2004 issue (digitally) and the 2015 print issue (via mail) for that current month
Benefit #4 -CopyDoodles Success Interviews
Every other month you will receive a special video presentation and PDF transcript with a smart business owner and their use of CopyDoodles
Benefit #5 – CopyDoodles Design Guides (NEW!)
Every other month you will receive a valuable CopyDoodles Guide for Effective Marketing Design in print-ready PDF format

Specialized guides show you how create more effective looking print and digital marketing

Print marketing topics include advertising, brochures, business cards, postcards, sales letters and more

Digital marketing topics include emails, PowerPoints, squeeze pages, web sites and more
Benefit #6 – High Impact Marketing Resource Directory
Access to my list of "Capuzzi-endorsed" vendors, suppliers and resources

Each offers a special, High Impact Marketing member-only discount

E.g. transcriptionists, designers, copywriters, website designers, software programmers, etc.

Add up one or two of the savings discounts you get from this and you could easily pay for a year or two of the High Impact Marketing Club!
This easy and quick-to-read and quick-to-implement newsletter is like no other marketing newsletter out there

Each laser-focused issue not only shows you what you should be doing, but also gives you the templates to do it!

Business owners love Smart Ideas!

Elite Plus members receive this electronically in print-ready PDF format

Prime members receive the current print issue via the Postal Service
Benefit #8 – CopyDoodles Access Club membership with access to:
10,000+ hand-drawn doodles

100+ handwriting fonts

780+ business comics

Custom image generators and more!

Elite Plus and Prime members receive access.
Mike Capuzzi – High Impact Marketing Club Download, High Impact Marketing Club Download, High Impact Marketing Club Groupbuy, High Impact Marketing Club Free, High Impact Marketing Club Torrent, High Impact Marketing Club Course Download, Mike Capuzzi – High Impact Marketing Club Review, High Impact Marketing Club Review
Internet Marketing Course
Digital marketing is the component of marketing that utilizes internet and online based digital technologies such as desktop computers,
mobile phones and other digital media and platforms to promote products and services. Its development during the 1990s and 2000s,
changed the way brands and businesses use technology for marketing. As digital platforms became increasingly incorporated into marketing plans and everyday life,
and as people increasingly use digital devices instead of visiting physical shops, digital marketing campaigns have become prevalent,
employing combinations of search engine optimization (SEO), search engine marketing (SEM), content marketing, influencer marketing, content automation,
campaign marketing, data-driven marketing, e-commerce marketing, social media marketing, social media optimization, e-mail direct marketing, display advertising,
e–books, and optical disks and games have become commonplace. Digital marketing extends to non-Internet channels that provide digital media, such as television,
mobile phones (SMS and MMS), callback, and on-hold mobile ring tones. The extension to non-Internet channels differentiate
Author
Mike is a publisher, author and coach for business owners looking to get to the next level in their business. Throughout his 25 years in marketing and 21 years as a consultant, Mike's innovative use of High Impact Marketing has consistently surpassed the expectations and outcomes of traditional marketing concepts and business strategies for his clients.
This expertise has led him to be a guest speaker on the stages of some of the world's most foremost experts on marketing, including Dan Kennedy, Bill Glazer, Rory Fatt, Ed Rush and Julie Steinbacher. To date, Mike has helped thousands of business owners create more profitable marketing.
Mike is the inventor of the wildly successful software product, CopyDoodles®. CopyDoodles are hand-drawn graphic files that enable anybody to literally drag and drop attention-grabbing enhancements to their offline and online marketing materials. Tens of thousands of business owners, marketers and copywriters have benefited from the use of CopyDoodles.
Readmore: Mike Capuzzi