How I Make a Website in WordPress that sell for $100-$1000!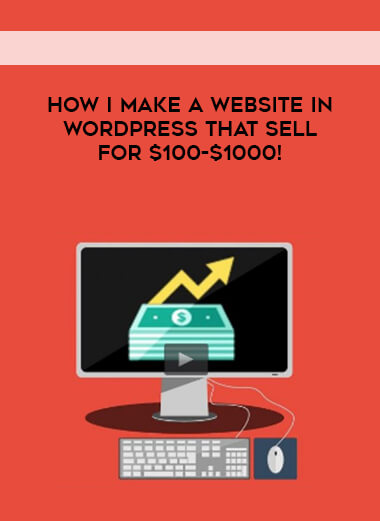 Salepage : How I Make a Website in WordPress that sell for $100-$1000!

This course will teach you all you need to know to get started creating websites in WordPress.
You get to look over my shoulder and follow along with me as we move from nothing to a completely working website from start to end.
You will learn everything from obtaining your own domain name, backing up your website, and website security to integrating video, photos, maps, social networking, and contact forms, among other things.
This means that throughout this course, you will master a set of new skills that will make it simple and understandable for you to continue constructing websites with WordPress in the future.
In summary, you will learn:
How to Begin Your Website.
How to make your website secure.
How to set up free automatic backups.
How to use video and photographs on your website.
How to include a custom slider into your website.
How to integrate social media with your website.
Add a map and a contact form to your website.
Add a blog and an events calendar to your website.
There's a lot more.
You will also be aware of:
Where to sell and evaluate your websites online.
Where can I get free photos and icons for business use?
How to establish your own custom email (ie. How to manage all of your custom emails via your Gmail account).
This Step-by-Step Video Course comprises the following components:
Over 100 video courses and other resources are included.
A simple step-by-step method to learning.
Everything in the course. (Images, WordPress, Plugins, and so forth.)
Money back guarantee for 30 days.
A completion certificate.
What are the prerequisites?
There is no prerequisite knowledge required.
All you need is a computer and an internet connection to get started.
Basic computer knowledge is advantageous but not required.
What will I get from this course?
There are more than 144 lectures and 9 hours of information!
Create professional websites with WordPress.
Create and maintain your own business website.
Control WordPress installations and websites
Backup & recovery Protect your own and/or your clients' websites.
Create a number of unique email addresses, such as "sell websites online."
Local companies might benefit from your web design services.
Much, much more…