Hypno-Peripheral Processing – Money, Wealth & Prosperity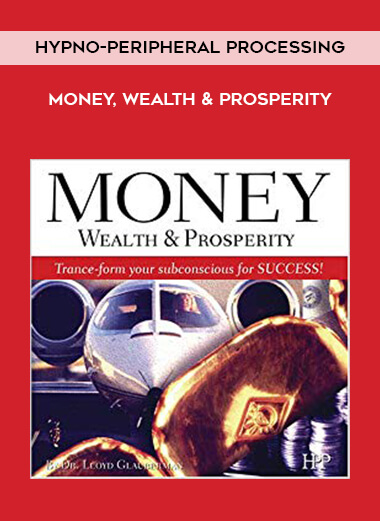 Salepage : Hypno-Peripheral Processing – Money, Wealth & Prosperity

Wealth is produced in our thoughts first and foremost—through objectives, beliefs, and a strong feeling of self worth. It may appear easy, yet many individuals never acquire the fundamental techniques of envisioning success, thinking they deserve it, and working toward that goal with the conviction that they will achieve.
Dr. Lloyd Glauberman's breakthrough HPP approach is used in Money, Wealth, and Prosperity to teach your unconscious mind to create the positive lifestyle adjustments required for success. This strategy assists you to avoid self-sabotage, insecurity, and procrastination while instilling more positive and suitable attitudes toward accomplishment in you.
Change your thoughts and attitudes about money and success.
Whatever your financial success objectives are, this program will provide you with new thoughts, attitudes, and feelings that will enable you to attain them.
Instructions for Use
Each HPP program lasts 30 minutes and weaves a succession of parable-like stories that gradually overload the listener's conscious mind. This technique, known as dual induction, shuts down the reasoning half of the mind and induces a profound state of relaxation ideal for the subconscious mind of the listener to absorb good messages. After a few sessions, users report favorable benefits. Changes begin to develop spontaneously—changes that happen at the right times, in the right locations, and with the right people.
You may buy the HPP programs on their own or combine them with complimentary InnerTalk products to amp up the effect. Use the HPP programs once or twice a day, and use the complimentary InnerTalk programs as often as possible throughout the day or while sleeping. More information is available.