Igor Ledochowski – Secrets of Hypnosis Revealed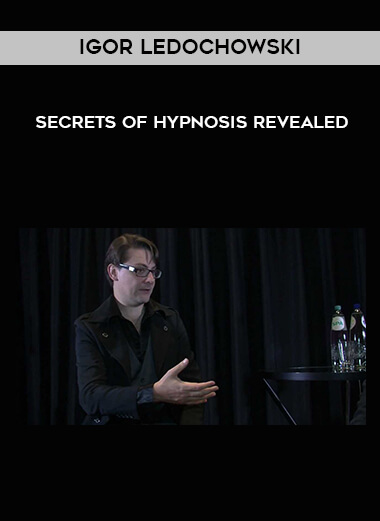 Salepage : Igor Ledochowski – Secrets of Hypnosis Revealed
Don't Buy Any Hypnosis, Persuasion, Or Influence Program Until You Read This…
"Who Else Wants To Unlock The Power Of Hypnosis And EVERY Method Of Power, Influence, And Persuasion?"
This New Program Will Astound You Whether You Are A Complete Beginner Or Already Practice Hypnosis.
Learn the Real Secrets Behind…
Expert Hypnosis and Hypnotherapy Stage Hypnosis and "Magic" Neuro Linguistic Programming ("NLP")
Seduction Methods
Powerful Sales Closing Techniques
Persuasion and Influence of All Kinds "Underground," "Covert," and Other "Secret" Hypnosis Methods
If you want to check it out right now, head HERE.
Igor Ledochowski designed this course.
Igor has not sought fame, although he is well-known in the right circles.
He is the best-selling author of "Deep Trance Manual Volume 1" and the highly praised "Power of Conversational Hypnosis" program.
"The Power Of Conversational Hypnosis" is widely recognized as the definitive work on using covert hypnosis in ordinary circumstances.
It is the highest-ranked program in this discipline.
Now, Igor has consented to share the code in an easy to access step-by-step program dubbed the "Secrets Of Hypnosis Revealed".
Allow me to take you through everything you'll learn in "Secrets Of Hypnosis Revealed"…
There are seven sessions in all…
1st Session
The "Secrets of Hypnosis Revealed" is now available.
2nd Session
"How To Get What You Want Using Suggestion"
Third session
"How To Become A Hypnotist Almost Immediately"
4th Session
"How to Cast a Spell on Others"
5th Session
"Advanced Techniques for Casting Spells on Others"
Session Six
"Power Tactics to Increase Hypnotic Effects"
7th Session
"How to Safely Develop and Apply Your New Hypnotic Powers"
And once you've completed all seven sessions, you'll have the "Master Code" in your hands.
The more you listen to these audio sessions, the stronger your hypnotic abilities will get.
That indicates…
• You'll learn exactly how hypnosis works and how you can use it.
• You'll know exactly what to do in any case where you need to employ your hypnosis talents. There will be no more guessing or hoping for the best.
• You may use your new hypnotic abilities to assist friends, family, and yourself in resolving common, everyday difficulties and enjoying a higher quality of life.
• You'll discover how elite marketers, seductresses, stage hypnotists and magicians, charismatic leaders, and other great persuaders achieve extraordinary outcomes. Even better, you'll learn how to replicate the outcomes yourself.
• Your persuasion and influence will be greatly enhanced. People will respond to you more positively and with higher respect at home, socially, and professionally, giving you a new sense of confidence and charm.
With your new hypnosis talents, you will enter a new world of power and confidence.
With the "Master Code," you may tap into your inner strength to have more control over your life and influence over others.
I've read a few books and listened to a few CDs on similar topics, but they never covered as much material in such a way that it was easy to understand and, more importantly, easy to practice!