Impact Soundworks Ventus Native American Flutes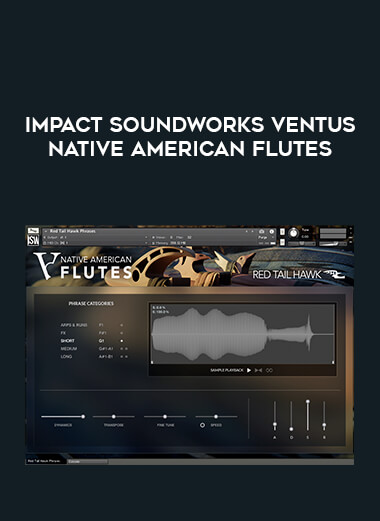 Salepage : Impact Soundworks Ventus Native American Flutes
Ventus Native American Flutes is the seventh entry into our highly acclaimed series of deep-sampled woodwinds and flutes from all over the world.
This collection includes three distinct, traditional Native American flutes, each handcrafted in the historic town of Patagonia among majestic mountains.
The sounds of each flute – the Red Tail Hawk, Pocket Cedar, and Contra Bass – are evocative, meditative, and soothing in tone. You'll find them immediately inspiring, with lovely melodic voices, and individually distinct pitch ranges. They're highly suitable for solo playing (particularly with a bit of spacious reverb) but work equally well alongside ensembles, in genres ranging from jazz and New Age to film scores and ambient soundscapes.
With our latest Agility script engine, it's easier than ever to achieve a sonorous and expressive performance using only your MIDI controller or piano roll. You can automatically trigger ornaments without lifting a finger, or create custom articulation mapping to suit any DAW or workflow. Plus, you don't even need external FX thanks to the powerful Console script providing dozens of FX modules at your fingertips.
If you're on a deadline, you can create authentic, realistic parts using the library's extensive phrase collection with hundreds of categorized phrases for each flute. Use them in our Kontakt engine, or as WAVs directly in your DAW for further processing. These are a great way to immediately establish atmosphere and tone.
In creating this library, we've sought to respect and capture the authenticity of these beautiful instruments to the highest degree possible. We hope you'll enjoy them!
Content:
Three distinct flutes included
Recorded through warm ribbon & room mics
Vibrato, non-vibrato, and true legato
Multiple ornaments and release articulations
Hundreds of categorized phrases per flute
Phrases also provided as WAV
Features:
Beautiful unified AGILITY interface
Dozens of under-the-hood tweaking controls
Fluid, seamless transitions, legato and morphs
Phrase playback editor
CONSOLE modular mixer with over 30 FX modules
TACT 2.0 for totally custom articulation mapping
Requirements:
KONTAKT 5.7+ (FULL version, not player) required
5GB disk space
4GB RAM (6GB recommended)
2011 or later processor. Your system must also meet the requirements for version 5.7.0 of Kontakt. If you cannot run that version, you will not be able to load this library.