Implementing Internal Controls
Delivery : Digital Download Immediately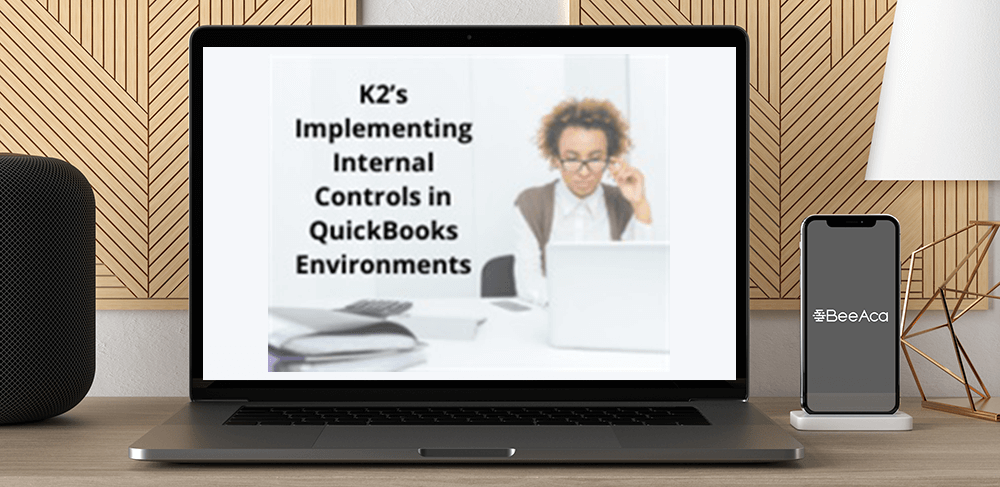 K2's Implementing Internal Controls in QuickBooks Environments
Salepage : K2's Implementing Internal Controls in QuickBooks Environments
Archive : K2's Implementing Internal Controls in QuickBooks Environments
Course Download Size :
The QuickBooks ecosystem of accounting tools remains the most widely-used set of accounting applications in use by small businesses, yet many of these organizations struggle because of inadequate internal controls. In this seminar, you will learn options for how you can improve internal controls in small businesses running QuickBooks Pro, Premier, Enterprise, or Online.
Through participating in this program, you will learn the importance of maintaining a strong system of internal controls in a small business environment, including businesses using QuickBooks accounting solutions. You will also learn about the four common types of internal controls and how to assess the relative condition of the internal control structure of a small business. With this background in place, the focus then shifts to discovering the opportunities to enhance internal controls in QuickBooks-based environments by using features found in the application. In addition, you will learn about supplemental internal control procedures for situations where effective controls cannot be established through QuickBooks. In sum, while many believe that QuickBooks-based organizations are destined for weak internal control structures, by participating in this program you will learn how QuickBooks-based businesses can benefit from a strong system of internal controls.
Basic Course Information
Learning Objectives
Upon completing this course, you should be able to:
Identify the importance of internal controls in QuickBooks environments

List four common types of internal controls and provide examples of each

Assess the relative strength or weakness of a QuickBooks-based organization's internal control structure

Create and implement effective internal controls using tools and features found in various editions of QuickBooks
Major Subjects
Tommy Stephens received a Bachelor of Science in Business Administration degree (Major in Accounting) from Auburn University in 1985. In 1992, he earned a Master of Science degree (Major in Finance) from Georgia State University in Atlanta. Presently, Tommy is a Certified Public Accountant, a Certified Information Technology Professional, and a Chartered Global Management Accountant.
During his professional career, Tommy has gained valuable experience in a variety of positions, including:
Working as an auditor and technology consultant for an Atlanta-based public accounting firm;

Leading an Internal Audit staff and managing a Cost Accounting team for a Fortune 500 company;

Serving as a Chief Financial Officer for an international engineering organization; and

Founding and managing his public accounting firm that provides accounting, tax, and consulting services to individuals and a variety of small and emerging businesses.
In 1995, Tommy began authoring and presenting continuing professional education courses to accounting and finance professionals. In 2003, he affiliated with K2 Enterprises, and in 2007, he joined the firm as a partner. To date, he has lectured internationally on subjects such as internal controls for small businesses, technology strategies, computer hardware and software applications, tax strategies and compliance, and financial accounting standards and applications. Over the past twenty-five years, Tommy has presented over 2,700 educational sessions to over 70,000 participants throughout the United States and Canada.
Presently, Tommy resides in Woodstock, Georgia, where he enjoys an active personal life with his wife. His hobbies include snow skiing, fishing, running, and other outdoor activities. Tommy maintains professional memberships with the American Institute of Certified Public Accountants and the Georgia Society of Certified Public Accountants. Additionally, he is a past member of the Institute of Internal Auditors.
Readmore: Business & Sales