Industrial Strength Grip, Grip N Rip and Armored Core 1 & 2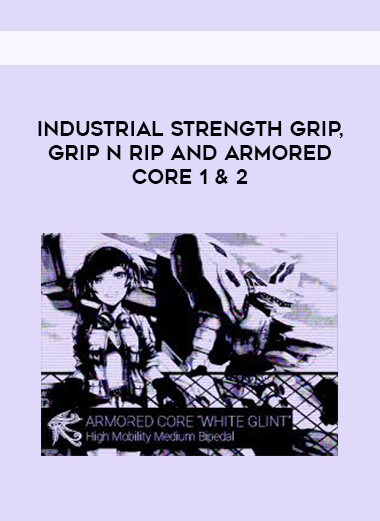 Salepage : Industrial Strength Grip, Grip N Rip and Armored Core 1 & 2
Mike "The Machine" Bruce
Professional performing Strongman/Motivational Speaker.
5'10 210#
USMC Honor Graduate Parris Island SC
Mike is well known across the world for some of his amazing strength feats. Some of these feats include a 1,500# partial rack pull @ 202# bodyweight, a seated 300# Neck raise, Situps with 400# on his chest for reps, allowing a 5/8 piece of 4ft steel bar to be bent across the front of his throat and even performing the very dangerous Hangmans noose where Mike hung himself with a noose to demonstrate his insane neck strength.
While these feats of strength have garnered Mike the aptly titled nickname "The Machine" he is also recognized for his character. Many in the industry site The Machine as a gentleman who always strives to help others while maintaining the highest form of humility.
A former United States Marine himself, The Machine still adheres to the Honor, Commitment and Courage he learned long ago in the Corps and practices these principles in his daily life.
Some of his other accomplishments include:
2x New England grappling Champion
Ct State Judo Champion
VA Beach State Shootfighting Champion (Pro)
East Coast Shootfighting Champion (amateur)
Western MA Submission Wrestling Champion (Pro)
Sampalis Kickboxing Champion (amateur)
Gilletts Mixed Martial Arts Full Instructor 2005
Mike has performed in front of thousands nationwide speaking on the importance of staying drug free and the benefits of adding Physical Culture to your daily life. In his free time he has authored various ebooks as well as filming his dvds that sell all over the world.
Mike resides in KY with his wife and dogs and operates his private gym The Machine Shop Gym LLC.
Armored Core:
Learn How To Strengthen Your Abdominals for Mixed Martial Arts, Strongman Feats and Overall General Conditioning!
Mike "The Machine" Bruce shows you how he crafted his abs of steel
This former grappling, Judo, Ju-Jitsu, Shootfighting and Kickboxing Champion guides you step-by-step through this "raw with the Machine" DVD.
Topics Covered:
-Sets and Reps
-Rep speed
-Shocking your abs
-What does what
-Leg raise variations
-Why you should raise your legs straight up
-Why you should keep your head up
-Knee-ups
-How to perform a Jack-Knife (V-up)
-and more…
TNT (Total Neck Training) 
In this old school training DVD, Mike "The Machine" Bruce tells you how he built his 20" neck at a bodyweight of 203 pounds while maintaining a life-time drug-free status. The former fighter and current strongman and motivational speaker will guide you step-by- step on HOW-YOU-CAN-DO-THE-SAME. Imagine having traps so strong that you can rip off a set of rack shrugs for reps with over 500 pounds!
In strongman circles Mike is known for having the World's Strongest Neck. Some of his feats include performing 300 pound seated neck raises with a head harness, swinging around a 200 pound man with his head (neck strength), and having 5/8" steel bars and large horseshoes bent across his throat!
How did he get so strong?   Watch, Listen and Learn as the Machine Explains
Topics Covered Include:
When To Increase Weight

How Often To Train Your Neck

How To Loosen Stiff Muscles

How To Shock The Muscles

Neck Curls and Lift Variations

Seated Trap Shockers

The Proper Way To Use A Head Harness

Head Harness Lifting

Barbell Shrug Variations

Dumbbell Shrug Variations

Why You Should Use The Machine Altered Method

How To Perform Cheat and Partial Shrugs For Power

Gripping and Hand Placement

When To Use Straps

Upright Rows Machine Style

Upright Row Variations

Rack Power Pulls

"I Don't Knows"

And More!
Adam Glass (with Brad Nelson)
My name is Adam Glass, and I am the man who is going to teach you to build an indomitable grip. I hold 13 world records in grip strength and have some of the strongest hands in the entire world. As a performing strongman, I have destroyed metal spikes, torn thousands of decks of cards, scrolled miles of steel bars and horseshoes. I have made the impossible a reality by developing my body past the modern worlds perceived limit.
Over the years, I have trained thousands of people to develop stronger, healthier hands: bodybuilders, powerlifters, weightlifters, mixed martial artists, rock climbers, hockey players, musicians; the list goes on and on. Every time I share the missing link of grip strength with someone, his or her performance improves. What does that mean? It means I can help YOU realize your potential!
Industrial Strength Grip 1:
   Over 30 grip exercises to hit any areas you might accidentally be neglecting
   A focus on grip training with minimal equipment
   How to develop stronger hands with the minimal effective effort
   How to incorporate grip training into your normal workouts – we are not talking about adding a ton of time for specific grip training
   A bonus that comes with the DVD. I actually do not know what it is and he will not tell me. (Yes, I have asked). What I do know is that Mr. Gla