Jeff Paul – Make Money In Your Underwear Bootcamp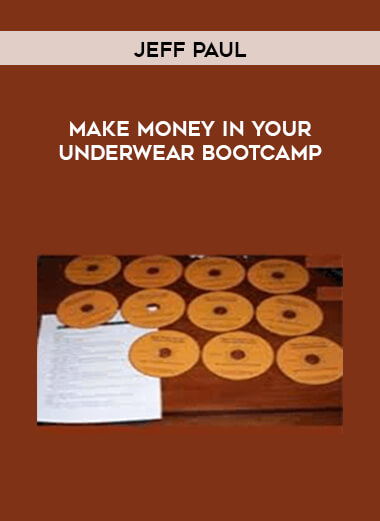 Salepage : Jeff Paul – Make Money In Your Underwear Bootcamp

It's Time To 'Get Together' With Jeff Paul On Tape, So You Can Hear All The Inside Secrets Revealed At Our Two Day, Direct Marketing Success Bootcamp…
Hear My Students And Me Reveal Every Detail About Making Money Quick And Easy, Sitting At Home In Our Underwear In The Complete, Unedited Tapes Of The Bootcamp!"
Dear Friend:
Here's the information you need regaridng "getting together" on tape, to hear me share my, unique, one-of-a-kind, "How To Make Money Quick And Easy Sitting At Home In Your Underwear" direct marketing information with you! Now, you can make a ton of money sitting at home in your underwear…just like I have, and like so many other Jeff Paul Direct Marketing Success students are…without having to travel to our seminars in Chicago!
Not that seminars aren't great. They are! But, by getting my bootcamp tapes, you'll have the closest thing to being there…and be able to learn the amazing, insider's secrets revealed by myself, my students and my world class guest speakers like the one and only Dan Kennedy!
At my bootcamps, everyone took home tons of real world, usable, proven, nuts and bolts money making details from me, our incredible guest speakers…and from hearing my most successful students explain EXACTLY how they use my system to have obscene amounts of cash deposited into their checkbooks…working from home, in their underwear!