Joe Polish & Dean Jackson – I Love Marketing episodes 1-79 + ILM 2012 Manual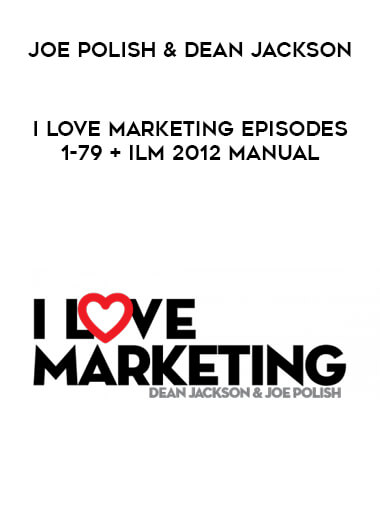 Salepage : Joe Polish & Dean Jackson – I Love Marketing episodes 1-79 + ILM 2012 Manual

EPISODE SUMMARY
How do you keep your balance as an Entrepreneur and keep growing your business amidst worldwide fear, chaos, and uncertainty? Listen to insights from three of the greats in today's episode of I Love Marketing.
In this episode, Jay Abraham, Dean Jackson, and Joe Polish will dive into the importance of results when leveraging ethical opportunities – no matter what's going on in the world. They'll reveal the strategies that have kept them above the chaos and specific ways to adapt quickly so your business and clients continue to thrive.  You'll learn the value of responding instead of reacting, unlearning, and creating measurable results that sell themselves.
If you'd like to join world-renowned entrepreneurs at next year's Genius Network Annual Event – then apply today for your invitation to attend. If you'd like to learn more about the Genius Network Annual Event or to apply, go to www.GeniusNetwork.com.
Here's a glance at what you'll learn from Jay, Dean, and Joe in this episode: 
The difference between CHAOS-INSPIRED exploitation and opportunity.

What they think of Coronavirus and its impact on the market RIGHT NOW.

How Jay and his client got out of massive financial devastation. 

Why there's ALWAYS a solution – even in adversity. 

What Dean did in 2008 to leverage an ethical opportunity.

What it looks like to respond versus react.

The ONE practice that permanently changed the way Joe responds to life. 

B.R.A.N.D.: A Buying Reflex Affecting NOW Decisions.

How to be PREEMPTIVE and ELEVATE yourself above the chaos. 

Why a RESULTS-LEADER will always trump a thought-leader. 

The DISCONNECT between the value you sell and the value someone will buy.

The incorrect ASSUMPTION entrepreneurs make about results. 

How Dean adapted quickly to Coronavirus limitations to STILL produce results. 

Unlearning is more important than learning at some point. 

FOUR questions to ask yourself during your designated "thinking-time".