Joe Verde – Sales Training Videos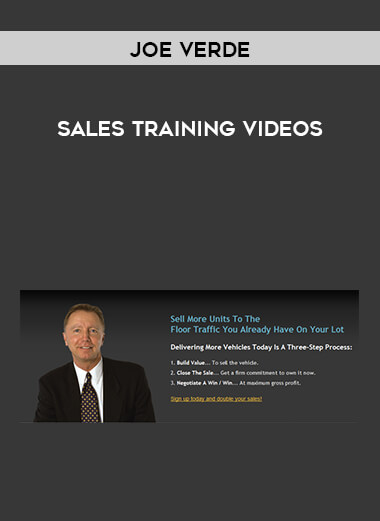 Salepage : Joe Verde – Sales Training Videos

This is a set of videos that focus on car Sales training but they are excellent sales tactics for ANYTHING you want to sell, yourself, cars, real estate, pocket watches, etc. These videos are a bit dated but the information is still good and very valid. These videos are currently one of the standard required training tools of many of the most successful car dealerships. Learn to sell and what to see from other when they are trying to sell you as well.
How To Close The Sale, Overcome objections & Stay Off Price On The Lot
A 12 session (six week) DVD course on developing professional selling skills.
Now that they're on track – next, you'll coach your salespeople to the SuperBowl with this high impact professional selling skills program. The salespeople who understand and develop the methods Joe teaches in this step will become your super stars in sales and gross.
You'll notice a difference after your first meeting with this series. You'll see it in your salespeople's presentations, in their confidence levels and in their ability to handle those tough price shoppers and their objections. This series covers every aspect of closing, handling objections and focusing the sale on value, not price. This is a must-have program to handle today's extreme price focus and those Internet shoppers.
Teach Your Salespeople How To…
How To Turn Selling Cars Into A Profession In Sales
How To Raise Your Sales And Income 50% Almost Overnight
The 5 Secrets Of Handling Every objection You Get When Closing
The 10 Best Ways To Ask For A Commitment To Purchase Out On The Lot
The 10 Best Ways To Turn A "No" Into A "Yes, We'll Take It"
Specific Benefits: More Sales, Easier Deals, Higher Gross Profits, Happier Customers