Joel Jamieson – 4 Week Conditioning Program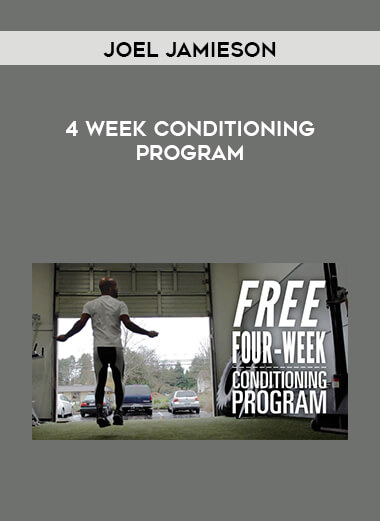 Salepage : Joel Jamieson – 4 Week Conditioning Program
Four Week Conditioning Program
Joel Jameson, author of Ultimate MMA Conditioning
What Is Conditioning?
Regardless of the sport, conditioning is a measure of the ability to maintain a given level of power output over time. The higher your level of conditioning, the more power you're able to sustain across the duration of whatever your competitive event may be.
Over the next few weeks, I'm going to share some simple principles of developing effective conditioning programs by giving away a free four week program. Even more, I'll be sharing some videos that'll discuss more about what conditioning is, how it relates to the anaerobic power reserve, and the difference between general and specific conditioning.
Whether you're an athlete, or a coach, these simple principles will help you understand what conditioning really is and how to improve it
Getting Started
To get started with the four week conditioning program, just make sure to go through the assessments and enter your email because I'll be emailing details about the program throughout the next four weeks. To get the most out of the program, you'll want to use BioForce HRV and a heart rate monitor and if you have my book, Ultimate MMA Conditioning, that'll certainly help as well.
Please keep in mind that this is a general conditioning program, designed to be used in the early off-season of of sport or between fights if you're a combat athlete. This is not intended to be a substitute for an individually designed program by a professional coach, or intended to get an athlete ready for an upcoming season of a particular sport. It is simply an example of how to use effective conditioning principles.
More will be discussed about this along the way… a