Joey Yap – Bazi 60 Pillars Online Webinar Consultant Team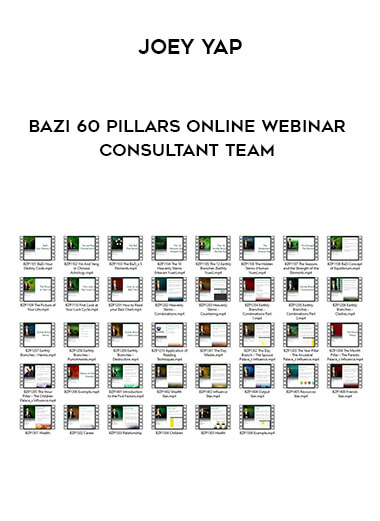 Salepage : Joey Yap – Bazi 60 Pillars Online Webinar Consultant Team

Please take notice!!!
This is a Webinar training video; you will receive a softcopy of the training through email. There will be no paper deliveries.
Payment and shipping:
Please provide your EMAIL address in the "message:" field during checkout.
After your payment has been verified, you will receive an email with a link to the training in Google Drive.
You can only access the file(s) using Google Drive. You will have access to it as long as Google Drive is operational.
Through the Pictorial Method of BaZi analysis, you may train your mind's sight to interpret a BaZi Chart. The 60 Pillars are made up of sixty distinct combinations of the Five Elements and their various polarities. Throughout the webinar session, Joey Yap's Consultant Team will walk you through the various aspects' pillars to help you learn and improve your BaZi Chart analysis skills.