Joey Yap – BaZi Mastery Online Series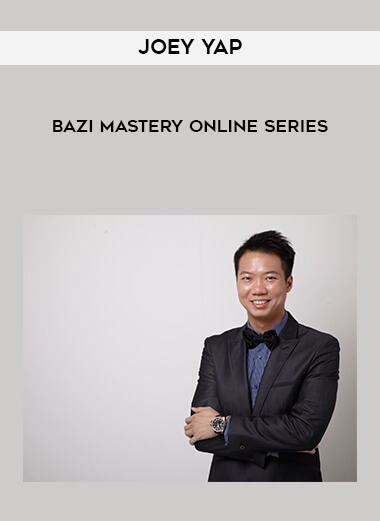 Salepage : Joey Yap – BaZi Mastery Online Series

The BaZi Mastery Series comprises BaZi Mastery Modules 1 and 2 and provides students with a thorough introduction to BaZi, along with an intensive understanding of BaZi principles and the requisite skills to practice it with accuracy and precision.
Students who complete both modules will be well-prepared to perform readings and interpretations. Feng Shui practitioners will also benefit from having knowledge of BaZi, as it will complement and enhance their Feng Shui practice.
Students of BaZi Modules 1 and 2 will also have access to continuing education facilities offered through the Mastery Academy's Online Mastery Community. Students can interact with instructors in a private forum, and use available online channels to obtain clarification on questions and doubts, discuss ideas and theories, and stay updated on the latest research and interpretations.
What is Module 1?
BaZi Module 1 is a foundation course designed to introduce you to the basics of BaZi (Chinese Astrology). BaZi is also commonly known as the Four Pillars of Destiny. As DNA forms the biological blueprint for our bodies, BaZi is considered the 'destiny DNA' for our lives.
Module 1 offers students:
▪

 

An easy-to-understand introduction to enable faster mastery of core principles and theories that constitute BaZi

▪

 

The opportunity to learn essential skills that are a pre-requisite for analyzing a BaZi chart

▪

 

The ability to understand underlying theories and classical schools of thought related to ancient BaZi in order to contextualise current BaZi practices
Guided closely by the instructor, students will be taught to apply all the theories and fundamentals in practical application as they study and analyse actual BaZi charts towards the end of the course. By the end of the module, students will also be able to identify Heavenly Stems and Earthly Branches, analyse Day Masters to uncover individual characteristics and attributes, and plot ten-year Luck Pillars.
What is Module 2?
With Module 1, you've learned all the essential fundamentals of BaZi like how to plot a BaZi chart, how to identify the Combinations, Clashes, Harms, Destruction and Punishments, and the basic structures of the Ten Gods.
While Module 1 gave you an overview of the basic theories of BaZi practice, Module 2 provides students with the means to take action. Module 2 contains virtually every tool and formula that every reputable BaZi practitioner requires to arrive at an accurate, complete BaZi analysis.
Module 2 has been structured so as to provide you with in-depth, comprehensive knowledge on the tools and methods required to practice BaZi professionally. However, Module 2 is not intended only for those who are keen to practice professionally; it is also designed for those who wish to learn more out of interest and curiosity.
What is Module 3?
Modules 1 and 2 have given you the essential groundwork to kick start your studies in BaZi; foundational principles and practical applications that provide the ideal basis for anyone looking to study BaZi on a deeper level or for anyone interested in becoming professional practitioners or consultants.
Module 3 is structured to give students an advanced-level understanding of the principal concepts of BaZi. The Palaces and the 10 Gods are key concepts that are explored in Module 3. The crucial aspect of Module 3, however, is the emphasis on BaZi assessment methods that depart from the more theoretical slant of the previous modules to emphasize modes of reading and evaluation that go a long way toward building the skills of BaZi practitioners.
What is Module 4?
BaZi Module 4 is the final module in the BaZi Mastery Series and as such, is the most in-depth and intense of all four modules. Module 3 had already given students a taste of the more advanced practitioner level of BaZi study, and Module 4 completes that while summing up the entire Series as a whole.
Module 4 varies slightly from its predecessors in the sense that it gives students an immersion into some of the fundamental ancient classics of BaZi. This gives them an opportunity to sharpen critical and structural reading skills while building up proficiency in theories and principles that have foundations in centuries-old classical texts.
This module also provides a chance for students to perform more sophisticated analyses using classical methodologies, as well specific BaZi Date Selection methods. At the end of Module 4, students are considered qualified BaZi practitioners and graduate with a Diploma certificate – and have the choice of pursuing BaZi practice at a professional level if they wish to.