Joey Yap – Gress The Chinese Metaphysics Compendium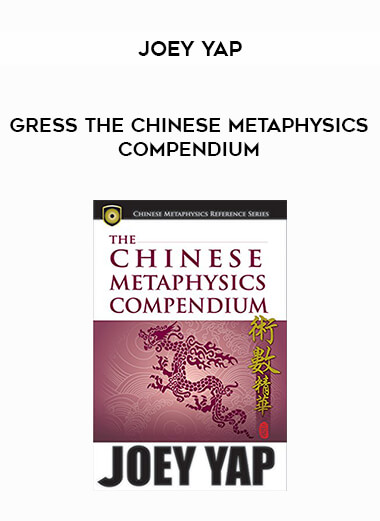 Salepage : Joey Yap – Gress The Chinese Metaphysics Compendium

The Chinese Metaphysics Compendium
Joey Yap
*PDF
*Pages: 1078
With over 1000 pages, The Chinese Metaphysics Compendium is by far, the most pivotal guide to everything you need and want to know about Chinese Metaphysics. In fact, it is a compilation of all the essential formulas and applications that govern the study of Chinese Metaphysics known and practiced today. Definitely an indispensable go-to reference to students and master practitioners alike.
Chinese Metaphysics enthusiasts who have pored through piles of formulas and books will agree that materials on this subject are difficult to procure, at best. And at worst, even those with knowledge of the Chinese language and culture are confounded by the cryptic meanings even they have access to such materials. In view of this and through years of research and hard work Joey Yap has put together the long awaited Chinese Metaphysics Compendium.
This Compendium is a unique one-volume reference book that aims to richly present all the formulas relating to Feng Shui, BaZi , Zi Wei, Yi Jing, Qi Men , Ze Ri, Mian Xiang and other sources in the form of easy-to-read tables, diagrams and reference charts. Many of these formulas were once safely guarded secrets of the ancient Masters and were hard to obtain, much less found all in ONE book.
This book is written in a bilingual format with English and original Chinese technical terms and characters. This is designed to facilitate students, master practitioners and teachers in their study, research, practice and teaching of Chinese Metaphysics, true to its original form. 
Replace all these formulas on the Chinese Metaphysics knowledge known and practiced today, in one ultimate reference book The Chinese Metaphysics Compendium:
– The Essentials of Chinese Metaphysics
– BaZi
– Zi Wei Dou Shu
– Yi Jing
– FengShui (The complete reference to all Classical FengShui Schools and secret Formulas)
– Mian Xiang
– Zhang Xiang
– Qi Men Dun Jia
– Zi Re