Joey Yap – Mian Xiang Mastery 1 (M1)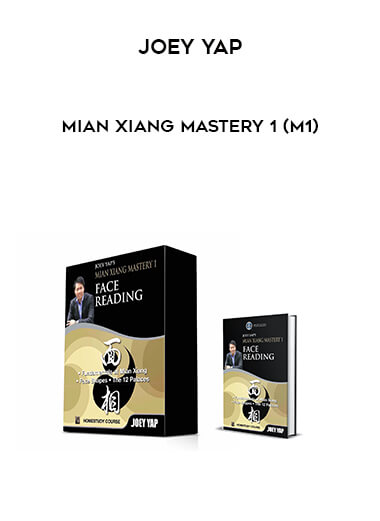 Salepage : Joey Yap – Mian Xiang Mastery 1 (M1)

What is Module 1?
Mian Xiang Mastery Series Module 1 is a foundation course designed to provide students with the essential grounding of Face Reading. It is the world's first classroom-based seminar that equips students with the requisite skills and knowledge to immediately plunge into the world of Face Reading and glimpse its astounding versatility in application.
A person's face is effectively a 100-year map of his or her life. Boiled down to the essentials, what this means is that the different points of our faces represent the different years and stages of our lives. Every facet of it, including wealth, health, career, and relationship prospects, can be discerned from the face.
Module 1 will be useful for individuals with knowledge of Feng Shui or BaZi (Chinese Astrology), as Mian Xiang is an invaluable complementary discipline to their existing repertoire of skills. Those without any knowledge on Chinese Metaphysics subjects will find Module 1 to be an interesting and informative introduction into the world of Face Reading in particular and Chinese Metaphysics in general.
Course Highlights
This is to give you a general overview of the course content and structure, along with what to expect for each particular segment.
▪

 

Fundamentals of Mian Xiang

 

▪

 

What is Face Reading?

 

▪

 

The Five Elements on the Face

 

▪

 

The Five Mountains and the Five Officers

 

▪

 

The 100 Year Map

 

▪

 

The 100 Positions on the Face

 

▪

 

The 12 Palaces

 

▪

 

The Cosmic Trinity

▪

 

Face Shapes

▪

 

The Ears

▪

 

The Forehead

▪

 

The Eyebrows

▪

 

The Eyes

▪

 

The Nose

▪

 

The Cheeks

▪

 

The Philtrum

▪

 

The Fa Ling

▪

 

The Mouth

▪

 

The Chin and Jaws
Who should attend?

▪

 

Anyone with an interest in the art of Face Reading.

▪

 

Enthusiasts and practitioners with a smattering of basic Mian Xiang knowledge who wish to deepen their knowledge

What are the pre-requisites?

▪

 

None, except a genuine interest in Mian Xiang, and an open mind.

How will this course be conducted?

▪

 

This course is available through international workshops and private power coaching classes. English is the language of instruction.

What are the textbooks required?

▪

 

Students will receive a copy of the Mian Xiang Module 1 workbook.

Course Recognition

▪

 

Upon completion of Mian Xiang Module 1, you will receive a Module 1 certificate.

Online Community

▪

 

Our website also hosts an Online Community and Forum, which provides an interactive platform for practitioners, students and enthusiasts from all over the world to exchange their views and propagate knowledge of classical Chinese Metaphysics.