Joey Yap – QiMen Academy – The Complete QiMen Battle Plan (Video & eBook)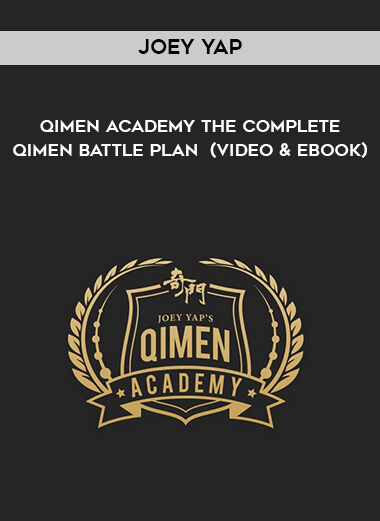 Salepage : Joey Yap – QiMen Academy – The Complete QiMen Battle Plan (Video & eBook)

QiMen Academy™ 2019 Advanced has been designed by Joey Yap and The Mastery Academy of Chinese Metaphysics to be easy and application focused. We will take you step-by-step into the World of Qi Men Dun Jia and expand your knowledge and skill beyond the BASIC as you move along this syllabus.
The ADVANCED TIER consists of 10 ALL-NEW ADVANCED MODULES that were carefully designed after obtaining the feedback of the previous students on how they apply QiMen regularly in their real-life situations. The QiMen Academy Advanced Tier will go through the process of unifying the entire system of Qi Men Dun Jia to put it in the correct perspective of how you can actually apply this in an effective way to TRANSFORM YOUR LIVE, and more importantly, as an advanced practitioner, how to TRANSFORM OTHER PEOPLE'S LIFE.
The QiMen Unifying Model consists of the peak, the core, the pillars, and the base. The peak is the Sage Mind. In the previous batch of students, there were some who were unable to create results fast enough due to either their mindset or that their energy was not attuned properly. Thus, the Sage Mind would guide you to obtain the correct mindset and attunement to the Divine Energy.
The core in the QiMen Undying Model explains the SuperForecasting Methods which are deep-dive sessions into forecasting. The topics in this section explains how to use SuperForecasting to evaluate 'Wealth & Money Matters', 'Work, Achievement & Success' and 'Health, Karma & Marriage'.
The pillars in the QiMen Unifying Model are about the QiMen Modifiers & Game Changers. It consists of 4 different topics: The Multipliers, the Subtractors, the Nullifiers & the Anomalies, which are the special formations in QiMen. Finally, the base of the QiMen Unifying Model is the Emergency Measures, which explains how to initiate emergency deployments of QiMen.
Also, introducing the QiMen Divinity programme, an all-new QiMen tool that features topics such as QiMen Commands, Bending Reality, QiMen Divination System and Access Infinite Wisdom and more.
This practical programme has never been taught before and has 8 Modules that were just filmed and curated days ago with content that were crowd sourced from the 4-day live training. The content includes real problems and cases from viewers – making this a truly unique class.
On top of the Forecaster and Pathfinder, students will also get to enjoy the all new QiMen Explorer software that has new features – Oracle, C+C (Command and Contract), and Strategies.
Even if you're a seasoned practitioner of QiMen, you'll find this information very interesting and really useful to add into your QiMen knowledge. Even if you're a complete beginner, don't worry, the 12 core basic modules will also be made available when you purchase the QiMen Academy Advanced Program, which will enable you to easily transit to the advanced level.
All programs have a full 30-DAY Money Back Guarantee. That's right, there is absolutely ZERO RISK for students. If in the first 30 days, you find that there is no value in the program, just let us know for a FULL REFUND.
Your Instructor
Joey Yap
Joey is the world's #1 authority in Feng Shui & Chinese Metaphysics. He's a bestselling author of 182 books published in 7 different languages with more than 4,500,000 copies sold globally. He speaks to more than 80,000 people at his live events around the world and is featured in CNN, Bloomberg and CNBC. He is also the chief consultant to some of the world's most iconic developments including Battersea London, Aurora Melbourne and Publika Malaysia.
He founded the Mastery Academy of Chinese Metaphysics in 2000, an institution dedicated to the research and academia of Chinese Metaphysics with more than 20,000 graduates and a global following of 2.3 million followers. Today, his programs are delivered in major cities including New York, San Francisco, Los Angeles, London, Melbourne, Perth, Paris, Florence, Bangkok, Manila, Jakarta, Ho Chi Minh, Singapore and Kuala Lumpur.
In the last 20 years, he has been helping thousands of students and clients from all over the world, embark on their life journeys towards a transformational experience using Feng Shui, BaZi, Yi Jing, Face Reading, Date Selection and Qi Men Dun Jia. He is also the creator of the award-winning programs Grow Rich with BaZi™ and Design Your Destiny™ programs.
Course Curriculum
Joey Yap's QiMen Academy™ 2019 (Basic Core Modules)
Start

Module 0 – Getting Started (3:20)

 

Start

Module 1 – The Awakening (48:19)

 

Start

Module 2 – Guardian of Destiny (54:13)

 

Start

Module 3 – Becoming Unstoppable (33:35)

 

Start

Module 4 – The 3 Victories (27:52)

 

Start

Module 5 – The Power of Being Able to See (53:27)

 

Start

Module 6 – The Power to Forecast Wealth and Career Decisions (29:48)

 

Start

Module 7 – When a Problem Becomes a Crisis (48:59)

 

Start

Module 8 – Navigating Problems (20:15)

 

Start

Module 9 – Internal Invisible Forces (42:00)

 

Start

Module 10 – Change Your Environment, Change Your Life (47:52)

 

Start

Module 11 – QiMen Art of Winning (45:48)

 

Start

Module 12 – The QiMen Pathfinder (54:55)

 

Start

Module X – Resolution (10:04)
[Advanced Tier Module 1] – The Sage Mind – Part 1
 

Start

[Advanced Tier Module 1.1] – QiMen Intuition & Attunement of The Sage Mind (20:34)

 

Start

[Advanced Tier Module 1.2] – 5 Stages of Sage Mind (10:54)

 

Start

[Advanced Tier Module 1.3] – 7 Levels of Attunement (16:22)

 

Start

[Advanced Tier Module 1.4] – What You Must Do To Succeed In QiMen (8:59)

 

Start

[Advanced Tier Module 1.5] – Intuition (7:09)

 

Start

[Advanced Tier Module 1.6] – QiMen Stacking (12:17)

 

Start

[Advanced Tier Module 1.7] – QiMen Protection (22:06)

 

Start

[Advanced Tier Module 1.8] – Summary (1:54)
[Advanced Tier Module 2] – The Sage Mind – Part 2
Start

[Advanced Tier Module 2.1] – The Art Of Selecting The Useful God (7:44)

 

Start

[Advanced Tier Module 2.2] – Focus Point Part 1 (13:26)

 

Start

[Advanced Tier Module 2.3] – Focus Point Part 2 (13:43)

 

Start

[Advanced Tier Module 2.4] – Ten Deities (8:21)

 

Start

[Advanced Tier Module 2.5] – Eight Stars (4:39)

 

Start

[Advanced Tier Module 2.6] – Eight Doors (2:43)

 

Start

[Advanced Tier Module 2.7] – Ten Stems (3:32)

 

Start

[Advanced Tier Module 2.8] – Gua (3:34)

 

Start

[Advanced Tier Module 2.9] – Applications & Summary (8:42)
 Frequently Asked Questions
Do I need any other Chinese Metaphysics knowledge such as BaZi and Feng Shui to learn Qi Men Dun Jia?
It's not necessary. But having the knowledge of both BaZi and Feng Shui is a plus.
Will I be able to learn if I can't read Chinese?
Yes, you can. The modules are conducted in English and the materials provided are also in English. The Chinese phrases are used only to explain the traditional names in Qi Men Dun Jia.
Qi Men Dun Jia seems complicated. Is it easy to learn?
It is. QiMen Academy™ 2019 Advanced program is a step-by-step training that will take you from basic QiMen components to the application itself.
If I am a student of QiMen Academy™ 2019 and I have questions on QiMen, who do I speak to?
QiMen Coaching Calls are group sessions held live. We encourage all students to join the live sessions to get their questions answered, if any.
What if I am unhappy with the course?
We would never want you to be unhappy! If you are unsatisfied with your purchase, contact us in the first 30 days and we will give you a full refund.
Will the video conference quality be clear?
If you have a concern with the video conference quality, we suggest you check with your telecommunications service provider.
When does the course start and finish?
The course starts now and never ends! It is a completely self-paced online course – you decide when you start and when you finish.
How long do I have access to the course?
How does lifetime access sound? After enrolling, you will have unlimited access to this course for as long as you like – across any and all devices you own.
What is the New QiMen Insights about?
The New Qimen Insights will be based on real-life case studies and examples from students. The series of 6 will be released on a monthly basis after all 12 core modules have been released.
How are QiMen Coaching Calls conducted?
QiMen Coaching Calls will be conducted in group sessions by the JY coaching team via online platforms such as but not limited to ZOOM, WebEx, and EverWebinar.
What payment methods do you accept?
You can pay with all major credit cards including VISA & MasterCard.
I see additional charges on my Check-Out page, what are they?
These could be Value-Added Tax (VAT) that is charged based on your bank and/or location. VAT may be applicable and imposed by the local authorities to certain EU countries and selected states in the US.