Joey Yap – QiMen Academy – The Complete QiMen Battle Plan (Video & eBook)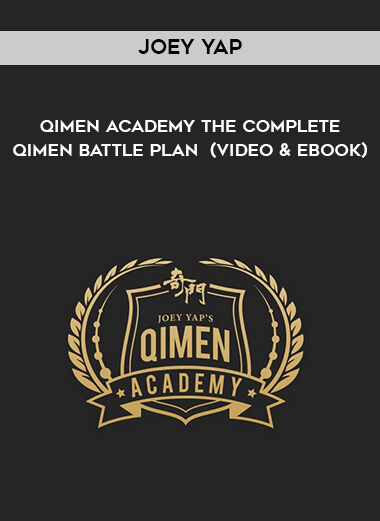 Salepage : Joey Yap – QiMen Academy – The Complete QiMen Battle Plan (Video & eBook)

Joey Yap and The Mastery Academy of Chinese Metaphysics created QiMen AcademyTM 2019 Advanced to be simple and application focused. As you progress through this syllabus, we will introduce you to the world of Qi Men Dun Jia and enhance your knowledge and skills beyond the BASIC.
The ADVANCED TIER is made up of ten ALL-NEW ADVANCED MODULES that were meticulously crafted after receiving input from past students on how they use QiMen in their daily lives. The QiMen Academy Advanced Tier will go through the process of unifying the entire Qi Men Dun Jia system in order to put it in the proper perspective of how you can actually apply this in an effective way to TRANSFORM YOUR LIVE, and more importantly, as an advanced practitioner, how to TRANSFORM OTHER PEOPLE'S LIFE.
The QiMen Unifying Model is made up of the peak, core, pillars, and foundation. The Sage Mind is the pinnacle. Some pupils in the last batch were unable to produce results quickly enough owing to either their mentality or a lack of appropriately aligned energy. As a result, the Sage Mind will direct you to the proper mentality and attunement to the Divine Energy.
The foundation of the QiMen Undying Model reveals the SuperForecasting Methods, which are predicting deep-dive sessions. The themes in this part shows how to utilize SuperForecasting to examine 'Wealth & Money Matters', 'Work, Achievement & Success' and 'Health, Karma & Marriage'.
The QiMen Modifiers & Game Changers are the pillars of the QiMen Unifying Model. It is divided into four sections: the Multipliers, Subtractors, Nullifiers, and Anomalies, which are the peculiar forms in QiMen. Finally, the Emergency Measures, which describe how to launch QiMen emergency deployments, form the foundation of the QiMen Unifying Model.
In addition, we're releasing the QiMen Divinity curriculum, a brand-new QiMen tool that covers themes like QiMen Commands, Bending Reality, the QiMen Divination System, and Access Infinite Wisdom, among others.
This practical curriculum has never been taught before and consists of 8 modules that were recently shot and selected using information crowdsourced from the 4-day live training. This seminar is very unique since the curriculum contains real issues and examples from viewers.
In addition to the Forecaster and Pathfinder, students will have access to the all-new QiMen Explorer program, which includes additional capabilities such as Oracle, C+C (Command and Contract), and Strategies.
Even if you're an experienced QiMen practitioner, you'll find this material highly fascinating and beneficial to add to your QiMen knowledge. Don't worry if you're a total newbie; the 12 core basic modules will be made available when you purchase the QiMen Academy Advanced Program, allowing you to effortlessly transition to the advanced level.
All programs have a 30-day money back guarantee. That's true, kids face absolutely NO RISK. If you discover that there is no value in the program during the first 30 days, simply notify us for a FULL REFUND.
Your Professor
Yap, Joey
Joey is the world's foremost expert on Feng Shui and Chinese Metaphysics. He is a best-selling author of 182 novels published in 7 languages, with over 4,500,000 copies sold worldwide. He has spoken to over 80,000 people at live events throughout the world and has been featured on CNN, Bloomberg, and CNBC. He also serves as the main consultant on some of the world's most recognizable developments, such as Battersea London, Aurora Melbourne, and Publika Malaysia.
In 2000, he launched the Mastery Academy of Chinese Metaphysics, an organization committed to Chinese Metaphysics study and education with over 20,000 alumni and a global following of 2.3 million followers. His programs are now available in major cities such as New York, San Francisco, Los Angeles, London, Melbourne, Perth, Paris, Florence, Bangkok, Manila, Jakarta, Ho Chi Minh City, Singapore, and Kuala Lumpur.
He has helped thousands of students and customers from all over the world begin on their life journeys towards a transformative experience utilizing Feng Shui, BaZi, Yi Jing, Face Reading, Date Selection, and Qi Men Dun Jia during the last 20 years. He also created the award-winning programs Grow Rich with BaZiTM and Design Your DestinyTM.
Curriculum of the Course
QiMen AcademyTM 2019 by Joey Yap (Basic Core Modules)
Begin Module 0: Getting Started (3:20)
Begin Module 1: The Awakening (48:19)
Begin Module 2: Guardian of Destiny (54:13)
Begin Module 3: Becoming Unstoppable (33:35)
Begin Module 4 – The Three Victories (27:52)
Begin Module 5 – The Power of Perception (53:27)
Begin Module 6 – Forecasting Wealth and Career Decisions (29:48)
Begin Module 7 – When a Problem Turns into a Crisis (48:59)
Begin Module 8 – Problem Solving (20:15)
Module 9 – Internal Invisible Forces – Begin (42:00)
Begin Module 10 – Alter Your Environment, Alter Your Life (47:52)
Begin Module 11: QiMen Art of Winning (45:48)
Begin Module 12: The QiMen Pathfinder (54:55)
Begin Module X – Resolution (10:04)
[Advanced Tier Module 1] – Part 1 of The Sage Mind
Begin [Advanced Tier Module 1.1] – QiMen Intuition & Sage Mind Attunement (20:34)
Begin [Advanced Tier Module 1.2] – The Five Stages of Sage Mind (10:54)
Begin [Advanced Tier Module 1.3] – 7 Attunement Levels (16:22)
Begin [Advanced Tier Module 1.4] – What You Must Do In QiMen (8:59)
[Advanced Tier Module 1.5] Begin – Intuition (7:09)
[Advanced Tier Module 1.6] – QiMen Stacking Begin (12:17)
Begin [Advanced Tier Module 1.7] – QiMen Defense (22:06)
[Advanced Tier Module 1.8] – Overview (1:54)
[Advanced Tier Module 2] – Part 2 of The Sage Mind
Begin [Advanced Tier Module 2.1] – The Art Of Choosing The Beneficial God (7:44)
[Advanced Tier Module 2.2] – Focus Point Part 1 begins (13:26)
[Advanced Tier Module 2.3] – Focus Point Part 2 – Begin (13:43)
[Advanced Tier Module 2.4] – Ten Deities Begin (8:21)
Begin [Advanced Tier Module 2.5] – 8 Stars (4:39)
[Advanced Tier Module 2.6] Begin – Eight Doors (2:43)
[Advanced Tier Module 2.7] Begin – Ten Stems (3:32)
Begin [Advanced Tier Module 2]. .8] – Gua (3:34) (3:34)
[Advanced Tier Module 2.9] Begin – Applications & Summary (8:42)
Questions and Answers
Is there anything more I need to know about Chinese Metaphysics, such as BaZi and Feng Shui, to study Qi Men Dun Jia?
It is not required. However, understanding of both BaZi and Feng Shui is advantageous.
Will I be able to learn if I don't know how to read Chinese?
You certainly can. The modules are taught in English, and the materials are also in English. The Chinese phrases in Qi Men Dun Jia are only used to explain the traditional names.
Qi Men Dun Jia appears to be complicated. Is it simple to learn?
It is. The QiMen AcademyTM 2019 Advanced program is a step-by-step training that will take you from the basics of QiMen to the application itself.
Who should I contact if I am a QiMen AcademyTM 2019 student with questions about QiMen?
QiMen Coaching Calls are live group sessions. We encourage all students to attend the live sessions in order to have their questions answered.
What if I am dissatisfied with the course?
We don't want you to be unhappy! If you are unhappy with your purchase, please contact us within the first 30 days and we will issue a full refund.
Will the video conference be of good quality?
If you are concerned about the video conference quality, we recommend that you contact your telecommunications service provider.
When does the course begin and end?
The course begins right now and never stops! It is a totally self-paced online course that you start and end when you choose.
How long will I be able to access the course?
What do you think about lifetime access? You will have unlimited access to this course after enrolling for as long as you want – across any and all devices you own.
What exactly are the New QiMen Insights?
The New Qimen Insights will be based on real-world case studies and student examples. After all 12 core modules have been released, the series of six will be released on a monthly basis.
How are QiMen Coaching Calls held?
The JY coaching team will conduct QiMen Coaching Calls in group sessions using online platforms such as, but not limited to, ZOOM, WebEx, and EverWebinar.
What methods of payment do you accept?
All major credit cards, including VISA and MasterCard, are accepted.
What are the additional charges on my Check-Out page?
These could be Value-Added Taxes (VAT) levied by your bank and/or location. VAT may be applicable and imposed by local governments in certain EU countries and selected US states.