Jonathan Altfeld – Irresistible Voice 2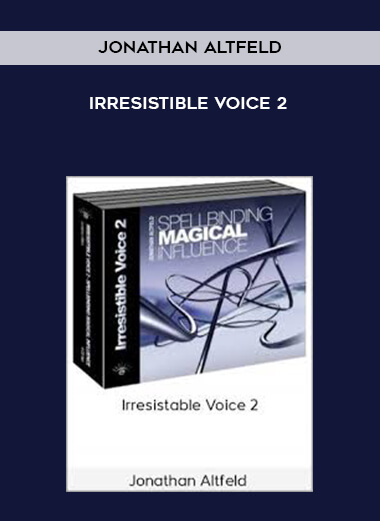 Salepage : Jonathan Altfeld – Irresistible Voice 2

Have You Wondered What Other Vocal Influence Secrets I've Kept to Myself after publishing my first Voice CD-set?
At my first "Irresistible Voice" Workshop in 2001, I Made Several Profound Discoveries. Only My Students From That Course have Known And Used these for Years! Do You Want In on These Advances?
What if You Had a Foolproof (& Deceptively Simple) Method for Generating Curiosity in Anyone, Anytime?
What if You Could Locate Someone's Internal Voice of Truth, Nonverbally, & then Speak to them from that Magical, Golden location, to Get More Compliance?
Finally, 8 years after I released the first Irresistible Voice audio program in 1998, I released an encompassing audio program follow-up to the first set, with ALL new material designed to make your voice more compelling, using NLP!
If you're reading this page, then you may already want to learn how to:
Match your voice to someone's internal Voice of Truth, almost magically…

(so that they find themselves agreeing with virtually everything you utter!)

Move people from unresourceful emotional states into highly resourceful ones, just with your voice

(great for salespeople who work primarily by telephone!)

Easily captivate people's attention in 10 seconds or less

(and make them happy they took the time to listen to everything you have to say!)

Learn how to recover from undesireable communication flubs and unconfident moments

(you'll turn these around so fast you'll be amazed at how easy it can be to go from direct rejection to total compliance!)