Jonathan Royk – There's No Such Thing As Hypnosis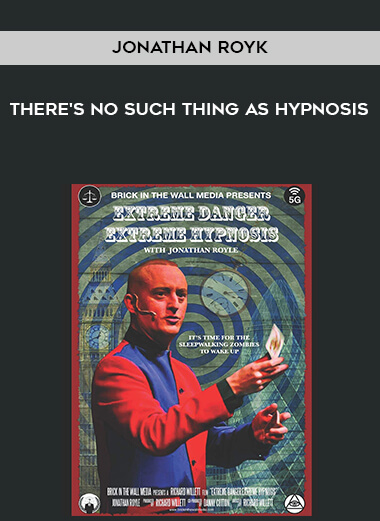 Salepage : Jonathan Royk – There's No Such Thing As Hypnosis

TEN UNIQUE TRAINING VIDEOS – (by) – JONATHAN ROYLE FAME – FORTUNE & SUCCESS CAN ALL BE YOURS
During this unique two-day training session that uncovers the truth about the Hypnotism Industry and other Alternative Therapies, all you'll ever need to know is presented in a clear step-by-step way, leaving no stone unturned!
HYPNOTHERAPY FROM A TO Z
This weekend will teach you everything you'll ever need to know to become a very effective hypnotherapist! Royle teaches you tried, tested, and proven advertising and marketing tactics that will show you how to get Celebrity Clients and Lucrative Work for Corporations!
From Suggestion Therapy and Psychotherapy on the one hand, to Royle's unique approach of Complete Mind Therapy (CMT), which allows you to treat almost any client, with almost any problem, in a single session, attending this seminar will allow you to become both confident and extremely competent in all areas of the mind therapy business.
THE DUMMY'S GUIDE TO NLP
So you've been told that NLP is the most effective treatment method you can learn? No problem, because during this seminar you'll learn more about using NLP in the real world than many so-called NLP Master Practitioners do, and you'll learn it in a way that is both highly effective and extremely entertaining!
After learning Royle's unique Complete Mind Therapy (CMT) approach, you'll also learn his individual adaptation of Tom Vizzini's "3D Mind" treatment approach, and between the two, you'll literally have an idiot's guide to NLP at your fingertips, saving you thousands of pounds on inferior courses that falsely claim to teach far more!
PAIN CONTROL REVOLUTION
Royle even teaches you his take on "Noesitherapy," a genuinely mind-blowing pain-control treatment developed by Dr. Angel Escudero of Valencia, Spain, and featured on global television, including BBC One's "Your Life in Their Hands" documentary series.
Within seconds, you'll be able to relieve people's suffering, and much like Escudero, you'll be able to employ these techniques to allow people to have Medical Operations and Dental treatment performed without the need of anaesthesia, and your patients will experience absolutely no pain or discomfort!
PHOBIAS RESOLVED IN SECONDS
Furthermore, you'll learn the powerful tactics of "Pain & Pleasure" treatment, which, when paired with NLP and other more traditional Hypnotic procedures, can allow you to eliminate the most extreme Fears and Phobias from your clients' lives and thoughts in a matter of seconds!
EXPOSED MERIDIAN THERAPIES
To round out your therapeutic toolkit, Royle will show you his unique fast technique to studying and practicing Meridian Therapies like Emotional Freedom Technique (EFT) – Thought Field Therapy (TFT) – and Freeway CER!
He'll even show you how to make a fortune treating athletes and high-profile celebrity clients over the phone with his powerful, yet surprisingly simple-to-implement and understand therapy procedures!
GUARANTEED THERAPY SUCCESS!
Perhaps most importantly, Royle reveals how to conduct Group Therapy Sessions, allowing you to, for example, persuade an audience of 100 people to pay you £25+ apiece to quit smoking, resulting in 100 nonsmokers and £2500+ in your bank account for just over 90 minutes of labor!
The advertising, marketing, and PR strategies revealed by Royle in this incredible training course are worth a fortune and, more importantly, when utilized effectively, will earn you one!
Royle leaves no stone unturned and teaches stuff never revealed in any other course, which will put you on the right path to becoming a Super Rich Hypnotherapist with ease! From Merchandising at Public Talks to Mail Order Product Sales over the Internet on the one hand to gaining Celebrity, Sporting & Corporate Clients on the other!
THE TRUTH ABOUT STAGE-HYPNOSIS PSYCHOLOGY
Royle reveals the true (never before published) inside secrets and psychological techniques that make the work of a stage hypnotist as simple as 1,2,3!
Many of Royle's colleagues asked him not to release this incredibly powerful information – but Royle has chosen to raise the lid and teach you tactics that have remained (until now) so confidential that many have never appeared in print or as part of any other training course!
EXPOSED SUGGESTIBILITY TESTS
No less than 13 incredible Suggestibility Tests are both shown and accurately described in such depth that you will succeed each and every time you utilize them!
Yes, when done out according to Royle's instructions, these tests are 100% certain to work on everyone (even the most skeptics) all of the time!
Even experienced Hypnotherapists and Stage-Hypnotists might gain a lot from this segment of the course alone, and as an utter novice, this session will easily lead you to advanced Professional Standard!
THE FASTEST INDUCTIONS IN THE WORLD
A total of 16 tried, tested, and proved to work induction techniques are first displayed and then taught in a straightforward step-by-step way, guaranteeing that you have an arsenal of tactics at your disposal to throw almost any individual into "TRANCE" in almost any scenario!
Some of the techniques presented are also ideal for usage in Hypnotherapy, however the "World Record Induction," which allows you to drop 30+ individuals into trance in less than 60 seconds, is more suited for stage use.
Many of the inductions covered in this course have never been published (save in Royle's manuals), so even the most experienced hypnotherapists and stage hypnotists will learn a lot from this course.
THE DUMB MAN'S GUIDE TO STAGE HYPNOSIS
In summary, Royle teaches you all you need to know, from the minute you start promoting your Hypnotic Show, to the moment you step on stage and make your introduction, to the moment you take your last bow, walk off stage, and collect your well-deserved money!
It is simple to become a successful stage hypnotist if you know how, and after completing this mind-blowing training session, you will know more than many so-called established Professionals!
THE HYPNOTISM ACT OF 1952
As if that wasn't enough, Royle also discusses The 1952 Hypnotism Act, 1989 Home Office Guidelines on Stage-Hypnosis, and the 1996 UK Government Review on Stage-Hypnosis in depth, and then goes on to suggest ways to circumvent the Laws, which have enabled him to Legally perform a demonstration of Stage-Hypnosis anytime, anyplace, anywhere! And, perhaps most importantly, Royle covers how to protect oneself from prospective compensation claims in the most secure way imaginable!
EXPOSED HYPNO-TRICKS
As an added bonus, Royle teaches a total of 24+ "Hypno-Tricks," which are stunts and routines that can be performed on anyone (including skeptics), are 100% guaranteed to work, and appear to the audience and assisting volunteer to be a genuine display of Hypnosis, when in fact no genuine Hypnosis is used at all!
These are the stunts and tactics used by people like British Mind Control Expert DERREN BROWN to build their reputations; in fact, you'll learn enough "Hypno-Tricks" to do a whole 90-minute performance utilizing only these secrets and this segment of the training course!
Best of all, Royle will demonstrate and explain how to apply these tactics in your Corporate Hypnotherapy Work, Group Hypnosis Sessions, Team Building Work, Sales Training's, and Motivational Classes, amongst many more profitable industries!
HONESTLY, NO STOOGES ARE USED!
Royle even teaches you the amazing secrets of "The Dual Reality Principle" and then goes on to demonstrate it in action to round out your grasp of Stage Hypnosis! Using this little-known technique that has been closely guarded for years, you will be able to perform an entire Stage Hypnosis Show with NO STOOGES – everyone who volunteers (even skeptics) will believe they have been Hypnotised, and the audience will believe they have witnessed a genuine Hypnotic Show, despite the fact that NO GENUINE HYPNOSIS IS USED!
WHAT THEY ARE ALREADY SAYING:
"I studied Royles' There Is No Such Thing As Hypnosis DVD set and learned considerably more from them than any other competing course!" Indeed, I once paid many thousand pounds to learn with a firm called Practice Builders, and these DVD's, in short, blow their course and the other courses I've taken out of the water! If you want to be a successful hypnotherapist, you must have these DVDs."
– David Ramsey (Association of Complete Mind Therapists)
"I would suggest Royle as one of your coaches if you are serious about studying Hypnosis!"
– Alan Jones (Professional Organisation of Stage Hypnotists)
"After studying Royles' DVD courses, I can state that his knowledge is great and his training techniques are unique, but incredibly effective!" Be prepared to expand your mind and, if not accept, at least recognize the reality of Royles' thoughts and real-world insider strategies that can help you rise above the competition!"
– Michael Hardman (General Hypnotherapy Register – British Society of Clinical Hypnosis)
"I am a professional stage hypnotist and hypnotherapist with many years of experience, and I can honestly say that not only did these ten videos reveal more than any book, video, or course I've ever studied before, but they also taught me countless techniques that were completely new to me and have now made me an even better Hypnotic exponent, and I would unreservedly recommend these ten training tapes to anyone who wants to learn the true inside secrets of success in the
– Chris Lee (European Guild of Professional Stage Hypnotists – Association of Professional Hypnotherapists & Psychotherapists)
"The contents and presentation are outstanding, and in summary, these 10 CDs are a worthy investment for anyone interested in learning Hypnosis, as well as any practicing Hypnotherapist and/or Stage-Hypnotist."
– Ray Ronson (Former Member of British Council of Professional Stage Hypnotists – Member of General Hypnotherapy Register and The Hypnotherapy Practitioners Association)
"This Course was absolutely unique; Jonathan takes a no-nonsense approach and teaches in a truly unique manner." These recordings are both educational and hypnotically fascinating!"
St. John's, Barrie – (Member of UK Guild of Hypnotist Examiners)
"Jonathan's approach is, to say the least, unique, but being a Hypnotherapist and Stage Hypnotist for many years, I found the lecture both intriguing and informative." My confidence in performing on stage has grown, and with Hypnotherapy, I believe I am now even better than before!"
– Mike Butler (British Council of Professional Stage Hypnotists – National Register of Advanced Hypnotherapists & The National Guild of Hypnotists)
"I attended a training done by Paul McKenna, Michael Breen, and Richard Bandler a few years ago; it was wonderful and I learnt a lot, but Jonathan Royle's training course makes them seem like old nannies!" There is no time wasting or irrelevant material, and Royle's unique teaching style makes everything very easy to learn and retain. This course is unquestionably money well spent!"
– Frank Lea (Founder Member of The Hypnotherapy Practitioners Association and Licensed Practitioner NLP)
"Thank you for a genuinely fantastic training weekend; I really learned a lot, and you crammed so much useful knowledge into the two days that it was good value for money."
Stephen Byrd, M.D. (Licensed Practitioner in NLP & Certified Hypnotherapist)
"At first, Jonathan's training approach will blow your head; he is loud, proud, and profanity is everywhere!" But you must watch these videos because you will learn a lot and at the end you will adore his style! I admire his candor about the genuine mysteries of how hypnotists function!"
– Stephen Bishop (Licensed Practitioner in NLP)
"I'd describe Royle's presentation as "honest, informative, fun, and controversial." He knows so much and teaches in such an easy-to-understand manner. You'll learn everything you need to know to get started and become a Hypnotic Success!"
– Danny Small (Reiki Master Practitioner & Clinical Hypnotherapist)
"As far as I know, the course has much unique stuff that is not taught anywhere else and will undoubtedly make you a better Hypnotist, especially when delivering any public demos!"
Botsford, David (Graduate of The Jerry Valley & Ormond McGill Masters Ultimate Hypnosis Training Seminar)
"To say that this course was outstanding is an understatement!" Not only was it a lot of fun, but Jonathan teaches in such a way that you can't help but learn; I'm pleased to claim he was my instructor and would suggest these 10 films to anybody with a serious interest in Hypnosis!"
Perkins, Glenn (Association of Professional Stage Hypnotists)
"After attending Jonathan Royle's two-day training, I can honestly declare that he does this and much more! He promises to expose the genuine Super Secrets of Stage Hypnosis and to teach you the deep inner secrets of Hypnotherapy." My only regret is that I wish I had learned about Royle's training earlier in my career; I would now be a considerably more powerful and wealthy hypnotist. Bottom line, his material is hot and really good; you should purchase, borrow, or steal it; you will never be sorry for purchasing his films."
De Prince, Thessalonia (National Guild of Hypnotists & The American Association of Professional Hypnotists – Licensed Practitioner of NLP)
"If you just take one hypnotic training course, you owe it to yourself to acquire this course – I would unreservedly suggest it to anybody, the Novice will become a Master Hypnotist and the Professional will discover things that will transform their vision and approach to Hypnosis forever!"
– Mark Howe (Member of Professional Organisation of Stage-Hypnotists & The Association of Complete Mind Therapists)
"I have been a therapist since 1986, and Mr Royle's Hypnosis training seminar has a no-nonsense, down-to-earth attitude that will surprise some people, but the quality and quantity of knowledge contained in these videos exceeds any other course I have ever done!" His sense of humour and marketing skills are excellent for both the Therapist and the Stage Performer, and his Complete Mind Therapy combines some of the most potent procedures available today, which I intend to implement in my own healing clinic. He says it like it is, no sugarcoating, which is wonderful to see; his expertise is multifaceted, and he offers his wealth of knowledge in these videos!"
– Mr. Dez Sellars (A.A.M.T. & E.F.T. Advanced Practitioner & Clinical Hypnotherapist)
"Royle's Unusual Marketing Techniques alone are worth the full cost of this video training seminar course!" When you consider the additional strategies you will learn, these films offer a once-in-a-lifetime deal – you owe it to yourself to get these one-of-a-kind information-packed DVDs right now!"
Dumbleton, Trevor – (Master Practitioner in NLP & Certified Clinical Hypnotist)
"I've bought almost all of Royles' DVD training courses, and I can honestly say that I've never been disappointed in either the quality of the content or the number of knowledge given!" Because of my formal school background, I was first lured to study with a recognized training provider, members of the General Hypnotherapy Standards Council (GHSC). My training with them was wonderful, but it was substantially augmented by Jonathan Royles material, which was superb and far superior to the recognized course. His treatment abilities are on par with, if not better than, the majority of therapists I've encountered, and he teaches what he knows in an open and honest manner. We need people like Royle to promote the profile of hypnosis, and I would suggest his classes to any aspiring hypnotist!"
Wilf Archer, Ph.D. (NLP Master Practitioner & EFT Advanced Practitioner)
WHEN YOU ORDER RIGHT NOW, YOU WILL RECEIVE FREE GIFTS!
Order Now and we'll give you the incredible "Compilation CD-ROM" including every one of Jonathan Royle's written books, courses, and manuals as listed on his site for FREE – That's a value of OVER £177 FREE – when you order Now!
WHEN YOU ORDER RIGHT NOW, YOU WILL RECEIVE EVEN MORE FREE GIFTS!
Order now and we'll give you two free copyright-free audio MP3 discs including a total of eight (8) full-length audio Hypnotherapy Treatment Sessions. We generally charge £77 each set for these strong master recordings on our website, but if you purchase the ten volume DVD set within seven days, we'll deliver them to you for free!
ACT RIGHT NOW AND SAVE £200!
As if that isn't enough to convince you that this is the most intelligent investment you will ever make in your future Hypnotic Financial Success, we are also offering a further £200 discount off the normal retail price of £497 for this unrivaled Home Study Hypnotic Success Course to those who act RIGHT NOW and order within seven days!