Joseph Lillo – 2018 Cholesterol Guidelines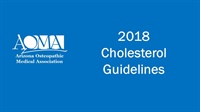 Salepage : Joseph Lillo – 2018 Cholesterol Guidelines

The body needs some cholesterol but if it has too much, it can become a problem. 
Dr. Joseph Lillo reviews the most current research on cholesterol levels. 
Objectives:
Apply latest guidelines for the treatment of atherogenic dyslipidemia

Manage treating residual risk in statin-controlled patients

Distinguish how to risk stratify patients at cardiovascular risk
Dr. Joseph Lillo discloses he is a member of the Speakers'Bureau for Amgen, Amarin and KOWA.
This activity has been planned and implemented in accordance with the accreditation requirements and policies of the American Osteopathic Association (AOA). The Arizona Osteopathic Medical Association (AOMA) is accredited by the American Osteopathic Association (AOA) to provide osteopathic continuing medical education for physicians.
 GRIEVANCE POLICY: The AOMA strives to provide continuing medical education programs to fulfill the needs of the attendees and to meet the AOA Uniform Guidelines and AOA Accreditation Requirements. Comments, questions, or complaints should be forwarded to AOMA Executive Director Josephine Zammuto, by calling the AOMA Office at 602-266-6699 or by mail to AOMA, 1951 W. Camelback Rd., Suite 105, Phoenix, AZ 85015, or by email to [email protected]
Joseph L. Lillo, DO, FNLA, FAPCR, CPI is Assistant Professor of Family Medicine at Midwestern University Arizona College of Osteopathic Medicine in Glendale, and a physician at Scottsdale Family Health in Scottsdale, Arizona. Dr. Lillo received his DO from Kirksville College of Osteopathic Medicine and Surgery in Kirksville, Missouri, followed by postgraduate training at Phoenix General Hospital in Arizona. He is board certified in family practice, clinical lipidology, and is a certified principal investigator. Dr. Lillo is a diplomate of the American Board of Clinical Lipidology. Dr. Lillo is a fellow of the National Lipid Association (NLA) and the Academy of Physicians in Clinical Research. He has recently been elected President of the Board of Directors of the National Lipid Association, Southwest Chapter. Dr. Lillo's clinical and research interests include dyslipidemia, osteoarthritis, hypertension, depression, anxiety, diabetes, irritable bowel syndrome, and antibiotic therapy. He is principal investigator for Elite Clinical Studies in Phoenix and has been involved in many Phase 2, 3, and Post-Marketing clinical trials related to lipid research.
He has coauthored articles published in peer-reviewed journals such as the Journal of the American Academy of Physician Assistants, Journal of the American Osteopathic Association, and Lipid Spin (a journal of the NLA).