Julia McCoy – The Content Strategy & Marketing Course & The Expert SEO Content Writer Course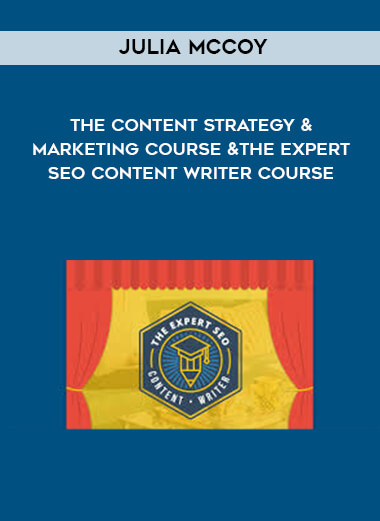 Salepage : Julia McCoy – The Content Strategy & Marketing Course & The Expert SEO Content Writer Course

Does any of this sound familiar when it comes to writing SEO content?
Feeling lost when it comes to knowing exactly how to SEO keyword optimize your content.
Struggling to identify and come up with SEO keywords and topics that hit the bullseye each time — that you know for sure will win with your audience and Google.
Finding it hard to write powerful, engaging blogs and web pages while keeping it correctly SEO optimized.
Did you raise your hand to any (or all) of the above?
Good.
You're exactly who I created this course for! Keep reading — you're in the right spot.
I'm going to let you in on a little "SEO content secret"…
The core of online content success lies in how engaging and well-written the content is.
Express Writers.
Every time I interview and train a new writer, I come across the same handful of SEO and optimization issues.
Many writers aren't even aware of these, or just need some higher-level training and coaching.
And these issues exist whether the writer is a complete newbie, or a pro with years of expertise.
After years of coaching our team of writers on improving their SEO content writing, I decided to create this course for the public.
Here's the thing… I know, more than anyone, the power of great SEO writing.
My own business, Express Writers, is entirely built through the SEO content I create. We have over 19,000 rankings from our SEO content in Google and a seven-figure annual income. Our content brings in 99.9% of our new clientele.
Today, SEO content is absolutely vital to content marketing success.
70.6% of all traffic on the web originates from a Google search (Backlinko and Sparktoro)
71% of buyers look at 3-5 pieces of content before engaging with a sales rep (The Economist)
B2B companies with strategic content generate 67% more leads than B2Bs that don't publish content (Hubspot)
Websites with a blog tend to have 434% more indexed pages in Google (Techclient)
Your Online Writing Weapon: The Expert SEO Content Writer Course
Discover the KEY online SEO content strategies I've used to write and implement content that ranks for over 20,000 keywords in Google. This course will dramatically grow your skills and knowledge in SEO writing — fast.
The best part? I've set it up in a way that is super easy for you to digest, retain, and remember these skills. Built for busy people with busy lives, this course is perfect for the day job employee or freelancer/solopreneur building their brand and looking to increase their marketability.
You can get through this course in just a week or less. There is ZERO fluff. Every single lesson is immediately actionable and ready to implement in your day-to-day online writing, from blogs to web pages.
With under five hours of on-demand video content, subtitles, audio files and easy-to-remember knowledge sheets — not to mention tons of templates and short live demos — you'll fly through this material and be ready to apply it to your content NEXT WEEK.
Students Say This Course is the Real Deal!
Future-proof SEO Content Training
Have you ever heard of SEO training that is future-proof? This course is.
Inside this SEO writing program, you're not just learning how to write for Google and search bots, you're learning how to call on your own creative talents — one of the biggest "future-proof" tactics a writer has.
You'll be learning new skills, too. This course includes skills that are critical to knowing and earning more as an SEO content creator. You'll learn comprehensive SEO keyword research tactics that will ensure you know exactly how to find data-backed hot topics that will outperform the competition.
By knowing how to rely on your own creative talents, you protect the future of your content writing career.
While the use of artificial intelligence in the content creation industry is cause for concern for many, the technology isn't anywhere near the level a creative human being can provide. Knowing how to pull from your own creative instincts and build an audience that craves your content, you can future-proof your SEO content skills.
Plus, with lifetime access to periodic curriculum updates, you'll be set up for long-term success!
Download your FREE copy of The SEO Content Writers' Cheat Sheet (featuring one free course lesson):
The Expert SEO Content Writer Course: Here's What's Included
The Expert SEO Content Writer was built with the aspiring SEO copywriter in mind. No matter what stage you're at in online writing, if you want to be an expert SEO content writer, this is the course for you.
You'll get:
The ability to work at your own pace. There are three main modules with videos and on-demand training, as well as a brief introduction and closing module section. You'll get between 4-5 hours of video content, guiding you all the way from beginner SEO writer to expert.
Clear action items that set you up for success. You can download and work from proven content templates, see examples of content formats live in video demonstrations and more!
Printable workbooks, knowledge sheets, and templates that help you stay on track, organized, and guided—so you never feel like you're alone inside this self-paced course.
Exclusive access to a private student community to discuss coursework and trade ideas with your classmates.
1-week self-paced course
All lectures, content, curriculum + bonus module
Mentoring and student group
Certification after completion
One-Time Payment
1 Payment
1-week self-paced course
All lectures, content, curriculum + bonus module
Mentoring and student group
Certification after completion
What Students Are Saying About The Expert SEO Content Writer Course
"I saw my first highly-qualified lead book a call through my editing website after implementing the SEO content tips in The Expert SEO Content Writer Course. Not only was the lead qualified, but when I got on the phone, the lead already recognized me as an expert in my field. I didn't need to "sell" him on my services — he was already sold after reading my content. This is powerful stuff! If you're a business online, you need to get your hands on this course and start generating the clients you want through compelling SEO content — this stuff works."
Monique Muro
 "This is the second course I've taken under Julia McCoy's wing and I cannot get enough of her advice, leadership, and knowledge of SEO writing. Julia respects and illustrates the importance of SEO writing and the foundational tools you need to write SEO-driven content for your industry, but most importantly, focuses on the audience/client first. In today's market, the customer is central to all content marketing and Julia reiterates this power in all of her lessons.
I will sign up for any course Julia puts together as she helps to refresh even the most seasoned writer and keeps you in the loop on industry changes and trends. You'll only move upwards after Julia's course!"
Bre D'Alessio South
"The Expert SEO Content Writer is a fluff-free, nuts-and-bolts, hit-the-ground-running course.
Search Engine Optimization (SEO) is no longer a "nice to have" skill. To get the search engine rankings you crave, you need to know the right way to craft your content.
Julia McCoy knows SEO. Once you complete The Expert SEO Content Writer Course, you will too."
Mariana Norton
"Hi Julia,
I've just completed your SEO course and got my certification, yayyy!
Just want to thank you for coming up with a short course that's packed with so much info, facts, statistics & helpful templates (that I could complete in less than 3 days!). Loved the way it was presented – bite-sized (yet so in-depth) and great choice of bright & fun colours too for the video presentations.
Completing this SEO course gives me the push that I need to now complete your Content Strategy Course!! Wish me luck and hope to talk to you again soon
"
Aqila A. Shah
1-week self-paced course
All lectures, content, curriculum + bonus module
Mentoring and student group
Certification after completion
One-Time Payment
1 Payment
1-week self-paced course
All lectures, content, curriculum + bonus module
Mentoring and student group
Certification after completion
"Besides being a college professor, I am a content creator. I produce video, visual, and written content across a number of social media platforms on a regular basis. Some of my content performs extremely well, while some barely gets noticed. I love what Mark Schaefer once shared, 'the economic value of content that is not seen or shared is zero.'
With that, my biggest takeaway from taking Julia McCoy's The Expert SEO Content Writer course is that she helped me understand the strategies and tactics behind well-performing content.
It is NOT luck that helps content be discovered, rank high on Google, or bring traffic and profit. SEO writing is an art and science; it takes a certain mindset shift to produce strategic content that ranks for SEO and is enjoyable to read. Julia's course also encouraged me to bring my personality and creativity into my writing. Thank you for being such a great teacher, Julia. I cannot wait to apply what I have learned from you into my work!"
Ai Addyson-Zhang, Ph.D
"Julia presented a thoroughly insightful and inspirational course. It's improved my SEO writing and that offers a better service to my clients. The down-to-earth approach and supporting worksheets outline the theories you need to understand and the benefits are immediate when applied to your business."