Karl Gotch – Conditioning For Combat Sports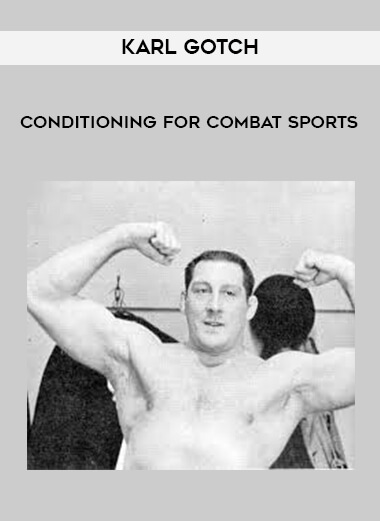 Salepage : Karl Gotch – Conditioning For Combat Sports

Conditioning for Combat Sports Expanded Deluxe 3-Disc Set by Karl Gotch
Wrestlers are famous for being extremely fit, and the "God of Wrestling," Karl Gotch, is even more famous for having one of the most demanding and inventive conditioning routines you'll ever see. Karl thankfully recorded some of his thoughts on video (if you prefer Video-On-Demand, scroll down, you may be viewing this in minutes!)
"Your best hold is conditioning" -Karl Gotch
This EXPANDED deluxe 3-disc collection demonstrates the program Karl built over a LIFETIME of wrestling and teaching to target the submission wrestler's unique demands.
Karl's program attempts to improve the following qualities that wrestlers require:
Speed
Agility
Strength (explosive) (explosive)
Endurance
Response Time
As Karl adds, "Wrestling is a workman's sport, you need no expensive equipment and can practice it anyplace". The same is true for Karl's Combat Sports Conditioning. All you need are a few minutes, a willingness to succeed, and the information Karl will share with you.
Karl has forgotten more about wrestling and fitness than some current "experts" will ever know, and now you get the opportunity to sit in as he coaches student Tom Puckett through a lifetime exercise. Few people who view this video will ever be able to complete the training that Karl puts Tom through.
You will be quite challenged on disc one. Do you know how to climb a rope? Can you climb a rope backwards?
This is the ORIGINAL film that sparked the contemporary bodyweight revolution, and it continues to astound and inspire people to this day!
On disc two, MMA stars Funaki and Suzuki pay a visit to the God of Wrestling's Florida mansion. Anyone preparing for a battle or competition will find it a creative treasure. The tactics, techniques, and secrets revealed inside might help you win your next tournament!
Now, go behind the scenes as famed MMA trainer Karl Gotch puts real MMA pioneers through one of his very difficult sessions.
Minoru Suzuki, Masakatsu Funaki, Yusuke Fuke, and Yukari Osawa all take turns wielding Karl's Indian Clubs and Macebell (after he teaches how to operate it), and then you can see them sophisticating the exercises seen on disc one.
My Cigar With Karl: A Conversation with Karl Gotch and Jake Shannon, disc three, is an hour-long conversation Jake Shannon was allowed to shoot with Karl while smoking a cigar on his back porch after training.
Listen in as Karl discusses his biography, wrestling background, and wrestling skills.
This is an exceptionally unusual chance to sit in on a talk with the guy know as "The God of Wrestling".
More incredible and previously unseen fitness concepts from the guy who nearly single-handedly preserved real Catch-As-Catch-Can grappling tactics from the days of Billy Riley and Pops Charnock to today's generation of competitive submission grapplers.