Keenan Cornelius – Breakthrough Jiu Jitsu 5 DVD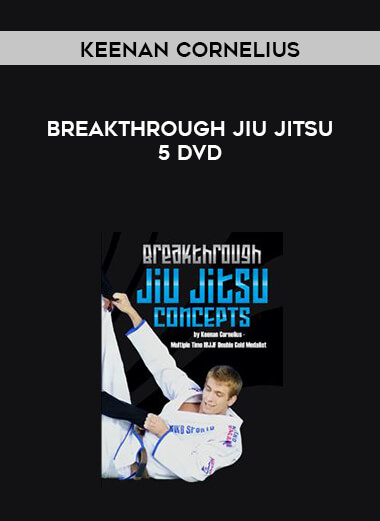 Salepage : Keenan Cornelius – Breakthrough Jiu Jitsu 5 DVD

After winning double gold at the 2013 Pan American Games, Keenan decided to create a DVD series to teach these breakthrough principles. The methods and concepts he demonstrates aren't your run-of-the-mill motions you can find for free on YouTube. He will explain down the real motions and exercises he employs and practices. His DVD series isn't just for showing skills; it's also for giving the spectator 5 personalized sessions, which can't be bought.
Though the material list appears to be extensive, there aren't many techniques discussed. However, Keenan demonstrates one or two methods from the positions he is teaching.
Guard passing (DVD 1)
This section includes troubleshooting for the De La Riva gurad leg drag pass.
It also includes coverage for the spider guard pass with and without the lasso.
Open Guard pass (DVD2)
Here he demonstrates his modified toreando pass, which I believe is better suited for no gi although Keenan can execute it with Gi as well. He also demonstrates his successful leg kick pass against Paulo Miyao and Gianni Grippo. There are YouTube videos available that show the match and breakdown of the pass, but Keenan illustrates how to perform the pass properly and which pitfalls to avoid. He also addressed the inverted guard pass whether the opponent's legs are facing you or away from you.
Submission for DVD 3
In this DVD, Keenan discusses numerous high percentage submissions from various positions, including the wrist lock. I haven't tried them in class yet.
Spider guard (DVD 4)
If you're searching for more sweeps, this part will disappoint you. He essentially covers four sweeps.
Here, keenan demonstrates a pair of sweeps from spider guard and his new guard, which is similar to De La Riva guard but hooks the arm instead of the leg.
De La Riva Guard Dvd 5
Keenan demonstrates one sweep from De La Riva guard before moving on to Deep half guard from De La Riva guard and obtaining the waiter sweep. In my opinion, the waiter sweep arrangement is rather elegant.
Keenan then demonstrates how to defend the berimbolo, which will be useful.
Then he demonstrates his berimbolo, which differs from the Mendes brothers' YouTube video.