Keenan Cornelius – Breakthrough Jiu Jitsu 5 DVD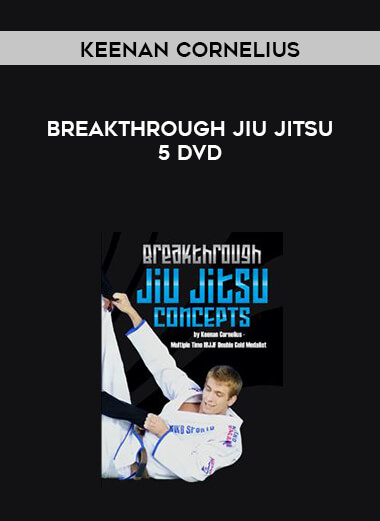 Salepage : Keenan Cornelius – Breakthrough Jiu Jitsu 5 DVD

After winning double Gold – Again – at the 2013 Pan Championship – Keenan decided to make a DVD series to teach these breakout concepts. The techniques and concepts he shows aren't the run of the mill moves you can just look up free on Youtube. He is going to break down the actual moves and drills he uses and practices. His DVD series isn't meant to just show techniques, it is meant to give the viewer 5 private lessons – and you can't put a price tag on that.
In terms of techniques though the content list looks a lot, there are not many techniques covered. But Keenan gives one or two techniques from the positions he is teaching.
Dvd 1- Guard passing
This section covers the leg drag pass from De La Riva gurad with troubleshooting.
It also covers the spider guard pass with and without the lasso.
Dvd2 – Open Guard pass
Here he covers his modified toreando pass which i think is more suited for no gi but Keenan is able to do it with Gi as well. He also shows the leg kick pass which he successfully tried on Paulo Miyao and Gianni Grippo. There are youtube videos available showing the match and breakdown of the pass but here Keenan shows it how to properly do the pass and which mistakes not to make. He also covered inverted guard pass when the opponent legs are facing you or away from you.
Dvd 3- Submission
In this DVd Keenan covers some high percentage submission from different positions including wrist lock. I have not tried them yet in class.
Dvd 4- Spider guard
This section will be disappointing if you are looking for more sweeps. He basically covers 4 sweeps.
Here keenan covers couple of sweeps from spider guard and his new guard he is trying to develop which is like De La Riva guard but you hook the arm instead of the Leg.
Dvd 5 De La Riva Guard
Keenan shows 1 sweep from De La Riva guard and then shows how to go to Deep half guard from De La Riva guard and get the waiter sweep. The setup for the waiter sweep, in my opinion is pretty fancy.
Keenan then shows how to defend the berimbolo which will be a good help.
Then he shows how he does his berimbolo which is different from the youtube video of Mendes brothers.