Kevin Wilke & Costas Peppas – 1 Client a Week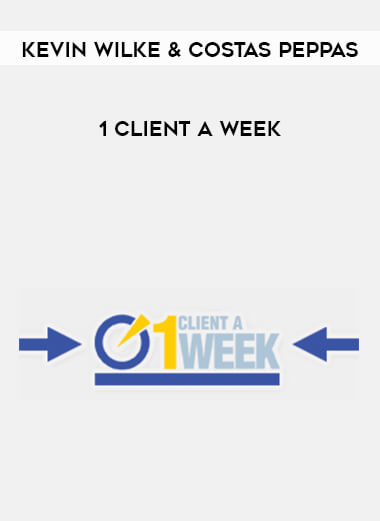 Salepage : Kevin Wilke & Costas Peppas – 1 Client a Week

Requested
Learn a technique that will have local business prospects calling YOU, and begin landing one new client every week! Finally learn a proven client-getting method that works, that you can do from home anytime, and never have to make a cold call.
1 Client a Week by Kevin Wilke and Costas Peppas is intended to help marketers find clients without making cold calls or holding business sales meetings. The method was originally developed by Internet marketer Costas Peppas, who spent almost eight years and thousands of dollars trying to find a way to access local marketing opportunities.
Wilke suggests that his client-getting method, if used 30 minutes a day, will increase business income by at least $1,000 a week. He is so confident in his "shock-and-awe" strategy that he offers not only a money-back refund, but a $500 outright payment if a first client is not found within 90 days of using it. The system is targeted at both new marketers looking for their first client and those who are established yet having trouble finding clients.
The ideas behind 1 Client a Week are founded on the notion that there are three places clients can easily be found:
– Online classified ads. Examples of local businesses looking for help with social media and marketing and ways to generate website income are provided.
– Pay-per-click ads on Google. Many businesses are losing money with these types of ads.
– Not on page 1 of Google search results. Most people choose a business found on page 1, so business clients on page 2, 3, etc. are not seeing results.
After identifying where to find clients, the system then shows how to approach them with the right message so that they will come to you for help. The 1 Client a Week system contains three modules that teach the method with training videos and PDF handouts:
Module 1: They want you method. This module explains how to find business owners looking for help and shows you how to approach them in a way that makes you stand out from the crowd and be perceived as an expert.
Module 2: Online advertisers and not on 1st page method. Explains how to contact businesses that are not getting onto page one.
Module 3: The Irresistible Sales formula. In this module you learn how to present an offer that will entice clients to pay you on the very first call, and how to turn that contact into a long-term client.
Plus bonuses…