Knowledge to Action Ultimate Forex Programme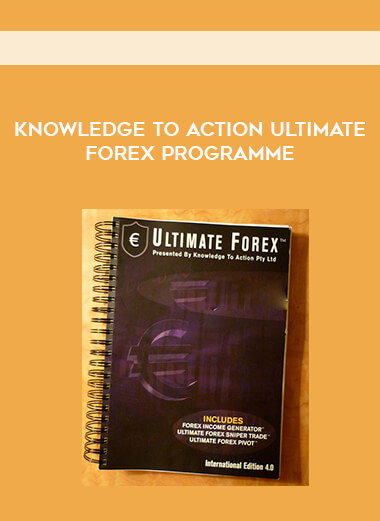 Salepage : Knowledge to Action Ultimate Forex Programme

Professional Forex Trading Strategies for Serious Traders Ultimate Forex Program is intended for traders with at least some trading experience. Ultimate Forex Profits, created by the Founder of Knowledge to Action, Greg Secker, shows you exactly how to produce big money from trading the Forex markets and is for those who consider themselves true players. Ultimate Forex Program is intended for traders who have some experience trading, whether in stocks, spread betting, futures, or options. This course gets down to the point and tells traders, step by step, how to select, execute, and automate very high return, low risk deals. It is now the most popular curriculum we provide.
What you will discover
How to Make Money Trading Forex
Learn how to spot high-probability trading chances and generate a steady weekly income using intra-day and end-of-day trading tactics.
2.
How to Keep the Risk Under Control
On any trade, you never put more than 1% of your account at risk.
3.
How to Invest Full-Time
Leave your work and rely on Forex to meet your financial demands.
What to anticipate
* How to organize high-quality deals around your everyday routine
* High-energy instructors to help you along the journey
* Comprehensive practicals to ensure you know what to do next
* Discover the best method for developing a trading strategy that fits your personality.
What does the Ultimate Forex Program include?
Day 1 – Core Forex Skills and Strategy * Forex Market Mechanics * Best Trading Time Zones * How to Place the Carry Trade * Critical Forex Fundamentals * Using News in Forex Trading * Applying Technical Analysis in Forex Markets * The Importance of Divergence * Important Forex Chart Patterns Create a Forex Trading Account 2.
Day 2 – Forex Strategies, Integration, Risk, and Psychology * Forex Risk Management * Profit Targets and Risk Reduction Strategies * Ultimate Forex PivotsTM (intraday) * Advanced Pivot Usage * Forex Income GeneratorTM (end of day) * Ultimate Forex Sniper TradeTM (intraday) * SuperInvestorTM Account – Investing your Profits Trader Psychology in Forex