Learn To Make Money In Stocks – A Value Investing Approach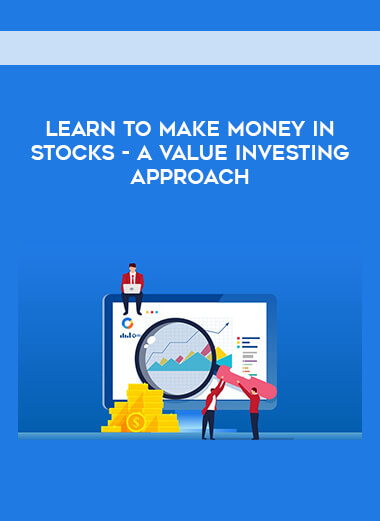 Salepage : Learn To Make Money In Stocks – A Value Investing Approach

Learn the four stages to thinking and acting like a value investor.
Learn about the stock market.
Learn about the Key Financial Ratios that are utilized in company analysis.
Learn how to interpret financial statements.
Learn the top 5 stock screening guidelines used by the pros.
Learn how to get the best stock market bargains and make a high return.
Learn two ways for running your portfolio on autopilot.
Have you ever wanted to engage in the stock market but are afraid of losing your money?
Have you ever wondered whether there was a method to invest wisely?
And, if you're anything like us, you don't want to squander weeks or months reading financial books.
That's why we designed a concise, easy-to-follow training that will take you from novice to value investor in just 2 hours.
Is prior experience or financial expertise required? Certainly not! We shall start with the fundamentals.
This course does not only teach one strategy; we also cover stock market fundamentals, financial statements, and stock market terminology.
Following the establishment of the basis, the course teaches two primary strategies. One is for someone who has the time and energy to examine stocks; the perk is that his profits will be substantial!
The second approach is for someone who doesn't have the time for all of that but still wants a piece of the stock market action; we call it 'portfolio on autopilot.'
Both of these strategies are long-term in nature. This implies that the risk is low, and you may consistently profit in the stock market!