Linked University – Connect 365 Training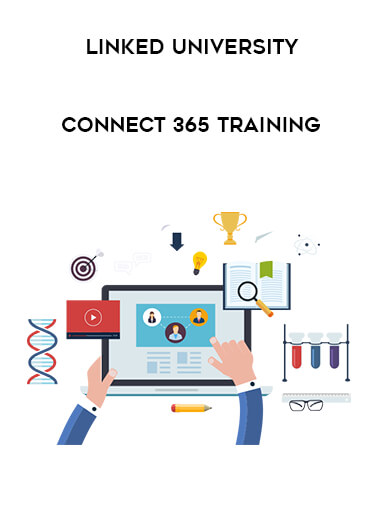 Salepage : Linked University – Connect 365 Training
General:
– Connect 365 Training Program:
– Learn how to get more sales opportunities through a step-by-step-system to stay in front of your top prospects and clients, 365 days a year.
– Lifetime Access to the entire Connect 365 training suite
– 3 Modules and 11 Lessons
– Dozens of messaging script templates, workbooks, and guides.
– So the system you use MUST take that into account, and provide a solution that you can leverage.
– .to spend more time on your clients, do better work, and actually scale your business.
– Sounds like a tall order, doesn't it?
– That's why I created the Connect 365 system.
– Over the past 5 years, I'm confident that my team and I have perfected the very best and most effective lead generation system using LinkedIn.one of the most powerful B2B and B2C lead gen platforms on the planet.
– But our system had one flaw.
– It required work to build and maintain. Time and energy, that a lot of people weren't able to justify over the long haul.
– So much work, in fact, that we started a very profitable Agency.just to do the work FOR our clients in exchange for a monthly retainer. And our agency, LinkedSelling, has grown to become a leading brand in our industry. It's a service that's in high demand!
– We designed this software to help you implement our laser-focused lead generation system.
– .which, by itself, has helped thousands of our students increase their cash flow by 5, 6, even 7 figures in just a few short months.
– And now you can have this industry-leading training curriculum AND software to automate the heavy lifting for YOU, to plug into your business immediately.
– Sound too good to be true?
– Then let me prove it.
– There are only 5 main steps:
– Step 1: Profiling
– Profiling is where you build out WHO you'll want to target.
– Inside the course, we give you the Exact questions you need to ask and the Exact places to do your research to build the best target for your services.
– Using our profiling process, you'll easily discover who your ideal prospects are so that you can bring highly qualified, targeted potential clients into your database.quickly.
– Most businesses that struggle with cash flow aren't clear on who their best prospects are.so they waste time and energy pursuing people who aren't right for their services or products.
– We help you get Laser-Focused on who your target prospect is, and how to find them. Once that's done, we move on to.
– Step 2: Positioning
– The positioning phase is all about making sure that your online presence, specifically your LinkedIn profile, is structured so that you are the most appealing to potential clients. We take you through the EXACT steps to building an attractive profile, so that you will see the best results from the next 2 phases of the system. When you begin reaching out to prospects and attracting new connections, you want to put your best foot forward. You want to make sure that you get the higher % of acceptance rate when you send out connection requests. And you want to also have a profile that entices people to reach out and contact YOU.
– Wouldn't that be nice? Having people naturally reach out to you, based on nothing but your profile and presence?
– That's what we build during Step 2.
– Step 3: Prospecting
– We show you exactly how to FIND your ideal prospects on LinkedIn. Using the latest advanced search and prospecting techniques, and some "tricks of the trade" we've developed over the years in our own agency, we'll show you the hidden nooks and crannies where your best prospects are hiding out.
– Step 4: Connecting
– You get the leveraged, easy, and non-salesy approaches we use to make people interested in you and opening the door to connecting. This is a systematic, proven process for building a highly targeted list of qualified prospects.virtually overnight.
– But just having connections is not enough.
– At any point in time, roughly 7% of your target market is in a buying state. "within any market of – qualified – customers, there's typically only 7% who are "In Market" for your solution today. so don't take it personally." – Dan Martell, Investor and Entrepreneur
– So sure, a small percentage of your connections may be ready to talk business now. But the key to lasting, consistent growth is effectively reaching the other 93%.
– The key to achieving that is staying in front of these prospects over time and keeping your name in front of them, so that when they are in the market for your services.you will be the one that gets the call.
– When you are able to do this with hundreds or thousands of prospects, the results are staggering. Now, most business owners struggle with this. Think of all the people you have met over the last year, or all of the connections you have on LinkedIn. How good of a job have you done of keeping your name in front of them?
– What if you had a way to automatically send each of these people a personalized 1-on-1 message each month..sharing some cool news about your business, telling them about an event or webinar you have coming up, inviting them every so often to jump on a call or strategy session, sending your latest blog post and driving tons of traffic to your website.with just a few clicks of a button?