LOCAL LEAD DROP v2.0 + ALL OTO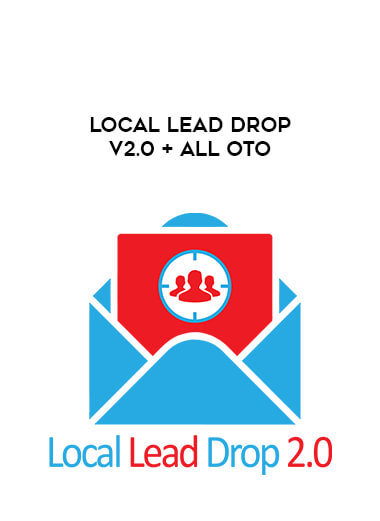 Salepage : LOCAL LEAD DROP v2.0 + ALL OTO

"Discover A PROVEN System for Getting High Ticket Leads Literally Dropping into Your Inbox, Ready to buy…"
…forget Cold Calling, Beating Down Doors or Any other Client Chasing Methods!
Watch the Video Below to Learn More
Start Today
Leads Come to YOU
No "Selling" Needed
System Closes 40%
These Leads are RED HOT and Looking to Buy High Ticket Marketing Services NOW…
When these leads drop into your inbox or smartphone they are actively looking to buy marketing services!
You don't have to go looking for them at all because this lead source finds them for you and sends them straight to you!
What's awesome is you are only ever competing against four other providers meaning you have a 20% chance of winning the job from the jump!
The best part is when you follow our system you can easily close over 40% of the deals you bid on!
Plus you don't have to do any hard "selling" to close the deal, it's like taking an order! 
And they literally Drop into Your Inbox within Hours of Getting Started…
It's super easy to set this up for yourself and you can have leads coming in for whatever services you offer within hours of signing up!
Even if you don't have a portfolio or are just getting started you can still make this work for you, in fact we show you exactly how to do that!
Can you imagine how nice it would be to wake up everyday to leads like these pouring into your inbox?
Gone are the days of beating down doors, sending out mass mailings, cold calling or any of that nonsense.
Why would you even worry about that when you can have leads like these flowing in daily…We sure don't
You can get High Ticket Leads Like These Dropping in Daily Almost anywhere in the world!
…landing high ticket clients has never been so easy!
Neil Macpherson here on behalf of myself and my partner Robert Dickson…
We'll be the first ones to admit it wasn't always this easy to land clients. In fact we'd both been at this for years when we finally stumbled upon a better way to get leads coming our way.u00a0
Both Robert and I started from scratch with nothing more than some basic knowledge and ambition just like you. 
Neil Macpherson
Robert Dickson
I started my client business from my grandmothers Kitchen table. Robert Started his from his parents basement.
Between the two of us we have a combined 20 years of experience landing and servicing clients.
We understand how "the game" works. Both of us built our client bases from scratch and these days we work together.
In the beginning we both experienced the same struggles that all marketers go through when trying to get a client business off the ground.
With no portfolio or resources to speak of you just have to do whatever you can to drum up business and that's a tough way to go.
We've been down that road where you chase down clients, begging them to buy your services…it sucks.
Clients can smell the desperation miles away and you often end up charging less than what your worth, working more hours than you expected and frustrated as heck by the end of the day.
The whole reason we got into this "game" was to not have a "JOB" but when you do business the way most do, it ends up being nothing more than that.
That's why both of knew there had to be a better way and eventually it "clicked" for us. We realized the key to this game was…
"The Key is to Focus EXCLUSIVELY on Lead Gen Methods that Get Prospects Coming to YOU, Ready to Buy…"
We both hate traditional "selling" and only look for methods that allow us to close deals in a way that's more like "taking an order".u00a0
We Definitely don't…
Cold Call EVER!
Drop In (door to door)
Get on the Phone Unless We Have to
Or ANY Other Client Chasing Methods!
Any marketer their salt who takes on clients will tell you that referrals are the #1 way to land business over time.
A lead that was referred to you by a trusted source and has a budget ready to go is the best type of lead you can have come in.
…but how do you get those referrals coming in the first place?
…and what happens when your referral sources dry up or slow down?
Exactly. No business, no income and back to the drawing board.
That's why you need a steady stream of leads that you can tap into anytime you need to or as much as you want.
Can you imagine what it would be like if you could land clients like clockwork by simply checking your email and following a simple system?
Then what if you combined that with a referral strategy that allowed you to consistently turn each new client into more clientsexpanding your reach exponentially?
That's what our methods are all about…
Over the years we've built a sizable network that brings us referrals on a regular basis but the anytime business slows down all we have to do is check our inbox with fresh hot leads waiting to buy.
"When you combine a Powerful Lead Gen System with a Potent Referral Strategy Your Client Base Will Explode…"
Ok guys, this sounds great but how do I make that happen?
First you need to know where to tap into and how to get these leads coming into your inbox THEN you need to know what to do with those leads!
What exactly should you offer? How much should you charge?
Should you set up call? What should you say?
Should you go to their office? Do you have to?
When should you "upsell" them and WHAT should you upsell?
We get it, there is a lot to figure out and it can be overwhelming at times. We've been working at it for years and it still feels that way sometimes.
We have tirelessly tested our sources, systems and backend setups in order to develop the best possible system for closing deals like clockwork and getting those clients to rave about us.
Over the years we've tried it all from Craigslist, to Facebook, Adwords..you name it. NONE of them even compare to how easily you can land clients using this "email drop" system.
Not only do the leads come to straight to us, but…
We've developed a fine tuned system for closing Leads Like these at 40% Like Clockwork…
Without giving too much away, here is the System in a nutshell…
Find the Right Projects
Stand Out from the Crowd
Use the 4-Step Bidding Process
Follow a Simple Closing System
We look for high ticket projects, usually starting at $1k and up meaning we don't even mess with people who have small budgets.
Then we use our "Secret Weapon" to quickly and easily stand out from the crowd. Super easy and works like a charm.
Then we follow a simple bidding process that wins consistently and follow a simple closing process that removes any need for high pressure sales.
That's really all it takes to close these leads like clockwork, easily over 40%.
Can you imagine what it would be like to get leads like this dropping in your inbox?
And what would happen if you KNEW you could close them with ease?
Let's break down what closing just ONE high ticket lead a week could do for your businessu2026.and your life.
We only focus on leads that have a budget of at least $1k on the front end.
We do this because we know we can deliver amazing service and turn them into a monthly client that is also another referral source.
Here is how it might look for you…
Land 1 client a week for $1,000 project.
Out of the 4 clients you land that month, upsell 50% into monthly marketing (2) at $1,000 a month.
That would be $6k in the first month.
Rinse and repeat, you can likely do the math from there.
It's easy to see you can rapidly grow your business to the point where you can do the things you really want to do like quit your job, travel, spend more time with family or whatever floats your boat.
The bottom line is just a handful of high quality clients each month can lead to a massive boost in business and have a huge positive impact on your life.
So now that you know what's possible when you have high quality leads coming to you ready to buy, let me show you how we can help…/strong>
Introducing…
Start Today
Leads Come to YOU
No "Selling" Needed
System Closes 40%
The Local Lead Drop training is a complete guide to getting RED HOT leads dropping into YOUR Inbox just like us. Then we show you how to convert those leads like clockwork and turn them into longtime paying clients. We even show you how to expand your business rapidlyusing systematic referral strategies.
Just a Few of the Things You'll Learn Inside…
The exact source we use to get these leads and how you can tap into it today! No waiting around to get leads coming in, you can literally have them pouring in within hours.
How to set yourself up for success from the beginning, even if you are just getting started and don't have a single client yet!
How to find the best projects to bid on so that you give yourself the best chance to close at high rate. Also how to avoid the tire kickers so you donu't waste your time or money.
Our 4-Step Bidding process that wins projects over 40% of the time. Only 5 providers, that's you, can bid on a given project so you start out with a 20% chance but our system doubles that.
Our Secret Weapon that helps us stand out from the crowd immediately. We've been using this for years to close deals and it flat out works. Once you have this in your arsenal closing deals becomes a breeze.
The simple yet effective system we use for closing these deals without ever doing any hard selling. In fact, it doesn't even feel like closing more like taking an order.
How and When to Upsell these prospects into monthly marketing services. Not only will you be able to make great money up front but you can also leverage this lead source into a monthly income source.
Plus we've included a killer bonus training that breaks down how to offer one of the hottest high end services out there, Video Advertising.
This is truly just a taste of what you'll learn in this powerful training. Once you go through the training and apply what you lean you'll be able to get high ticket leads dropping into your inbox daily! Not only that but you'll be able to close them at 40% for high ticket services with ease!
Everything that is included When You Buy Today…
Quick Start Guide
To help you get started TODAY, we've put together an easy to follow Guide that will help you digest the system quickly. This PDF will have you off and running in just minutes!
17 Video Training Modules
We leave no stone unturned in our comprehensive video training. We break down the entire system step-by-step in over the should training videos hosted in a 24/7 access private members area.
Rapid Fire Templates
One of the keys to our system is responding the these leads quickly and professionally in a way that stands out from the crowd. These templates make it easy to do just that.
Multiple Lead Sources (NEW)
We reveal multiple untapped lead sources that work worldwide! You'll get all of theu00a0 new lead sources we've uncovered and learn how to apply our 4-step system to close clients from all of these lead gold mines!
We've included everything you need to fully understand and implement our system within hours of getting access. You get our complete step-by-step training in both a video series and quick start guide that breaks down the system. Plus you get our "Rapid Fire Templates"which have been fine tuned to convert like crazy and you get access to our private mastermind group to boot!
Even if you just landed one client this training would pay for itself ten fold but the truth is, we expect you to land a lot more than one client. We know this works because we've tested and proven it to the tune of $50k in business.
Get access today and start getting these red hot leads dropping into your inbox daily. Plus get our complete system for closing these high ticket leads like Clockwork…