Luis Heredia Pure Jiu Jitsu DVDRip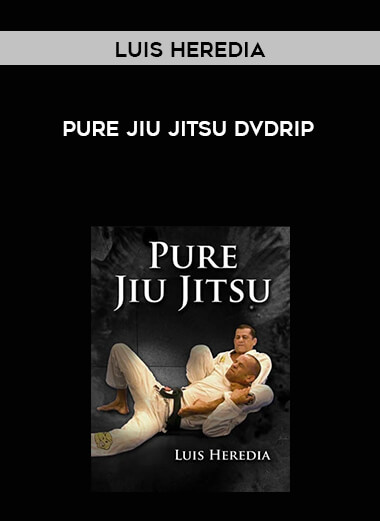 Salepage : Luis Heredia Pure Jiu Jitsu DVDRip
DeezNutz up in your face!
Pure Jiu Jitsu by Luis Heredia (4 DVD Set)
Rickson Gracies Hitman Will Show You The Formula to Crush Younger Opponents With Ease By Learning The Simple Yet Forgotten Art of Brazilian Jiu Jitsu As Helio & Rickson Gracie Taught In Rio 30 Years Ago
Original "Gracie Train" member, 54 Year Old Luis Heredia, Toys With Young  Stud Black Belts Using A Handful Of Easy To Master Concepts Helio &  Rickson Taught Him. 
You Can Learn Them Too!
Professor Lus Heredia has been a friend of the Gracie Family for decades. His refined technique and dedication to our cause, makes him one of the pillars of the Brazilian jiu-jitsu revolution.
Luis Heredia grew up in a very tough neighborhood, The Copacabana section of Rio de Janeiro Brazil, in the 1960s & 1970s. He fought in the street every day – not because he wanted to, but because he had to. Thats just the way things were at that time and place – Brazil is and was the machismo capital of the world. It was kill or be killed – if you backed down you'd become the target of even more aggression. So he fought in the street and sometimes he won and sometimes he lost, like most everyone.
But Luis had an advantage that no one can ever hope to replicate – he lived in very close proximity to the inventors of Brazilian Jiu Jitsu – The Gracie family.  
A Chance Meeting…
If 1970s Rio de Janeiro was a jungle – there was one undisputed king of it: Rickson Gracie. He was a chiseled 190 lbs., he had a the knowing confidence of Vladimir Putin and if someone disrespected him – there would be a fight and he would win. Folklore puts him at 400-0. Not even his own family members – whom he trained with every day – could mount a challenge.
One day Luis was surfing and saw a wave he wanted to ride. He hopped up and went – so did the guy next to him. Soon after they collided and both flew off their boards into the ocean. Luis popped up ready to scream at the other guy and perhaps settle the score on the beach if the guy wanted. Well the other guy felt the same way! He yelled back at Luis and without even listening to the guy to hear his side of the story, Luis quickly realized that he had a problem – a big f'n problem. 
The guy yelling back was Rickson. Whoops. Even though Luis was known to have won a scrap or two around town – he would be bringing a knife to a machine gun fight against Rickson. He might get all of his teeth knocked out and have his arms and legs broken – it was time to quickly change tactics… Luis apologized to Rickson and as Luis now says, "Rickson was in a good mood that day..". Rickson laughed and invited him to the academy and Luis obliged. He became a student there.
Luis Begins Training Under the Gracies…
Luis began training regularly under the Gracies and their patriarch – Helio Gracie. The art was taught differently back then. Helio taught his students to first block punches to get into the clinch. He taught a lot of takedowns and emphasized them so all of his students were very good at them- good enough to take down Judo guys. 
Helio is undoubtedly rolling around in his grave disgusted with the modern world filled with double guard pulls and see-sawing for advantages in the 50/50. After the takedown, Helio had a game with far fewer techniques than the modern game has on the ground but they were probably far more effective. 
His Jiu Jitsu was simple – on the bottom he tried for the closed guard. Luis remembers that Helio said "the only reason to play open guard was because you forgot to close it. Once in Helio's closed guard (or anyone from the Gracie Academy) their first option was almost always the same – the cross choke. Helio used to tap everyone with this: His students, rival Judokas twice as big, anyone really… it was his favorite move. If he missed it, or the opponent defended it somehow – it's a crazy tight choke – then he would take the armbar or the back.
Luis spent countless hours at the academy…
Luis spent countless hours at the academy learning from the first family of jiu jitsu . On top Luis' game revolves around 1 term – pressure. He concentrates all of his weight into one point so the opponent can't use his new school guard. Would this work against new school stuff?
Back then belts weren't given out like candy like they are today. Luis had his blue belt for 7 years – that is training 4-5 times a week. Once Luis got his blue belt he met his initial goal: he could take care of himself in the street. But at blue he got some new goals: he started to love the art and he dedicated his life to it.
Ive Known Him For Over 30 Years  For Months, myself, him and Helio Gracie slept on the same mats – Professor Pedro Sauer, World Famous Rickson Gracie Black Belt
Luis Heredia Is One Of The Best Instructors In The World – Gerry Costa Kid Peligro", One of the most influential BJJ Authors
What do the best say about Heredia…
I Trust Him, He Is My Black Belt, He Is A Great Teacher, I Highly Recommend Him – Rickson Graci