Lynn Waldrop – All About Hair Series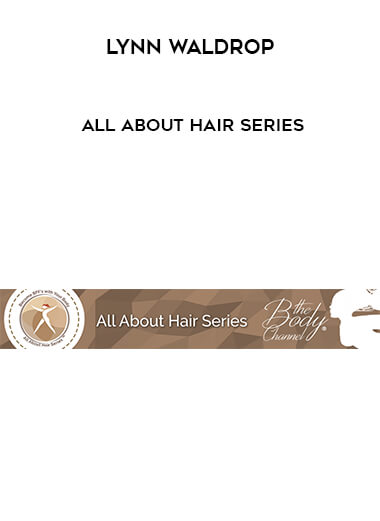 Salepage : Lynn Waldrop – All About Hair Series

This series is for everyone, young and old, male and female, with thinning or thick hair.
Unless you're one of the lucky ones, chances are you'll suffer from hair loss at some time in your life. Many people are unaware that hair loss is not necessarily simply a physical issue; the emotional toll hair loss may take has a significant impact on both men and women, which is why Lynn will be addressing both physical difficulties and TFE's (thoughts, feelings, and emotions) around all things hair!
Lynn will be working with energies on a variety of hair concerns in addition to hair loss.
We polled over 10,000 individuals and millions of bodies, and they urged Lynn to include the following in this series:
Texture and color: Hair that is greying, vibrant color, and thick, luscious locks
Hair Loss Genetics and Risk Factors for Unwanted Facial and Body Hair
Dandruff, split ends, oil control, dryness, and other issues with general hair health
Lynn will work with your body to shift the TFE's (Thoughts, Feelings, and Emotions) as well as the Physical body issues that cause these changes in your hair, insecurities, and appearance in this highly requested new series! We will explore Past Lives, your childhood, your relationships, and wherever else we need to go to clear the blocks!
Consider this…
Is your hair your safety net?
Have you noticed that your hair has gone from thick and luscious to thin and damaged?
Are years of heat damage and chemical product use destroying your hair?
Are you starting to notice grey hairs?
Do you have excessive facial or body hair?
Is your hair falling out due to stress?
Do you desire healthier, more vibrant hair?
Do you want to regrow new and healthy scalp cells?
Have your hormones affected the texture of your hair?
If you answered YES to any of the preceding questions, the All About Hair Series is for you!
I can't express how grateful I am! I've been seeing dermatologists and doctors for the past two years with no resolution to my thinning hair and hair loss. The medical establishment simply does not understand. I've been listening to your calls and have noticed significant improvements in my skin, detoxing, and other areas you discussed. Your work is far more valuable than years of costly therapy!!!
Cara
Listen in as Lynn answers your Hair Series questions!
00:00
45:49
Here are some of the themes Lynn will be discussing in this series:
Grey Hair Hair Length & Texture
General Hair Health (breakage, split ends)
Chemicals in Products, Heating Tools, Hair Coloring, and so on.
Vitamins for Hair Growth
Unwanted Facial Hair Unwanted Body Hair Balding Eyebrows
Trichotillomania
Dandruff
Underactive Thyroid, Diet, Stress, Pregnancy, and Other Risk Factors for Hair Thinning
Heredity/Genetics of Oily & Greasy Hair
TFEs Cause Immune System Issues (hair as a security blanket, time it takes to style hair, bad hair cuts as a kid, etc.)
And So Much More
Additionally, you will get the opportunity to submit a survey with your own input to help direct the series' energy!
And what if changing how you feel about your hair affects other areas of your life, such as relationships, everyday joy in life, and living?
What Lynn's Clients Have to Say!
My hair is certainly becoming less grey! I had highlights three months ago!!
Deb
I listened to your hair energies a few times and noticed my hair get stronger (I used to have a lot of shedding) and see some improvement in color and grey reduction. I went to bed last night listening to it, and my body began telling me that it wanted me to run the energies overnight. And when I glanced in the mirror this morning, there was no grey! It's also a wonderful brown color. I can't get over how healthy it looks. Very, thank you so much!
MK
I'm feeling fantastic physically, and my hair on my head appears to be coming back!
Alysen
My hairdresser wanted to know what I was doing to my roots because they didn't need to be dyed!!
Suzanne
What's the Next Step?
Choose your bundle
Submit the All About Hair Questionnaire (found in your welcome to the series email following purchase)
From May 6th through May 31st, receive daily MP3s by email or download from your download page (Monday-Friday).
Listen to the 7 – 10 minute MP3 of the day – You only need to listen to the recording to rewire the neuroplasticity in your brain and allow the body to begin the process of transformation!
That's nearly 3 hours of clearings!
These daily Remote Remedies MP3s will also be available on a password-protected download page dedicated to this series, which you may always access after 6:00 EST everyday and in the future for maintenance. The daily subject for the Remote Remedy Lynn obtains from YOUR body as well as your All About Hair questionnaire!
All of Lynn's work, including the Remote Remedies, uses your body's consciousness, so your body will only chose the energies it wants and needs! The energy from MP3s may be felt long after the recording has done playing.
What Makes Lynn's Work So Innovative?
Lynn has worked with hundreds of thousands of people in over 171 countries and has 30 years of expertise as The Body Channel, a Certified Color Therapist, Tuning Fork Master, and Reiki Master.
She is a Medical Intuitive, and bodies from all over the world communicate with her! And they get specific! Lynn gets the bodies to open up to the base of the problem, sometimes down to the cellular or DNA level!
Her practice involves not just physical difficulties, but also the ideas, feelings, and emotions that cause illness – and even entities that may be seeking to establish a home in the body!
Lynn has been dubbed a "Medical Intuitive on Steroids," and her customers are experiencing pain-free relief from illnesses that have troubled them for decades.
Lynn has been a blessing in reducing my dandruff and eliminating my grey hair. After three days, I saw a difference!
Char
If you're ready to start receiving the life-changing All About Hair energies, here's how to get started:
Bonuses for Assistance
Two NEW Upgrade MP3s on Body Defense!
Here are some things to look forward to that are EXCLUSIVE to this series:
Lynn has reserved 3+ hours of energy work in 20 ALL NEW Remote Remedies ranging from 7-10 minutes each for Package B customers!
MP3 Site, Fungus, Bacteria, and Virus
Runtime: 48:24
Tape worms, roundworms, flatworms, pin worms, hook worms, giardia, toxoplasma gondi, and mites are examples of parasites.
Candida, black mold, toxic mold, aspergillosis, Valley Fever, Cryptoccocus Neoformans that can infect the brain
Bacteria – spherical or oval-shaped (staph, strep, meningitis, scarlet fever), rod-shaped (Lymes, anthrax, salmonella, listeria, Clostridium perfringens, and E. coli), spiral-shaped (syphyllis, leptoporosis), and curved-shaped (Helicobacter Pylori) & Traveler's Diarrhea (enterotoxi
Virus – Family of Herpes Viruses (chicken pox, Epstein Barr, Mononucleosis, shingles, genital herpes), Ross-River Virus, Adenovirus, Retrovirus, Rhinovirus, Coronavirus, Family of Influenza virus, Family of Rotavirus, West Nile virus, Zika, Dengue Fever, Swine Flu, & Alphaviruses – causing arthritis & encephalitis
Heavy Metals, Chemicals, and Radiation MP3
13:52 total time
Chemicals include biotoxins (from bacteria and viruses), pesticides, air pollution, chemicals used in food processing, and cigarette smoke.
Heavy metals include aluminum mercury vaccines, amalgams, lead, and cadmium (nuclear power plants, fossil fuel exhaust)
Fukushima, radiation, medical procedures (MRIs or radiation treatments for cancer)