Lynn Waldrop – Fight The Fatigue Remote Remedy Series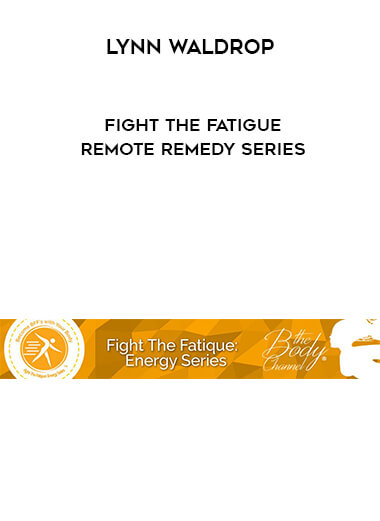 Salepage : Lynn Waldrop – Fight The Fatigue Remote Remedy Series

Lynn created this series with both preventative and therapeutic energies for all things, well….energy!
Lynn has received an uncountable number of requests from clients to treat weariness, lack of energy, and overall exhaustion. Because so many of you have requested energy work on this subject, she was inspired to develop a full remote remedy mp3 series to give YOUR body the boost it requires to feel invigorated, refreshed, and ready to face the day!
Questions to Ponder…
Is drowsiness preventing you from enjoying the life you desire?
Do you frequently skip out on activities because you are exhausted?
Do you have problems getting rid of your frequent drowsiness?
Do you lack the drive and energy to finish your regular duties or engage in physical activity?
Do you rely on caffeine to function?
Do you suffer from persistent muscular fatigue?
Do you experience the 3 p.m. slump at work every day?
Are you still sleepy after a full night's sleep?
Do you believe your exhaustion will never go away?
Do you constantly feel exhausted?
Is your exhaustion misinterpreted as laziness by others?
Do you wish you could be more active and energetic?
If you replied YES to any of the preceding questions, the Fight The Fatigue: Energy Series is for you!
Have you ever considered what your former life events may have had to do with your weariness and persistent tiredness? What about the energy associated with familial patterns and beliefs? What did you learn about this issue from your parents as a child? What did you bring from previous lives? What were you programmed with through media, television, and advertising? Let's cleanse the energies that are interfering with everything!
Get the energy you need to reclaim your life and feel like the Energizer Bunny®!
This Series offers 1 energy-packed and potent healing package choice with distinct and specific Remote Remedies carefully designed by Lynn with energies for YOU and YOUR BODY.
Clear Out Previous Lives and Familial Patterns Related to Your Fatigue
Lynn will be clearing the Thoughts, Feelings, and Emotions (TFE's) associated with lack of energy, exhaustion, and fatigue, in addition to the physical symptoms and concerns surrounding this topic.
We know that our TFEs are responsible for how we feel physiologically in our bodies. You have the ability to alter the consequences of your actions in any location or scenario. Here are a handful of the TFEs that will be addressed in this series (what are yours?):
"It's having a bad impact on my job performance."
"Some folks can be so tiring to be around."
"I despise being exhausted all the time."
"If only I had more energy, I could accomplish more."
"I have the impression that people are passing judgment on me or that I am simply lazy."
"I'm worried it's not going away."
"It's as though my body is given up on me."
"I wish I had more time to get out and do things."
AND MUCH MORE!