Marcelo Garcia Instructionals (COMPLETE SET)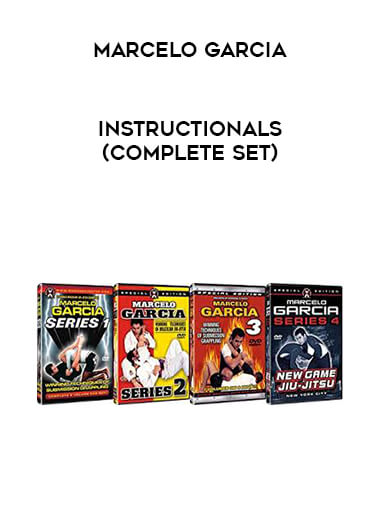 Salepage : Marcelo Garcia Instructionals (COMPLETE SET)
Marcelo Garcia's COMPLETE dvd set. See more info here: http://www.groundfighter.com/Marcelo-Garcia-Instructional-DVDs/
Series 1:
Marcelo will teach you effective grappling moves that are not solely based on size, strength or conditioning, but superior technique. Along with these potent techniques, Marcelo also reveals the exact strategies that he uses during his matches. Marcelo not only explains each technique in great detail, he teaches his complete fight game from the beginning of the match to the submission finish that ends most of his matches. This allows you to understand what leads up to these moves working in real fighting and sparring. Learn Garcia?s amazing X-Guard that can be used to sweep anyone and his incredible Arm Drags that have allowed him to take the back of many of his toughest opponents. Marcelo has also reworked many older moves with new variations, making them dangerous new techniques that you will want to learn! This incredible series also shows many of his fight clips during the teaching so you can see him do the move in live action and then watch him teach it.
Marcelo Garcia Fight Footage
VOLUME 1: The Arm Drag Series
VOLUME 2: Mastering the Back
VOLUME 3: Passing the Guard
VOLUME 4: The Guard (The X-Guard)
VOLUME 5: The Guard (Sweeps)
VOLUME 6: Submissions
Series 2:
Marcelo Garcia, the new 2004 Jiu-Jitsu Mundial World Champion has returned with what promises to be the most advanced series ever produced with the Kimono! A follow up to his highly successful submission grappling series, Marcelo Garcia 2 will show how many of his incredible techniques like the X-Guard and Arm Drags can be as equally effective with the kimono as they were without. This 6 DVD series is without a doubt the most advanced set we have ever filmed covering submissions, taking the back, sweeps and his famous X-guard and Arm Drags.
VOLUME 1: The X-Guard
VOLUME 2: Arm Drags
VOLUME 3: Advanced Sweeps
VOLUME 4: Advanced Guard Passing
VOLUME 5: Taking the Back
VOLUME 6: Advanced Submissions
Series 3:
Marcelo Garcia does it again! After winning the 2005 Submission Grappling championships, Marcelo returns to show all of the techniques and strategies that make it possible for him to dominate his opponents. Picking up where Series One left off, Garcia covers more advanced techniques like the X-Guard, Arm Drags, Taking the Back, and more. This is his biggest DVD set to date with 6 hours of instructional teachings plus 2005 Abu Dhabi Fight footage of Garcia in action
VOLUME 1: SUBMISSION TAKEDOWNS
VOLUME 2: PASSING THE GUARD
VOLUME 3: SWEEPS & TURNOVERS
VOLUME 4: TAKING THE BACK
VOLUME 5: SUBMISSIONS
VOLUME 6: ESCAPES 1 & 2
Series 4:
2003, 2005 and 2007 Abu Dhabi World Champion Marcelo Garcia is back with New Game Jiu-Jitsu, his latest DVD masterpiece showing the very same techniques that have helped him once again dominate every opponent in his path! New Game Jiu-Jitsu is the latest evolution in his grappling system with all new variations on the Omoplata, Guillotine, Crucifix and much more.
VOLUME 1: Advanced Omoplata 1
VOLUME 2: Advanced Omoplata 2
VOLUME 3: Advanced Omoplata 3
VOLUME 4: Advanced Omoplata 4
VOLUME 5: The Guillotine
VOLUME 6: The Crucifix
If you want the individual sets:
Series 1: http://mma-torrents.com/torrents-details.php?id=20581
Series 2: http://mma-torrents.com/torrents-details.php?id=20582
Series 3: http://mma-torrents.com/torrents-details.php?id=20583
Series 4: http://mma-torrents.com/torrents-details.php?id=20584