Mark Hatmaker – Extreme Boxing : Hardcore Boxing for Self-Defense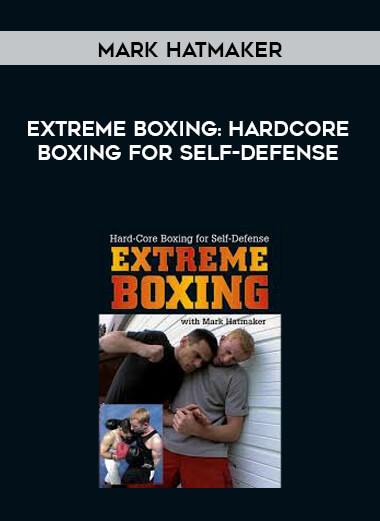 Salepage : Mark Hatmaker – Extreme Boxing : Hardcore Boxing for Self-Defense
Extreme Boxing : Hardcore Boxing for Self-Defense
About the Author:
Mark Hatmaker is a lifelong student of the martial arts with more than 24 years of experience in Western boxing, wrestling, and no-holds-barred fighting. Known as The Professor of Grappling, he is widely recognized for his pragmatic, results-oriented approach to combat training. Hatmaker conducts regular seminars across the country.
Product Description: 
In 1867, John Graham Chambers published what would become known worldwide as the Marquis of Queensberry rules for boxing and thus changed the sport forever. . . or so it was thought. In this explosive two-volume video production boxing and grappling expert Mark Hatmaker throws away the rulebook and turns back the clock to reveal the forbidden techniques of extreme boxing. Hatmaker begins with the basics of stance and movement, including little-known tricks to improve your defenses against grapplers and kickboxers. He then teaches you the extreme boxing arsenal – a collection of savage punches, head-butts, elbows and stomps that will enable you to devastate even the toughest opponent. To develop an airtight defense, Hatmaker shows you how to slip, bob, weave, cuff and cover, as well as foolproof methods of defending against the shoot. Finally, you'll learn how to put it all together with punching combinations and drills that will prepare you for anything thrown at you in the ring or on the street. Learn why the only boxing worth betting your life on is Extreme Boxing. For information purposes only.