Mark Hatmaker – Ground & Pound: MMA & Street Applications for Grounding and Striking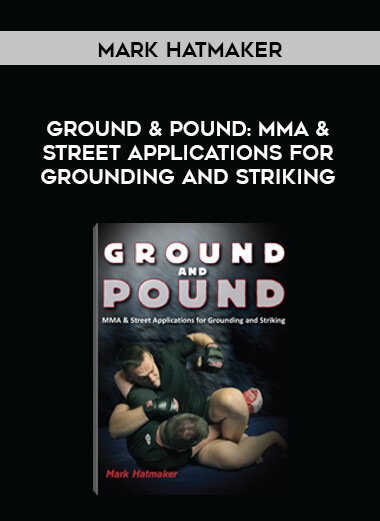 Salepage : Mark Hatmaker – Ground & Pound: MMA & Street Applications for Grounding and Striking
New product by Paladin Press called: Ground & Pound: MMA & Street Applications for Grounding and Striking. 
Zip file contains 4 separate .mp4 files.
About this DVD:
Mark Hatmaker has already made a huge contribution to Paladin's Professional Action Library. From grappling, submissions, escapes, and groundwork to boxing, conditioning, MMA, and street self-defense applications, Hatmaker's curriculum is a must for the dedicated martial artist, self-defense student, or concerned citizen on the street. 
In his new video, Ground and Pound, Mark Hatmaker expands his groundwork curriculum to the next level: striking a grounded opponent. The author starts with the ground skills and, once these are mastered, adds the layer of pounding. The order of teaching cannot be reversed, because before you strike someone on the ground, you have to make sure you have closed all avenues of escape and can keep him on the ground. 
The material presented is structured in a seven-step process, with each step building on the previous one. From ground fundamentals, positioning on the pin, isolating the destinations and riding fluidly between them to the striking arsenal, pounding on each pin, riding and striking on each destinationboth in order and scrambledthese techniques work for MMA and street combatives. Elevate your ground game to an even higher level with Mark Hatmaker's Ground and Pound.
About Mark Hatmaker:
Mark Hatmaker is a lifelong student of the martial arts with more than 24 years of experience in Western boxing, wrestling, and no-holds-barred fighting. Known as "The Professor of Grappling," he is widely recognized for his pragmatic, results-oriented approach to combat training.