Master Class on Time, Productivity and Stress Management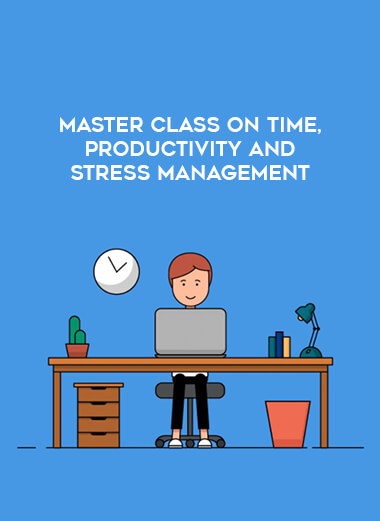 Salepage : Master Class on Time, Productivity and Stress Management

Are you feeling overwhelmed, pressed for time, and you don't know how you'll squeeze another minute out of your day? You might be an employee who doesn't feel organized, a manager or exec who is learning to handle your own work and be an effective leader at the same time, a working parent, or someone who has recently said one of the following:
"I just don't have enough hours in the day!"

"I've got too much on my plate!"

"I have no downtime!"

"I feel like I'm failing at work AND home!"

"Planning stresses, me out!"
If you're someone who has a LOT on their plate and wants to find a system or process to handle it all, but who also craves downtime for yourself, this course is for you.
If you're ready to stop wasting time – and to take back control of your time – this is the course for you.
This course is going to be focused into three areas or sections. Each is designed to build on the other, but each lecture is labeled by concept clearly, so you will also be able to come back and hit specific topics that are most helpful for you.
In our first section we are going to focus on what is causing our overwhelm and what leads us to procrastination. we build the foundation for a new level of productivity and cover the fundamentals and key concepts that must be mastered in order to really get the results you want and to be a master of productivity. If you don't start with the right fundamentals, even the best tricks and hacks won't be fully utilized.
And finally, we will build on the foundation we created by implementing proven productivity and time management tactics and strategies to really make a dramatic improvement in your productivity.
In this course you'll learn how to:
Manage different types of activities

Identify and create priorities to add more value

Manage constraints that squeeze your options

Create to-do lists that work

Experiment with time management strategies

Get organized –

for real this time!

Remove "time sucks" that rob you of productive time

Create duration estimates that are realistic
In short, you'll do more and stress less.
Time is a finite resource, and perhaps our most valuable one. In this digital age, our time and attention are being pulled in many more directions than ever before. Mastering time management is essential to living a balanced and fulfilling life.
Most books and apps about time management and productivity claim to be the silver bullet, if you can just follow them. However, they don't consider the fact that we're all different. Not everything will work for everyone. In this course, we start with who YOU are, to build a system that works specifically for you.
The lectures in this course are complemented by exercises such as discovering your personal productivity roadblocks, creating a task system, creating action plans for minimizing distractions and increasing focus, building a personalized rewards and breaks "menu" and more. The exercises ensure that you apply the content from the lectures in a practical and pragmatic way.
Enroll today to take back control of your time, excel at work, and make time for the things that matter in YOUR life!
Section 1: Introduction
Introduction to the Course and the Instructor
Section 2: Time Management Concept and Practices
Objective
Develop personal plans and strategies to increase productivity
Methods for Effective Time Usage
Lectures
Time management Intro

Time management Priorities & Goals

Time Management Final – Time Management System

Time management-Action Plan
Section 3: Eat That Frog
Objective
Learn key strategies to stop procrastinating
Lectures
Stop Procrastination and get more things done in less time
Section 4: Getting Things Done
Objective
Prioritization hacks to manage your time and achieve work-life balance
Lectures
Section 5: 80:20 Management
Objective
Understand the dynamics of the 80/20 rule and how to make it work for you
Lectures
How to ensure your efforts produce the best possible results
Section 6: First Things First
Objective
How to apply Covey's Urgency versus Importance matrix
Lectures
The Clock and the Compass

The fundamentals of determining the 'first things' in your life
Section 7: Scrum
Objective
Strategies to allocate your time more efficiently and ways to create a productive and positive work environment.
Lectures
Scrum Team, Time, and Plan

Scrum Happiness and Priorities
Section 8: Make Time
Objective
Identify the major sources of work-life balance conflict and becoming more effective or productive
Lectures
The 4 Hour workweek

Essentialism

Make time for yourself and for your task
Section 9: A Personal Guide and workbook
Objective
A Personal Guide and workbook to Manage your time and Productivity
Lectures
Principles of effective time management

WB 1: Activity of effective time management

WB 2: Time Management Effectiveness Profiles
Section10: Time Management and Personality Profile
Objective
Discover self-time management personality profile
Lectures
Time management personality profile

Time management and DISC profile
Section 11: Stress and work life balance Management
Objective
Discover sources of stress and ways of managing this, what are the major reasons of work life balance issues and process or steps of management.
Lectures
Stress Issues and Stress management

Work Life balance and management

Self-assessment of Stress Management and Work Life balance
Section 12: Productivity and Time Management tactics
Objective
Discovering your personal productivity roadblocks, creating a task system, creating action plans for minimizing distractions and increasing focus.
The exercises ensure that you apply the content from the lectures in a practical and pragmatic way.
Lectures
Self-Assessment of Time Management

Case Study on Time Management

Assignment on Time Management
Downloadable Resources
Project1: Self-Assessment of Time Management

Project2: DISC Profiling and Time Management

Project3: Self-Assessment of Work Life Balance

Workbook1: Activity workbook on Time Management

Workbook2: Time Management Effectiveness Profiles
Projects:
Project 1: Time Management Self-Assessment
Self-assessment of your Work patterns allows you to explore and evaluate the range of decisions you make each day with regard to time management. Managing time is a very complex process and self-assessment provides some measures of your strengths and weaknesses.
Project 2: DISC Profiling and Time Management
Our hard-wired DISC style does not explain everything about our views on time management. Our beliefs impact how we view time in general and how we view time management. For example, many of us have heard the saying, "time is money". There are others who believe time is about enjoying every moment. Our culture also impacts how we view time. What country and region we live in impacts our attitudes and values about time. There are some places where meetings are scheduled for 10:00 a.m. and expected to start on time. On the other hand, there are other places where meetings have a start time of "roughly 10:00 a.m."
We judge ourselves based on our intention, but we judge others based on their observed behaviors. For example, we scheduled a meeting at 10:00 a.m. with the expectation that it will start on time, and someone shows up late. We may see that as being disrespectful of others, but the person showing up late had to finish up a few things and did not view being late as disrespectful.
Project 3: Self-Assessing Your Work-Life Balance
The purpose of this assessment instrument is to heighten your awareness of the behaviors that are affecting your work-life balance. The quiz will also provide a means to rate your collective behaviors and present a score that can give you insight into your effectiveness in achieving work-life balance.
Here's how to use this assessment questionnaire. For each question, circle the number that best describes your answer. If you don't have an opinion or you feel you do not have sufficient data to draw an opinion, then mark "0" (No comment).
Additional Workbooks
1. Activity Workbook
2. Time Management Effectiveness Profile