Master Jo Ching – BaZi Golden Verses on Hour Pillar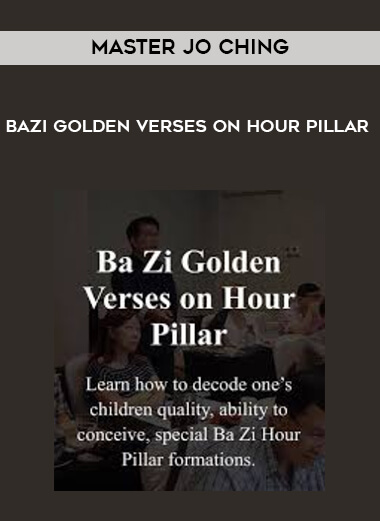 Salepage : Master Jo Ching – BaZi Golden Verses on Hour Pillar

This is the last of the 4 instalments examining the various Golden Verses or quick-formula for the Hour Pillar of your Ba Zi Natal Chart.
In case you have not enrolled yourself in our Golden Verses for Year Pillar, Month Pillar or Day Pillar program, you may wish to check them out.
Subsequent programs would explore Golden Verses of interesting Shen Sha, or otherwise known as Symbolic Stars, which will be gradually launched over the next few months.
For your information, understanding or learning to recite the Ba Zi Golden Verses can be helpful in your journey of Ba Zi study. Such verses are ubiquitous in many famous Ba Zi classics and for those who have been able to read Chinese classics should not find them too unfamiliar. Nevertheless, the challenge here lies in how to decode them and subsequently use them to sharpen your Ba Zi analyses.
In this online course created for Ba Zi enthusiasts, especially those who are non-Chinese speaking, we aim to share with you some of the very well-known Golden Ba Zi Verses that are specifically linked to the individual 4 Pillars on areas like ancestry authority, wealth, nobility, family, marriage and children luck. You will equip yourself with the know-how to apply them for quick Ba Zi reading. Plenty of celebrities, politicians and billionaires' charts have been used to illustrate our points.
Your Instructor
Master Jo Ching
Jo Ching, Founder and Master-Trainer of Destiny Asia Global Consultancy & Destiny Academy Pte Ltd, is an expert in Qi Men Dun Jia, Xuan Kong Liu Fa Feng Shu, BaZi, Date Selection, I Ching, Vedic Astrology and Face Reading. He is also the author of one of the bestselling books titled "Qi Men Dun Jia – The Ancient Art of War at your Finger Tips".
Effectively bilingual in English and Chinese, Jo currently provides training and coaching to enthusiasts and practitioners who strive to excel in the field of Chinese Metaphysics.
His students come from worldwide including Indonesia, Australia, Philippines, Malaysia, Russia, India, USA and etc. Besides, he also provides Feng Shui advisory services to CEOs & CFOs of MNCs, SMEs and working professionals.
He is often invited to speak to companies like Jardine Lloyd Thomson, Ascendas-Singbridge, UOB,Citibank, Standard Chartered, Tata Communications, Samsung, CapitaLand, PSA Corp and etc
He has also been quoted in Lian He Wan Bao, The New Paper, Asiaone, Razor TV, Dow Jones & etc.
You can find out more about him at www.masterfengshui.com
Course Curriculum
Ba Zi Golden Verses on Hour Pillar
Preview

Introduction (8:16)

 

Start

Hour Pillar Golden Verse 1 – Nobleman and Horse at Hour, one will have a child that brings fame to the family (7:30)

 

Start

Hour Pillar Golden Verse 2a – Having the Hook at the Hour, one will experience difficulty during pregnancy (4:18)

 

Start

Hour Pillar Golden Verse 2b – Lady with Talent Star and Death & Emptiness at Hour faces difficulty to conceive (7:56)

 

Start

Hour Pillar Golden Verse 3 – Shang Guan and Horse at Hour, your child will be conceived in foreign town. (4:54)

Start

Hour Pillar Golden Verse 4 – Friend Star at Hour Pillar, One has few children. (2:19)

 

Start

Hour Pillar Golden Verse 5 – Day Nobility at the Hour Pillar, one will have good quality child. (3:00)

 

Start

Hour Pillar Golden Verse 6 – Shang Guan at the Hour Pillar, the son is not able to carry on to become a scholar. (5:35)

 

Start

Hour Pillar Golden Verse 7 – Heaven and Month Virtue at Hour Pillar, the children will be kind and filial. (5:15)

 

Start

Hour Pillar Golden Verse 8 – Qi Sha at the Hour Pillar, it implies Nobility and Fame. (5:08)

 

Start

Hour Pillar Golden Verse 9 – Officer sees Lu at day or hour, one will give birth to a scholar. (7:14)

 

Start

Hour Pillar Golden Verse 10 – Day's Lu returns to hour pillar, one will take the Green Cloud Path. (7:13)

 

Start

Hour Pillar Bonus Topic 1 – Conception Palace (11:25)

 

Start

Hour Pillar Bonus Topic 2 – Life Palace (5:45)

 

Start

Hour Pillar Bonus Topic 3 – Conception Qi (5:59)
 Frequently Asked Questions
When does the course start and finish?
The course starts now and never ends! It is a completely self-paced online course – you decide when you start and when you finish.
How long do I have access to the course?
How does lifetime access sound? After enrolling, you have unlimited access to this course for as long as you like – across any and all devices you own.
What if I am not satisfied with the course?
We would strongly advise you to go through the preview and course content page again before purchasing. For any clarification on the course, you can drop us an email at [email protected] Do note that the course that you have purchased is strictly non-refundable.
Will I be able to access all of the videos for this Course at once?
Yep!
I do not have any prior Ba Zi knowledge. Am I still suitable to sign up for this course?
Ideally, you should have basic understanding of what are Heavenly Stems, Earthly Branches and how a Ba Zi Chart look like. In addition, it will be good that if you know the inter-relationship among the 5 elements.
What if I have doubts and needed clarification after completing all the lectures for this course?
No worries about that. You can just email us at [email protected] and we will address your concerns.