Master Jo Ching – BaZi Golden Verses on Year Pillar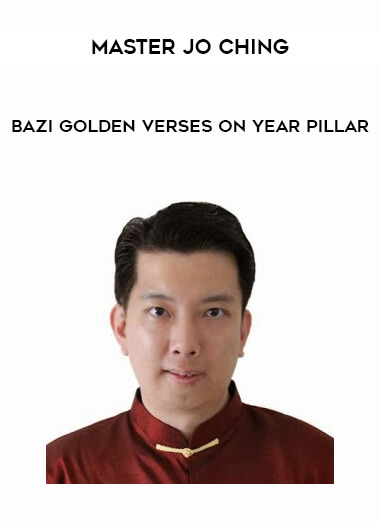 Salepage : Master Jo Ching – BaZi Golden Verses on Year Pillar

This is the first of four installments in which we decode the numerous Golden Verses or quick-formula for your Ba Zi Natal Chart's Year Pillar.
This will be followed by programs that look at the Month, Day, and even Hour pillars, which will be released in due order.
For your knowledge, comprehending or learning to recite the Ba Zi Golden Verses might be beneficial in your Ba Zi study path. Such lyrics are common in many prominent Ba Zi classics, and anyone who have studied Chinese classics should be familiar with them. Nonetheless, the issue here is figuring out how to decipher them and then utilize them to strengthen your Ba Zi analysis.
In this online course designed for Ba Zi enthusiasts, particularly those who do not speak Chinese, we hope to share some of the most well-known Golden Ba Zi Verses that are specifically linked to the individual 4 Pillars on topics such as ancestry authority, wealth, nobility, family, and marriage luck. You will be equipped with the knowledge to use them for speedy Ba Zi reading. Many charts of celebrities, politicians, and billionaires have been used to demonstrate our ideas.
Your Professor
Jo Ching, Master
Jo Ching, the Founder and Master-Trainer of Destiny Asia Global Consultancy & Destiny Academy Pte Ltd, is a Qi Men Dun Jia, Xuan Kong Liu Fa Feng Shu, BaZi, Date Selection, I Ching, Vedic Astrology, and Face Reading specialist. He is also the author of "Qi Men Dun Jia – The Ancient Art of War at Your Fingertips," a best-selling book.
Jo, who is fluent in both English and Chinese, is actively providing instruction and mentoring to Chinese Metaphysics enthusiasts and practitioners.
His pupils come from all over the world, including Indonesia, Australia, the Philippines, Malaysia, Russia, India, and the United States. He also gives Feng Shui consulting services to CEOs and CFOs of MNCs, SMEs, and working professionals.
He is frequently called to talk to organizations like as Jardine Lloyd Thomson, Ascendas-Singbridge, UOB, Citibank, Standard Chartered, Tata Communications, Samsung, CapitaLand, PSA Corp, and others.
He's also been cited in Lian He Wan Bao, The New Paper, Asiaone, Razor TV, Dow Jones, and other publications.
More information on him may be found at www.masterfengshui.com.
Curriculum of the Course
Year Pillar Ba Zi Golden Verses
Introduction to the Preview (8:16)
Start Year Pillar Golden Verse 1 – Year Stem Sitting on Traveling Horse, grandfather or parents had to travel regularly for work (9:35)
Start Year Pillar Golden Verse 2 – Year Stem perceiving Heaven Virtue or Month Virtue, parents are loving and kind (5:08)
Start Year Pillar Golden Verse 3 – Year Branch on Talent Star, parents are talented but distant (5:38)
Start
Direct Resource discloses at Year Pillar, born into a wealthy and aristocratic family. (5:16)
Begin Year Pillar Golden Verse 5 – Indirect Resource at Year Pillar annihilates ancestral luck. (3:32)
Begin Year Pillar Golden Verse 6 – Wealth star appears at Year Pillar, ancestor or grandparents have good fortune. (4:06)
Start Year Pillar Golden Verse 7 – Friend or Rob Wealth star at Year Pillar indicates no inheritance. (3:41)
Start Year Pillar Golden Verse 8 – Direct Officer star appears at Year Pillar, allowing one to gain from ancestor. (3:43)
Start Year Pillar Golden Verse 9 – Year Stem Shang Guan is the most despised, and to get wealthy, one must travel abroad. (3:45)
Golden Verse to Begin the Year Shang Guan, 10 – Year or Month Pillar, has a bad connection with parents and siblings. (3:18) Questions and Answers
When does the course begin and end?
The course begins right now and never stops! It is a totally self-paced online course that you start and end when you choose.
How long will I be able to access the course?
What do you think about lifetime access? After registering, you will have unlimited access to this course for as long as you want – across all of your devices.
What if I'm not happy with the course?
We highly urge you to study the preview and course material page again before making a purchase. If you have any questions about the course, please contact us at [email protected] Please keep in mind that the course you purchased is non-refundable.
Will I be able to watch all of the videos for this Course at the same time?
Yep!
I have no prior knowledge of Ba Zi. Is it still possible for me to enroll in this course?
You should have a fundamental grasp of Heavenly Stems, Earthly Branches, and how a Ba Zi Chart looks. Furthermore, knowing the interrelationships between the five elements will be beneficial.
What if I still have questions after finishing all of the lectures for this course?
That is not a problem. Simply send an email to [email protected] and we will handle your problems.