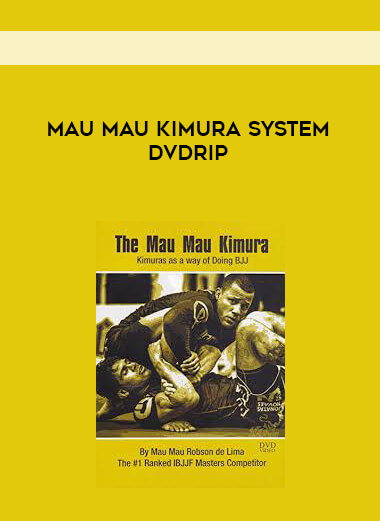 Salepage : [email protected]$ (Gi) [MP4]
[email protected]$ ber @lle$!!!
THE KIMURA SYSTEM 3 DVD SET BY ROBSON MAU-MAU DE LIMA
Do you use the Kimura? Mau Mau Robson de Lima is perhaps the best guy in the world at using the Kimura. He is a Masters world champion and a Black Belt under the legendary Master Julio Cesar Periera in Rio de Janiero.
Why The Kimura? Mau Mau is a GF Team Black Belt and as such he is NOT FROM GRACIE LINEAGE! GF Team is from Oswaldo Fadda  a footlock specialist who learned Jiu Jitsu not through the Gracies but through Luiz Franca who learned directly from Count Maeda. Since the Gracies are credited with founding most of the Brazilian style of Jiu Jitsu, the GF Team was always seen as outcasts and their fighters have always had something to prove..
Mau Mau didnt grow up idolizing the Gracies, he grew up idolizing the Great Gracie Hunter Kazushi Sakuraba who became famous for defeating Royler, Royce and Renzo Gracie. Sakuraba specialized in the double wrist lock or the hold better known as the Kimura.
Kimuras from everywhere:
Mau Mau is always hunting Kimuras and when you learn how you will see that they are everywhere: From:
Bottom Half Guard
Top Half Guard
Passing Open Guard
Side Control
Under Side Control
Mount
Brazilian Jiu-Jitsu has proven very susceptible to the Kimura and it can truly help your game:
I bought the MAU MAU KIMURA DVD a couple of months ago,and since then it has helped me a lot to improve my bjj game,before to get this dvds,I didnt know that there were many options in which I could use the kimura technique,now I know that I can use the kimura from many angles,thanks to MAU MAU KIMURA DVD for the help.  Xavier Andres, Black Belt Ecuador
So what is on The Kimura System DVD:
DVD 1
double leg defense back take with kimura
double leg defense back take variation with rolling opponent
6 point double leg counter into mount
half guard kimura knee cut pass
kimura defense from single leg half/lapel guard
kimura from Z guard when opponent passes opposite side
back take/arm bar from Z guard
back take from z guard when turning to opposite side
DVD 2
kimura from half guard with jump over finish
kimura from half guard with no roll
kimura from locked triangle
kimura with locked triangle from mount
kimura sweep from bottom half
arm bar from kimura z guard entry
kimura fundamentals (closed guard)
DVD 3
z guard kimura fundamentals
kimura fundamentals from top half guard
side control kimura fundamentals
north south kimura
sakuraba kimura
counter kimura with kimura
arm bar counter to kimura
Sample Info
===================== General =====================
Complete name               : [email protected]$.mp4
Format                      : MPEG-4
Format profile              : Base Media / Version 2
Codec Id                    : mp42
File size                   : 556 MB
Duration (ms)               : 44mn 0s
OverallBitRate_Mode/String  : Variable
Total bitrate               : 1 766 Kbps
Encoded application         : HandBrake 0.10.5 2016021100
===================== Video =====================
Id                          : 1
Format                      : AVC
Format info                 : Advanced Video Codec
Format profile              : [email protected]
Use of CABAC                : Yes
RefFrames                   : 4 frames
Codec Id                    : avc1
Codec info                  : Advanced Video Coding
Duration (ms)               : 44mn 0s
Bitrate                     : 1 600 Kbps
Width                       : 704 pixels
Height                      : 480 pixels
Aspect ratio                : 1.738
Framerate mode              : Constant
Framerate                   : 29.970 fps
Standard                    : NTSC
Colorimetry                 : YUV
Colos space                 : 4:2:0
Bit depth                   : 8 bits
Scan type                   : Progressive
Bits/(Pixel*Frame)          : 0.158
Stream size                 : 504 MB (91%)
Encoded library             : x264 core 142 r2479 dd79a61
colour_primaries            : BT.601 NTSC
transfer_characteristics    : BT.709
matrix_coefficients         : BT.601
===================== Audio =====================
Id                          : 2
Format                      : AAC
Format info                 : Advanced Audio Codec
Format profile              : LC
Codec Id                    : 40
Duration (ms)               : 44mn 0s
Bitrate mode                : Variable
Bitrate                     : 159 Kbps
Channel(s)                  : 2 channels
ChannelPositions            : Front: L R
Sampling rate               : 48.0 KHz
Compression_Mode/String     : Lossy
Stream size                 : 50.1 MB (9%)
Title                       : Stereo
Language                    : English
===================== Menu =====================
Id                          : 3
Codec Id                    : text
Duration (ms)               : 44mn 0s
Language                    : English
Bit rate mode               : CBR